RES enters the Romanian market and hires 40 in its R&D center

RES, a company specializing in enabling, automating and securing digital workspaces, has entered the Romanian market by opening a Research & Development center in Bucharest, says the CEO of RES, Al Monserrat.

RES offers digital workspace solutions for more than 2,500 companies worldwide, like Hyundai, ING and Intuit. The company has offices in several countries across Europe and the United States of America and has an international team which numbers 330 employees. RES solutions integrates with industry-leading partners including IBM, Microsoft and Citrix, among many others, in order to improve the security and deliver of applications, mainly for companies in the healthcare industry, financial services and the public sector.

"As we continually strive to stay at the forefront of our industry, this international expansion gives us access to premium talent in technology so RES can accelerate the development of leading solutions. Today marks another milestone for RES in our commitment to deliver solutions our customers will love and to provide opportunities for the great community of Bucharest", says Al Monserrat.

Alina Șandru, Director, Software Engineering Operations Romania, explained she is looking forward to representing a company like RES on the Romanian market as it combines the professionalism of a globally recognized software producer with the local atmosphere. "Here, in Romania, we are a united team, made of people passionate about technology. The environment makes you feel comfortable from day one. The entire department of RES Engineering develops products that are subsequently awarded and recognized as the best in the digital workspace, which is a great motivator", said Alina Șandru.

The Bucharest office has more than 40 employees and plans to expand its team in Romania by the end of the year. RES is looking for software developers in positions like .NET software developer, C# Sustaining Engineer, Tester and Automation Tester for developing the next generation of digital and mobile workspace technology.

RES was recognized by Gartner as a "Cool Vendor of the Year" for the innovative capabilities of its RES ONE Service Store and recently named a "Great Place to Work" in the Netherlands for the second straight year.

Alongside the Bucharest office, RES opened a new office in Boston, Massachusetts, both new facilities being primarily focused on Research & Development. This RES expansion in Europe and the United States of America strengthens its ability to effectively pioneer new solutions.

Including the appointment of Perry Smith, Senior Vice President of Engineering, RES has increased its investment in research and development to meet the demands of its rapidly growing customer base across 27 countries.

"After researching several regions, it was clear Bucharest and Boston would be perfect locations with their vast pools of superior tech talent. I am excited to welcome these accomplished professionals to the RES R&D team and I'm looking forward to the great things we will achieve together", said Perry Smith.

RES re-imagines the workspace, empowering IT to make digital workspaces secure, automated and people-centric for easy adoption and use. RES gives IT the tools to design, build, deliver and control every aspect of the worker's business journey with intuitive, context aware, self service and security that adapt at each step along the way.


---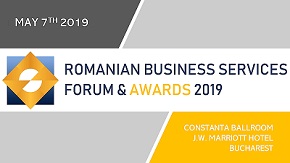 » Huawei opens a centre on cyber securit...
» ROMANIAN OUTSOURCING AWARDS FOR EXCELL...
» Romania ranks above EU average in gend...
» Bucharest, in the top of cities in Eur...
» Berg Software Romania: Reasons to outs...
» Meet the experts who will decide the w...
» Bogdan Pelinescu, president of ABSL: A...
» KPMG launches an application enabling ...
» ABSL GALA AWARDS celebrated its winner...
» Oracle reaches 4,200 employees and pla...

Colin C. Lovering: Meet the speakers at Romanian Business Services Forum & Awards 2019, on May 7

Colin C. Lovering has been living and working in Romania since 2009 when he arrived to offer consultancy and advice to organisations looking for growth and profitability and founded Achieve International.
Read Full article »
Antoniu Panait: Meet the speakers at Romanian Business Services Forum & Awards 2019, on May 7

Managing Director for VASTINT Romania since 2009, Antoniu Panait has an executive experience of more than 10 years, mainly in real estate.
Read Full article »
Andrei Voica: Meet the speakers at Romanian Business Services Forum & Awards 2019, on May 7

Andrei Voica, Director Project Management and Workplace Consultancy, Colliers International. Truly passionate about his work and always eager to add value to each project.
Read Full article »
Romulus Caralicea: Meet the speakers at Romanian Business Services Forum & Awards 2019, on May 7

Romulus is Wipro's Information Security, Risk & Compliance Lead for Europe. In his role he is managing internal audits and compliance activities for all clients and internal functions based on the corporate ISO
Read Full article »
George Didoiu: Meet the moderator of Romanian Business Services Forum 2019 CEO LEADERS DEBATE, on May 7

In his 15 years of real estate, George Didoiu advised on the relocation of top IT&C, finance-banking and consultancy companies, which total over 10,000 employees.
Read Full article »