Hanner puts tens of millions into the Bucharest offices, after 60 mil. Euro in residential


Lithuanians from Hanner Holding, the real estate investor known in Romania for the development of The Park residential project, expands to the office segment by acquiring part of the land plot of the former Grivița Beer Factory, in center-west Bucharest.


This transaction marks Hanner's entrance on the Romanian office segment, thus continuing the organic growth that followed the success of its residential developments – The Park, Carol Park Residence and City Center.

Hanner acquired a 11,000 sqm land plot, located in Grozavești area, close-by Grozavești and Basarab metro stations. The property, which also includes three buildings classified as monuments – outbuildings Mălțărie, Orzărie and Administrative Building of the former Grivița Beer Factory – was transactioned for five million euro. The monuments represented an important focus of the developer, as they provide the possibility of developing a unique mixed use project, with conversions, restorations, as well as new office and residential buildings.

"Following our ten years of presence on the Romanian market, during which we developed several residential projects, we believe that is time to upscale our operations and prove our expertise in other segments of the real estate market. Grozăvești area is transforming, shaping a new office district of the city, so it was only natural for us to choose this region for our first mixed use project in Romania. It will include a generous surface dedicated to modern office spaces, with the highest standard of design and technology", stated Mindaugas Valuckas, CEO Hanner Holding.

Globally, Hanner has developed seven office projects totalizing over 150,000 sqm, out of which 50,000 are to be delivered in the near future. Among Hanner tenants there are multinational companies such as Henkel, Johnson & Johnson, Nokia, Novartis, Rockwool, MSC, Servier or the Embassy of Israel. Hanner was recognized several years in a row as the most important developer in Lithuania. One of the flagship projects is Europa Business Center, the tallest building in the Baltic region, 148 m high.

Hanner has a vast experience in developing real estate projects, in countries such as Lithuania, Latvia, Russia, Ukraine, Belarus and Romania and is looking to invest in Germany and Great Britain. Company assets and investments worth over one billion euro, while Hanner developments are mostly financed with company own resources.

On the residential segment Hanner has developed over 4000 apartments, with a total surface of 400,000 sqm, while also being involved in other segments such as logistic centers, office buildings, commercial centers and parking spaces, totalizing and additional 250,000 sqm.

In Romania, Hanner has invested over 60 million euro to this date, in three residential projects: The Park, Carol Park Residence and City Center.


---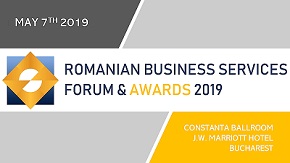 » Romania ranks above EU average in gend...
» The voting procedure for the BRAND OF ...
» Berg Software Romania: Reasons to outs...
» Deloitte's Tech Trends 2019 report: B...
» Steven Hunt, SAP SuccessFactors: Tecto...
» Molson Coors started to grow its busin...
» Societe Generale-European Business Ser...
» Capgemini: Investing in people is the ...
» Countries in CEE region, including Rom...
» Oracle reaches 4,200 employees and pla...

The voting procedure for the BRAND OF THE YEAR 2019 IN ROMANIAN BUSINESS SERVICES is open!

This is the fifth edition of the event and the second year to select the public's favorite brand in the business services BPO, ITO and SSC in Romania.
Read Full article »
Romania ranks above EU average in gender employment gap

In Romania, the employment rate measures the number of people who have a job as a percentage of the working age population. This page provides - Romania Employment Rate- actual values, historical data, forecast
Read Full article »
Steven Hunt, SAP SuccessFactors: Tectonic movements in the world of work

The world of work will be shaped by five tectonic movements – or global megatrends – over the next few years. As you may guess from the geological analogy, the effects could be dramatic.
Read Full article »
EY: European companies are divesting to future-proof growth

According to the EY Global Corporate Divestment Study, 84 per cent of European companies surveyed intending to divest within the next two years (the majority planning to do so in the coming 12 months), executiv
Read Full article »
Knowledge-sharing presentation on latest trends the industry deals, in the program of Romanian Business Services Forum and Awards

Part of the upcoming joint half-day event, Romanian Business Services Forum and Awards to be held at JW Marriott Hotel on May 7th, the discussion agenda comprises a complex Knowledge-sharing presentation on lat
Read Full article »