Luxoft Romania ups turnover figure 56%, has energy, utilities and aviation in mind

Luxoft Romania, a provider of software development services and IT solutions to global customers, last year recorded a turnover of 222.3 million lei, up 56% compared to previous year.

Over 40% of the company's revenues were generated by projects in telecom, a business segment traditionally developed by Luxoft Romania. The remaining revenues come from working with clients in the financial and automotive areas, where Luxoft has an extensive experience.

"Projects of Luxoft Romania recorded a sustained growth in 2015, which meant a strengthening of our position in the local market of IT services. We have clear plans for the current year in the areas of energy, utilities and aviation, and are convinced that things will evolve positively, "said Bogdan Pelinescu, managing director of Luxoft Romania.

In 2015, about 94% of the business was driven by the European market and the rest of the US. In Europe, Luxoft serves customers in the automotive and financial industries and telecom customers in the US come. Division telecom business line was the biggest impact in 2015 at Luxoft delivery center in Romania. However, last year marked the expansion of the customer portfolio with new companies in the sector overall.

Last year, Luxoft has increased the number of employees by 40% compared to 2014 when hired 500 IT specialists. Currently, the company exceeded the threshold of 1,700 employees and the recruitment process will continue in 2016. On average, Luxoft has about 100 open positions at all times, be it new projects or ongoing projects.


---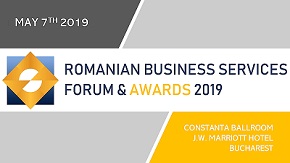 » Huawei opens a centre on cyber securit...
» ROMANIAN OUTSOURCING AWARDS FOR EXCELL...
» Romania ranks above EU average in gend...
» Bucharest, in the top of cities in Eur...
» Berg Software Romania: Reasons to outs...
» Meet the experts who will decide the w...
» Bogdan Pelinescu, president of ABSL: A...
» KPMG launches an application enabling ...
» ABSL GALA AWARDS celebrated its winner...
» Oracle reaches 4,200 employees and pla...

Colin C. Lovering: Meet the speakers at Romanian Business Services Forum & Awards 2019, on May 7

Colin C. Lovering has been living and working in Romania since 2009 when he arrived to offer consultancy and advice to organisations looking for growth and profitability and founded Achieve International.
Read Full article »
Antoniu Panait: Meet the speakers at Romanian Business Services Forum & Awards 2019, on May 7

Managing Director for VASTINT Romania since 2009, Antoniu Panait has an executive experience of more than 10 years, mainly in real estate.
Read Full article »
Andrei Voica: Meet the speakers at Romanian Business Services Forum & Awards 2019, on May 7

Andrei Voica, Director Project Management and Workplace Consultancy, Colliers International. Truly passionate about his work and always eager to add value to each project.
Read Full article »
Romulus Caralicea: Meet the speakers at Romanian Business Services Forum & Awards 2019, on May 7

Romulus is Wipro's Information Security, Risk & Compliance Lead for Europe. In his role he is managing internal audits and compliance activities for all clients and internal functions based on the corporate ISO
Read Full article »
George Didoiu: Meet the moderator of Romanian Business Services Forum 2019 CEO LEADERS DEBATE, on May 7

In his 15 years of real estate, George Didoiu advised on the relocation of top IT&C, finance-banking and consultancy companies, which total over 10,000 employees.
Read Full article »