Eucom: Nine out of ten corporate Romanians can communicate in a foreign language

Up to 94% of the people audited by organizations in Romania have good or very good knowledge of foreign languages, as shown by the results of an analysis performed by Eucom, one of the top language services company, part of Ascendis Group.

"In 2015, Eucom consultants reviewed over 4,500 young professionals who were put through a series of tests to determine their actual level of foreign language knowledge. The results of the evaluations show that 69% of the people assessed are independent users of a foreign language, meaning that they can communicate accurately and use various vocabulary terms coherently, on familiar or more challenging topics.

Moreover, 25% of those evaluated fall in the 'experienced user' category, which means, for example, that they can easily take part in conferences or business meetings in the targeted foreign language", said Delia Dragomir, Partner with Eucom.

Generally, companies require language audit services during recruitment procedures, to check job applicants' communication skills in various foreign languages. However, the trend among companies is to resort to the language testing of their employees especially in the process of a hierarchical promotion or for awarding performance bonuses.

"The languages for which our linguistic audit services have been most frequently in demand were: English, French, German, Italian and Spanish. Out of the total assessments made last year, there were 31% for English, 22% French, 18% German, 11% Spanish, Italian 6%, " said Delia Dragomir.
Overall, in 2015, more than 10,000 employees of companies in Romania, operating in various fields such as automotive, manufacturing, retail, outsourcing, telecom, financial services and IT, participated in the language courses delivered by Eucom trainers.

"Although the general foreign language level of employees or potential employees is good, employers often opt for further language courses. In order for them to achieve the objectives in today's business environment, employees need to master the terminology specific to the industry in which the company operates. As such, we deliver customized language courses to meet both the learners' communication objectives and our clients' business needs," said Delia Dragomir.

According to the Common European Reference Framework for Languages, comprehension, speaking and writing skills in a foreign language can be classified into six levels: A1, A2 (elementary users, who understand and know basic notions), B1 and B2 (independent users, who show a high level of understanding and use complex structures in a foreign language), C1 and C2 (experienced users, who have no difficulties in understanding, speaking and writing in a foreign language).


---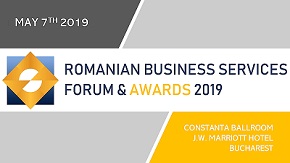 » Raiffeisen Bank Romania outsources onl...
» World-class HR organizations now spend...
» Oracle results pushed down by a strong...
» Sergiu Negut, on the stage of People i...
» Apostoleanu, Oracle: Human talent, mos...
» Bosch Service Solutions to grow 20% Ti...
» DTZ: Office demand outside Bucharest t...
» Wipro launches automotive center of ex...
» TELUS International: Chatbots - The pr...
» Microsoft and Oracle to interconnect M...

My HR Lab: Research of suitable candidates and giving feedback to rejected ones, the biggest challenge in HR

During June 2019, My HR Lab company run an online (social media platforms) survey "Challenges of the recruitment process" which enrolled over 100 professionals working in HR and recruitment in Romania.
Read Full article »
The local market needs more added-value and complex projects to be developed by the companies

The statement has been uttered within this year's Romanian Outsourcing and Shared Services Summit by Catalina Dodu, Country Manager at Atos, pointing to the local enablers that could enhance the innovation and
Read Full article »
The office market at a glance: The round for tenants is on

Data provided by CBRE show that the office spaces segment will continue to grow rapidly in 2019, and 15 new projects covering 304.000 sqm will be delivered. According to the real estate consultancy agency, curr
Read Full article »
People Empowering Business Forum 2019 to take place on October, 30 at Bucharest

Latest trends like demographic upheaval, globalization, digital technology, and changing social values and worker expectations, are disrupting business models and radically changing the workplace. These are req
Read Full article »
Addressing the mantra of cyber-security: Confidentiality, integrity and availability

The fast advancement of technology in all the aspects of everyday life, either personal or professional, and the emerging of AI (Artificial Intelligence) and ML (Machine Learning), not to mention cloud technolo
Read Full article »