Endava: keeping up the 30 per cent growth rhythm - OT print issue

Romania now holds the top position in Endava's personnel figure, with 56 per cent of the company's 2,500 employees located here, according to Valentin Metzger, CEE Delivery Director, Endava.

"During the 2014 – 2015 fiscal year we've achieved a 30 per cent growth across the group and anticipate similar level of performance in the coming year," says Metzger, while responding to OT questions.

Is there a threat of labour saturation in the market or is it still possible to expand?

Romania enjoys a strong positioning as a destination. We have a strong engineering heritage and one of the highest number of engineers per capita, which along with being cost-effective, makes Romania a very attractive destination for investors.

We have a very good track record of successfully delivering for global clients from Romania, leading to an increase in demand for projects from our Romanian delivery centres and, in turn, leading to a greater need for professionals with a solid background in IT.

While the market is becoming more competitive, this does present new challenges and opportunities. On one hand, the Romanian workforce can build a new career in the IT industry, embracing new skills and roles traditionally performed closer to the client. On the other hand, companies can focus on value added services, enhancing the quality and level of innovation in their projects.

We're now competing on a global market and the talent and technical skills Romania has to offer represent a clear advantage, allowing companies to deliver better value to their clients.

An important benefit for Romania is that it has a number of large cities outside Bucharest with increasingly good infrastructure (office space, direct flights to major European cities) and universities that have great potential to develop, including Cluj, Iasi, Timisoara and others.

What drives attrition and retention?

Company culture plays an increasingly important role when it comes to employee engagement. At Endava, our company culture plays a vital role in achieving our vision to create success for people. The people who work for us, the people who engage with us, and the people who use the systems and platforms we design, build, and operate.

In fact, for the third consecutive year, Endava has been selected as the employer of choice in the IT services sector in Romania. As we expand, we take great care to look after and pass on our culture, helping our people develop their skills and achieve their goals.

While company culture ranks among the top factors related to retention, project diversity, attractive reward packages and the opportunity to work on exciting projects, and using cutting-edge technologies are also important.

Due to our strong company culture and the opportunities created by working on bespoke projects for global clients, we're seeing very healthy levels of engagement and retention across all our delivery centres. What's more, one out of three Endavans have joined us following a colleague's recommendation.

Endava welcomes people with all levels of experience. Project requirements for skills and experience may vary, however we also aim to create balanced teams that include people with significant experience and skills, as well as graduates that are eager to learn and develop their skills quickly.

What new expansion and investment are you planning for 2016 and over the mid-term?

Endava entered the Romanian IT services market almost a decade ago by acquiring AGS – a well-established company in Cluj-Napoca. Since then, we've continued to expand our operations to other important Romanian IT hubs, like Iasi and Bucharest.

Over the years, we've seen significant growth, not just in terms of revenue and technical capabilities but our people as well. We now number over 2,500 Endavans, with over 1,400 of them located in our Romanian delivery centres.

We plan to continue the expansion of our delivery centres across Europe and aim for a minimum 25 per cent expansion at the group level, with a focus on the North American market as well.

What type of industries are you serving and what are the most predominant skills in Endava?

We work with major brands in industries like Insurance, Retail, Finance, Telco, Media and Technology across Europe and the United States. Through our Agile and Digital Transformation propositions, we help organisations worldwide transform into more agile, digital businesses, enabling them to achieve their goals and deliver better value to their customers.

The official language within Endava is English and we pride ourselves with one of the best English speaking professionals on the market. Throughout our engagements, we leverage our technical excellence to help clients enhance their business and service through a wide spectrum of technologies. From Java, .Net, Mobile (Android, iOS), Scala, PHP, Ruby and more our teams are skilled in a wide number of programming languages and, thanks to well-established internal practices, we continuously develop our capabilities.





---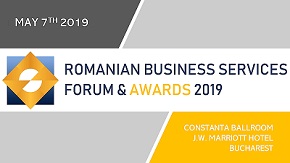 » Raiffeisen Bank Romania outsources onl...
» Oracle results pushed down by a strong...
» World-class HR organizations now spend...
» Apostoleanu, Oracle: Human talent, mos...
» Sergiu Negut, on the stage of People i...
» Microsoft and Oracle to interconnect M...
» The importance of training in developi...
» ANIS: Romanian IT market annual revenu...
» Healthcare IT outsourcing market is ex...
» Bosch Service Solutions to grow 20% Ti...

My HR Lab: Research of suitable candidates and giving feedback to rejected ones, the biggest challenge in HR

During June 2019, My HR Lab company run an online (social media platforms) survey "Challenges of the recruitment process" which enrolled over 100 professionals working in HR and recruitment in Romania.
Read Full article »
The local market needs more added-value and complex projects to be developed by the companies

The statement has been uttered within this year's Romanian Outsourcing and Shared Services Summit by Catalina Dodu, Country Manager at Atos, pointing to the local enablers that could enhance the innovation and
Read Full article »
The office market at a glance: The round for tenants is on

Data provided by CBRE show that the office spaces segment will continue to grow rapidly in 2019, and 15 new projects covering 304.000 sqm will be delivered. According to the real estate consultancy agency, curr
Read Full article »
People Empowering Business Forum 2019 to take place on October, 30 at Bucharest

Latest trends like demographic upheaval, globalization, digital technology, and changing social values and worker expectations, are disrupting business models and radically changing the workplace. These are req
Read Full article »
Addressing the mantra of cyber-security: Confidentiality, integrity and availability

The fast advancement of technology in all the aspects of everyday life, either personal or professional, and the emerging of AI (Artificial Intelligence) and ML (Machine Learning), not to mention cloud technolo
Read Full article »