India to change outsourcing business model due to automation - FT

Companies such as Tata Consultancy Services (TCS), Infosys and Wipro will move from a strategy-based on high headcount and low costs to one reliant on higher employee costs and flexible services due to automation, writes Financial Times.

"Their financial model is under stress. It's that simple. They can't just keep hiring freshers [out of college] to keep costs down," says Pankaj Kapoor of JM Financial Institutional Securities, a Mumbai-based brokerage. "Clients know data centres can be operated by one person now, so why do Indian companies need so many?"

As their clients move towards automation, artificial intelligence and cloud computing, India's IT companies are being forced to redefine their pitches. "Our context has fundamentally and irreversibly changed and we cannot go back to the approaches and methods of the past. The world as we know it has been transformed," wrote Vishal Sikka, chief executive of Infosys, in its 2015-16 annual report.
Wipro's chief executive Abidali Neemuchwala shared similar concerns with the Indian newspaper Business Standard in April.

"It's very simple. The number of people required in the lower end of the pyramid is going down. Robots and bots are taking over. You will see a slowdown in hiring across the industry."
Infosys, Wipro and their rivals are now revising their old service model: to provide a fixed IT service for a fixed cost.

"We have started seeing models where we are jointly investing with the client, putting skin in the game," says Pravin Rao, chief operating officer of Infosys.

"I go to the client saying: 'We believe that by applying these technologies, leveraging them, we can bring you benefit. You can pay me based on the number of transactions, or based on the percentage of revenue I drive, or the kind of cost savings I do.' It's probably a small percentage of the business right now, but over the next five years it will become much larger."


---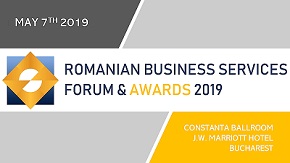 » Huawei opens a centre on cyber securit...
» ROMANIAN OUTSOURCING AWARDS FOR EXCELL...
» Romania ranks above EU average in gend...
» Bucharest, in the top of cities in Eur...
» Berg Software Romania: Reasons to outs...
» Meet the experts who will decide the w...
» Bogdan Pelinescu, president of ABSL: A...
» KPMG launches an application enabling ...
» ABSL GALA AWARDS celebrated its winner...
» Oracle reaches 4,200 employees and pla...

Colin C. Lovering: Meet the speakers at Romanian Business Services Forum & Awards 2019, on May 7

Colin C. Lovering has been living and working in Romania since 2009 when he arrived to offer consultancy and advice to organisations looking for growth and profitability and founded Achieve International.
Read Full article »
Antoniu Panait: Meet the speakers at Romanian Business Services Forum & Awards 2019, on May 7

Managing Director for VASTINT Romania since 2009, Antoniu Panait has an executive experience of more than 10 years, mainly in real estate.
Read Full article »
Andrei Voica: Meet the speakers at Romanian Business Services Forum & Awards 2019, on May 7

Andrei Voica, Director Project Management and Workplace Consultancy, Colliers International. Truly passionate about his work and always eager to add value to each project.
Read Full article »
Romulus Caralicea: Meet the speakers at Romanian Business Services Forum & Awards 2019, on May 7

Romulus is Wipro's Information Security, Risk & Compliance Lead for Europe. In his role he is managing internal audits and compliance activities for all clients and internal functions based on the corporate ISO
Read Full article »
George Didoiu: Meet the moderator of Romanian Business Services Forum 2019 CEO LEADERS DEBATE, on May 7

In his 15 years of real estate, George Didoiu advised on the relocation of top IT&C, finance-banking and consultancy companies, which total over 10,000 employees.
Read Full article »