India to change outsourcing business model due to automation - FT

Companies such as Tata Consultancy Services (TCS), Infosys and Wipro will move from a strategy-based on high headcount and low costs to one reliant on higher employee costs and flexible services due to automation, writes Financial Times.

"Their financial model is under stress. It's that simple. They can't just keep hiring freshers [out of college] to keep costs down," says Pankaj Kapoor of JM Financial Institutional Securities, a Mumbai-based brokerage. "Clients know data centres can be operated by one person now, so why do Indian companies need so many?"

As their clients move towards automation, artificial intelligence and cloud computing, India's IT companies are being forced to redefine their pitches. "Our context has fundamentally and irreversibly changed and we cannot go back to the approaches and methods of the past. The world as we know it has been transformed," wrote Vishal Sikka, chief executive of Infosys, in its 2015-16 annual report.
Wipro's chief executive Abidali Neemuchwala shared similar concerns with the Indian newspaper Business Standard in April.

"It's very simple. The number of people required in the lower end of the pyramid is going down. Robots and bots are taking over. You will see a slowdown in hiring across the industry."
Infosys, Wipro and their rivals are now revising their old service model: to provide a fixed IT service for a fixed cost.

"We have started seeing models where we are jointly investing with the client, putting skin in the game," says Pravin Rao, chief operating officer of Infosys.

"I go to the client saying: 'We believe that by applying these technologies, leveraging them, we can bring you benefit. You can pay me based on the number of transactions, or based on the percentage of revenue I drive, or the kind of cost savings I do.' It's probably a small percentage of the business right now, but over the next five years it will become much larger."


---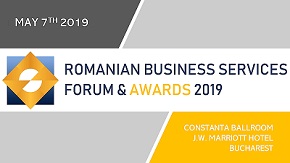 » Raiffeisen Bank Romania outsources onl...
» Horváth & Partners launches Steering ...
» JLL: Total office space in Bucharest t...
» Colliers International takes over the ...
» Oracle results pushed down by a strong...
» SSC in Romania. Who takes the lion's s...
» Survey: Romanians switch to a lower-pa...
» Genpact, Luxoft and Oracle, top lessee...
» Romanian employers report the stronges...
» Eucom: Nine out of ten corporate Roman...

My HR Lab: Research of suitable candidates and giving feedback to rejected ones, the biggest challenge in HR

During June 2019, My HR Lab company run an online (social media platforms) survey "Challenges of the recruitment process" which enrolled over 100 professionals working in HR and recruitment in Romania.
Read Full article »
The local market needs more added-value and complex projects to be developed by the companies

The statement has been uttered within this year's Romanian Outsourcing and Shared Services Summit by Catalina Dodu, Country Manager at Atos, pointing to the local enablers that could enhance the innovation and
Read Full article »
The office market at a glance: The round for tenants is on

Data provided by CBRE show that the office spaces segment will continue to grow rapidly in 2019, and 15 new projects covering 304.000 sqm will be delivered. According to the real estate consultancy agency, curr
Read Full article »
People Empowering Business Forum 2019 to take place on October, 30 at Bucharest

Latest trends like demographic upheaval, globalization, digital technology, and changing social values and worker expectations, are disrupting business models and radically changing the workplace. These are req
Read Full article »
Addressing the mantra of cyber-security: Confidentiality, integrity and availability

The fast advancement of technology in all the aspects of everyday life, either personal or professional, and the emerging of AI (Artificial Intelligence) and ML (Machine Learning), not to mention cloud technolo
Read Full article »