Oracle Romania inaugurates the Iasi office

Oracle officially opened its first office in Iasi, a project that is part of the expansion of the company nationally. Sorin Mindrutescu, country leader & director CEE Cloud and Hans Klemm, the US ambassador to Romania were present at the new Oracle office inauguration.

Oracle creates 70 jobs in Iasi. Currently, 50 employees work in the Oracle Software Support department and existing plans include the increase by 20 positions by the end of fiscal year 2017. The city was chosen because of the high quality of both the education system and labor.

"It's a very exciting time for Oracle. Expansion outside the capital has been planned for quite some time, and Iasi and the region of Moldova was one of the choices we have considered. The opening of our new office is an important step for Oracle in Romania, proving once again its commitment to national expansion plan and to recruit top talent permanently. Oracle has been declared the most desirable employer in the last three years and Iasi is a well-known academic center and university, offering qualities and abilities perfect that Oracle seeks ideal candidates: a mix of technical expertise, financial and sales, and knowledge of foreign languages," said Mindrutescu.

"Congratulations to Oracle Romania for the opening of the new office in Iasi! Through this expansion, Oracle, one of the best and most innovative US companies, promotes prosperity in both Romania and the United States by an increase in services trade and investments. We wish to Oracle Romania and new employees much success in Iasi," said the US Ambassador to Romania, Hans Klemm.

Offices in Iasi occupy 1,800 sqm and are located in the city center, an area with a good access to public transport and links with the entire city and the airport. The office shares the same concept and design with the Oracle offices in Bucharest and offers employees a work environment at international standards.


---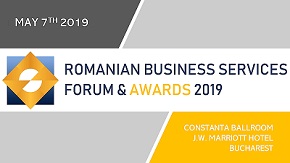 » Evolving from consumers of resources t...
» ROMANIAN OUTSOURCING AWARDS FOR EXCELL...
» Preparing for the new future
» Pepper Escu, the first humanoid robot ...
» Volvo Cars and Uber present production...
» Berg Software Romania: Reasons to outs...
» Marian V. Popa: Meet the speakers at R...
» Deloitte 2019 Global Human Capital Tre...
» How giving back pays dividends for com...
» George Didoiu: Meet the moderator of R...

Digital Transformation Conference to take place on June 19 at Bucharest

The Diplomat – Bucharest organizes Digital Transformation Conference to be held on 14 of June in Bucharest, at Hilton Hotel - Regina Maria Hall, starting 8:30 AM.
Read Full article »
L&D Conference by The Diplomat Bucharest took place on June 4th at Bucharest

The Diplomat-Bucharest organizes the Third Edition of its Learning & Development CONFERENCE on 4 June, 2019 at InterContinental Hotel Bucharest starting 09:00 am.
Read Full article »
Meet the winners of ROMANIAN BUSINESS SERVICES AWARDS, 2019 edition

ROMANIAN BUSINESS SERVICES FORUM & AWARDS 2019, in its fifth year, brrought on May 7, in Bucharest, a new concept event with engaging keynote sessions by industry leaders, interactive panel discussions, network
Read Full article »
Few hours away from to the long awaited CEO Leaders Debate, a premiere of Romanian Business Services Forum and Awards
We are a few hours away to the long awaited CEO Leaders Debate, a premiere of Romanian Business Services Forum and Awards on May 7.
Read Full article »
Colin C. Lovering: Meet the speakers at Romanian Business Services Forum & Awards 2019, on May 7

Colin C. Lovering has been living and working in Romania since 2009 when he arrived to offer consultancy and advice to organisations looking for growth and profitability and founded Achieve International.
Read Full article »