Microsoft calls entrepreneurs to action to Accelerator Bootcamp


Early stage Romanian IT &C companies are summoned to join Microsoft Accelerator Bootcamp, one of the biggest events for start-ups and entrepreneurs organized by Microsoft and now hosted for the first time in Central and Eastern Europe, at TechHUB Bucharest.

The event takes place from June 24 to June 26.

During the three days, Romanian entrepreneurs with regional or global ambitions will engage in a learning experience on how to find customers, how to hire a team, get an investment to fuel their startup and how to spend it wisely.

Alec Saunders, Senior Director and Didem Un Ates, Global Partnerships Director of Microsoft Accelerators will be mentoring the event. Alec Saunders is responsible for a diverse portfolio including scaling the Microsoft Accelerator Network through partnerships, and success managing high potential startups to their full potential using Microsoft resources. Alec has more than 25 years in software, including 9 years of distinguished service at Microsoft where he helped launch Windows 95, the first two versions of Internet Explorer, the Universal Plug and Play initiative, the push into home markets, opt-in email marketing and what might well go down in history as the very first direct email list ever.

"Romania has become a particularly attractive place with a growing culture of entrepreneurship and a non–saturated eco-system of startups. Entrepreneurs are generating innovation while creating the companies of the future and Microsoft is here to support them to become competitive enterprises," said Alec Saunders, Senior Director of Microsoft Accelerators.

As part of the Microsoft Accelerators team, Didem Un Ates works with corporate, government, and accelerator partners to expand and to deepen Microsoft's impact on the global startup ecosystem. Currently she mentors and serves on the board of various early stage startups also supporting Wharton Entrepreneurs' Education and Resource Network (WE-EARN) and Columbia Business School's Eugene Lang Entrepreneurship Center by helping technology startups' business development and funding efforts
According to Brainspotting's research, Romania's proven track record in terms of IT industry development translates into over 95.000 technically skilled professionals - with 47% of them being software developers - and a global Top 10 position in terms of the number of certified IT Pros residing in the country.

"Microsoft Accelerator Bootcamp has emerged as an excellent opportunity to connect with entrepreneurs and Romanian startup companies, helping them find potential customers, investors and share with them the resources and knowledge owned by Microsoft and its partners, with a clear goal to make their entrepreneurial projects thrive," said Didem Un Ates, Global Partnerships Director of Microsoft Accelerators.

Despite the continuous growth of the IT industry, the new Romanian IP generation has traditionally been a secondary activity in the market – with less than 10 percent of development being new IP-oriented. However, the most recent trends are starting to challenge that tradition: Romania now counts over 3700 start-ups, 22 hubs and incubators and a growing community of VCs and Angel Investors. Microsoft alone counts around 500 companies as members of its BizSpark program.

"Microsoft Romania is focused on enhancing the growth of the startup ecosystem. If until now we sustained the formation of first startup academies and pre-acceleration programs, now we add also a more direct approach to help the startups develop faster and become sustainable businesses.

Acceleration programs and Acceleration Bootcamps contribute to the development of startups through mentoring, helping the teams on shaping from corporate governance to better product management, or forming commercial teams and channels, as well as operational streamlining," added Dan Mihăescu, Technology and Development Director at Microsoft Romania.


---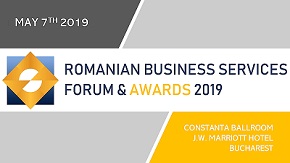 » Huawei opens a centre on cyber securit...
» ROMANIAN OUTSOURCING AWARDS FOR EXCELL...
» Romania ranks above EU average in gend...
» Bucharest, in the top of cities in Eur...
» Berg Software Romania: Reasons to outs...
» Meet the experts who will decide the w...
» Bogdan Pelinescu, president of ABSL: A...
» KPMG launches an application enabling ...
» ABSL GALA AWARDS celebrated its winner...
» Oracle reaches 4,200 employees and pla...

Colin C. Lovering: Meet the speakers at Romanian Business Services Forum & Awards 2019, on May 7

Colin C. Lovering has been living and working in Romania since 2009 when he arrived to offer consultancy and advice to organisations looking for growth and profitability and founded Achieve International.
Read Full article »
Antoniu Panait: Meet the speakers at Romanian Business Services Forum & Awards 2019, on May 7

Managing Director for VASTINT Romania since 2009, Antoniu Panait has an executive experience of more than 10 years, mainly in real estate.
Read Full article »
Andrei Voica: Meet the speakers at Romanian Business Services Forum & Awards 2019, on May 7

Andrei Voica, Director Project Management and Workplace Consultancy, Colliers International. Truly passionate about his work and always eager to add value to each project.
Read Full article »
Romulus Caralicea: Meet the speakers at Romanian Business Services Forum & Awards 2019, on May 7

Romulus is Wipro's Information Security, Risk & Compliance Lead for Europe. In his role he is managing internal audits and compliance activities for all clients and internal functions based on the corporate ISO
Read Full article »
George Didoiu: Meet the moderator of Romanian Business Services Forum 2019 CEO LEADERS DEBATE, on May 7

In his 15 years of real estate, George Didoiu advised on the relocation of top IT&C, finance-banking and consultancy companies, which total over 10,000 employees.
Read Full article »