Office Depot: An ambitious growth


Office Depot opened its first worldwide shared service centre (SSC) in Cluj-Napoca in August 2007 with the purpose of supporting Office Depot's financial operations at a Pan-European level, says Giulio Medda, SSC managing director of Office Depot.

"The Cluj SSC is the first of this kind Office Depot has opened in the world and it is the only office the company has in Romania," he says.

The SSC has a social shared capital about 4.2 million Euro and an annual turnover of 7.6 million Euro. "Revenues in the last eight years grew more or less by 1 million Euro a year," he says.
"Presently we have 550 employees and I am hoping to fill the remaining 50 seats that have available in the office during 2016-2017 in order to optimize the overhead."

While every country in this business needs to develop independently and it is actually the unique offer of the country that makes it attractive to new investments, Poland as much as Czech Republic, Slovakia, Hungary where pioneers and initially very similar in their offer, says he.
Today all of them are addressing a separate segment of the market.

"So yes, Romania should be looking at the other countries but follow their example blinding will not work in the long term," Medda explains.

Even if automation is an important part of every business, human intervention will always be needed. "I don't see the risk of losing jobs due to automation... I see jobs shifting to more complex and highly skilled levels," he says.

One of the biggest local issues is the foreign languages skills talent scarcity.
"The foreign language speakers' availability will always be an issue and saturation is around the corner, particularly for German speakers...but still a few years ahead," he says.

Office Depot's local SSC has currently a 22 per cent attrition rate. "We feel it is a healthy level and we would be happy to keep it like this in the future." He explains that companies are investing a lot in retaining their talents but new comers often recruit aggressively in order to start achieving their goals in the shortest period of time.

Even if some survey still say that Romanians are looking at salaries first when getting hired, learning and development are among the most appreciated benefits, Medda believes. "They like companies to offer a medium/long term development plan in order to see a career progression. It is about knowing what will happen next and be happy with it," he adds.

Office Depot's average age is of 27, and as finding older employees is tough, companies are ready to accept entry level employees. Also, moving to other cities is hard, as they lack infrastructure.
"Companies are looking at other towns but in my opinion there is still a lot of work to do in order to bring the structures and communications to the minimum level requested by our business needs."
Medda says that the biggest and smallest hurdles in the way of a more profitable growth are related to managing the contracts with suppliers and local partners, but "litigation and fraud attempts are a point of attention."

Also, Romania keeps its corruption image abroad. "The bad, but undeserved reputation Romanians have abroad makes very difficult to sale the country services."


---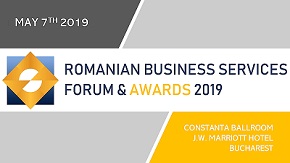 » The most appreciated companies from th...
» Webhelp Romania aiming for EUR 10 mill...
» Tremend joins Mellanox in powering the...
» Manpower: Romania's labor market, more...
» The Outsourcing industry announces its...
» Deloitte's Tech Trends 2019 report: B...
» Bucharest, in the top of cities in Eur...
» Oracle reaches 4,200 employees and pla...
» Genpact's COO: Staying ahead of the cu...
» Ascentis: The top ten HR trends for 20...

Nomination are now open for Romanian Business Services Forum and Awards

Nominations have opened for the prestigious Romanian Business Services Forum & Awards. The 2019 awards will continue to recognize and reinforce the important contribution made by business services professionals
Read Full article »
Study: 89 per cent of finance teams yet to embrace Artificial Intelligence

Report by Association of International Certified Professional Accountants and Oracle shows that almost 90 per cent of finance teams do not have the skills to support digital transformation.
Read Full article »
Bucharest, in the top of cities in Europe with the largest number of experts in high-tech industry

Bucharest is among the top cities boasting the most experts in the high-tech innovative industry, with over 70,000 current employees, next to London, Dublin, Madrid or Budapest, reads a study conducted by CBRE
Read Full article »
CBRE study: Post-millennials, the happiest about their offices
During 2018, real estate consultancy company CBRE conducted the first study dedicated to work environment in office buildings in Bucharest. The respondents have been structured in four age segments, such as Z g
Read Full article »
Deloitte's Tech Trends 2019 report: Beyond the digital frontier

The recently released Deloitte's Tech Trends 2019: Beyond the digital frontier, as each Tech Trends report in the series conducted by the consultancy company, lobbies for embracing the increasing, often mind-b
Read Full article »