Xerox Romania improves market share in an 80 million USD market - OT print issue

Xerox sees the document services and outsourced management markets growing in 2016, keeping with the upward trend of the economy, says Gabriel Pantelimon, general manager of Xerox Romania.

As major players vie for better market share, a price war takes down margins and raises customers' expectations. Last year the market was up 18 per cent in the number of professional (laser printing) units and two per cent in value, while Xerox' market share grew by about 15 per cent in value.

The laser equipment market reached an overall revenue of 80 million USD (according to 2015 IDC market data), and major players strive for the large customers' chunk. But Xerox does not neglect the mid and small cap segment.

"We are very present in retail, but our main business is B2B. Our main KPI is customers' satisfaction, measured in local surveys. We see Romania among the first countries in net promoters scores inside the DMO countries (Developing Markets Operations), meaning clients recommend us," Pantelimon says.

Xerox came to Romania in 1968 and it took the lead in the document management industry, and benefited from its brand awareness keeping its market leadership after the mid-1990s, when all other players came into the market.

"We took advantage of the power of our brand awareness for many years and we still do. The brand is also very powerful, on equipment, managed print services and paper industry sides. Now all large players are here."

Xerox is present in Romania through a couple of entities, including a technology division (including document management services) and outsourcing.

As clients want more and more personalized services, competition gets more abrupt.
While the economy is moving up, so is the document management business. As Xerox Romania offers services to the local customers, optimizing costs became paramount during the recent crisis when the market became very much price-sensitive. "We don't want to put an emphasis and differentiate just on price. We have our R&D and new technologies, and that adds value to services."
Xerox directly manages its large clients, and via its nationwide strategic partners network the company manages mid-end and small-end clients.

"One of the major KPIs that we have for 2016 is customer satisfaction. We set the bar pretty high," says Pantelimon, explaining that 95 per cent of their customers renew their contract, "which is a pretty large rate".

The technology operation has over 200 people located in the Pipera-based HQ and in other deposits and production centres in Bucharest.
"We speak about over 2,000 partners and resellers and a network of 30 strategic partners that cover the entire market nationwide. For us it is very important to serve the client on location in record time," says Pantelimon.

The business process outsourcing (BPO) division, a second Xerox local entity, has about 2,200 employees and is expanding fast in Iasi, Bacau, Bucharest and Oradea, working for global clients in areas such as customer care, health and telesales.

"Therefore, in Romania, the Xerox ecosystem forms an entity of over 3,000 people, BPO included. There are about 1,000 employees in technology (including the workforce of Xerox partners), and 2,200 employees in the services area… and the latter is growing rapidly."

As technology advances rapidly, Xerox and other industry players are ready to face more and more automated processes, security issues and be in trend with the Internet of Things (IoT) open front.
"Through our managed print services offerings, we generate not only a general savings ratio of about 30 per cent to our client, but also the new market trend is to customize everything to the client's needs. We adapt to each client, and this is our main added value."

As the crisis brought down services by as much as 65 per cent in 2009, the market came back up in 2010 and 2011, falling again at the fear of global market recession in 2012 only to retake ground in 2013 and ever since. But as major clients from areas such as banking and telecom see their profits dwindling, after the crisis every market segment joined a pricing war that pushes margins down hard each year, all in the clients' favour.

"We do not engage in a pricing war. We like to keep our services quality up, and customers' satisfaction reports reaffirms that."




---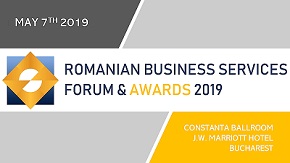 » Raiffeisen Bank Romania outsources onl...
» Horváth & Partners launches Steering ...
» JLL: Total office space in Bucharest t...
» Colliers International takes over the ...
» Oracle results pushed down by a strong...
» SSC in Romania. Who takes the lion's s...
» Survey: Romanians switch to a lower-pa...
» Genpact, Luxoft and Oracle, top lessee...
» Romanian employers report the stronges...
» Eucom: Nine out of ten corporate Roman...

My HR Lab: Research of suitable candidates and giving feedback to rejected ones, the biggest challenge in HR

During June 2019, My HR Lab company run an online (social media platforms) survey "Challenges of the recruitment process" which enrolled over 100 professionals working in HR and recruitment in Romania.
Read Full article »
The local market needs more added-value and complex projects to be developed by the companies

The statement has been uttered within this year's Romanian Outsourcing and Shared Services Summit by Catalina Dodu, Country Manager at Atos, pointing to the local enablers that could enhance the innovation and
Read Full article »
The office market at a glance: The round for tenants is on

Data provided by CBRE show that the office spaces segment will continue to grow rapidly in 2019, and 15 new projects covering 304.000 sqm will be delivered. According to the real estate consultancy agency, curr
Read Full article »
People Empowering Business Forum 2019 to take place on October, 30 at Bucharest

Latest trends like demographic upheaval, globalization, digital technology, and changing social values and worker expectations, are disrupting business models and radically changing the workplace. These are req
Read Full article »
Addressing the mantra of cyber-security: Confidentiality, integrity and availability

The fast advancement of technology in all the aspects of everyday life, either personal or professional, and the emerging of AI (Artificial Intelligence) and ML (Machine Learning), not to mention cloud technolo
Read Full article »