Timisoara: software and automotive industries have the highest shortage of employees

Timisoara is facing a huge shortage of manpower, especially in the areas of software and automotive related causes for the low number of graduates in the local market, potential employees' reluctance to relocate to other cities or even high levels of migration to neighboring countries, specifically cities in west, according to Smartree.

"Although in Timisoara there are renown faculties such as West University or Polytechnic University, the growing number of investors who have entered this geographic area, with activities in the fields of software or automotive are facing lately with a shortage of labor, a situation found in other major cities," says Raluca Penes, HR coordinator, Smartree.

Whether we talk about specialists or middle-level employees, or even entry-level, labor shortages in Timisoara can be a problem for employers with big plans in Romania, who are facing further efforts to attract candidates from other cities.

"Apart from reasons related to the wages or the smaller number of graduates compared to the needed figure, an important cause of the lack of candidates in the local market is their migration towards neighboring countries, a widespread phenomenon in the Western part of the country," also says Penes.

According to Smartree, a solution to this problem would be to attract labor from the eastern part of the country, where the standard of living is much lower than in the West, and the chances of finding a job, especially in certain villages, is almost zero.

"We already noticed this trend of relocation, especially for unskilled workers. But even in such situations we can face refusal from candidates, who prefer a lower standard of living than their relocation. There are such projects in the market, even by working directly with municipalities, thus employers with direct access to groups of unemployed who constitute potential candidates for open positions," also says she.

Also, commuting from other cities is possible.

"There are companies, especially large factories in the automotive, asking for commuters, namely providing transportation for employees who live in other cities, communes or villages in the area, if the distance is accessible."



---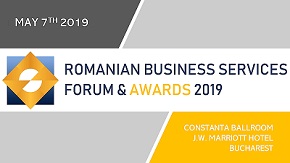 » Romania ranks above EU average in gend...
» The voting procedure for the BRAND OF ...
» Berg Software Romania: Reasons to outs...
» Deloitte's Tech Trends 2019 report: B...
» Steven Hunt, SAP SuccessFactors: Tecto...
» Molson Coors started to grow its busin...
» Societe Generale-European Business Ser...
» Capgemini: Investing in people is the ...
» Countries in CEE region, including Rom...
» Oracle reaches 4,200 employees and pla...

The voting procedure for the BRAND OF THE YEAR 2019 IN ROMANIAN BUSINESS SERVICES is open!

This is the fifth edition of the event and the second year to select the public's favorite brand in the business services BPO, ITO and SSC in Romania.
Read Full article »
Romania ranks above EU average in gender employment gap

In Romania, the employment rate measures the number of people who have a job as a percentage of the working age population. This page provides - Romania Employment Rate- actual values, historical data, forecast
Read Full article »
Steven Hunt, SAP SuccessFactors: Tectonic movements in the world of work

The world of work will be shaped by five tectonic movements – or global megatrends – over the next few years. As you may guess from the geological analogy, the effects could be dramatic.
Read Full article »
EY: European companies are divesting to future-proof growth

According to the EY Global Corporate Divestment Study, 84 per cent of European companies surveyed intending to divest within the next two years (the majority planning to do so in the coming 12 months), executiv
Read Full article »
Knowledge-sharing presentation on latest trends the industry deals, in the program of Romanian Business Services Forum and Awards

Part of the upcoming joint half-day event, Romanian Business Services Forum and Awards to be held at JW Marriott Hotel on May 7th, the discussion agenda comprises a complex Knowledge-sharing presentation on lat
Read Full article »