Accenture clinches technology deal for Eurobank's Romanian and CEE units

Eurobank decided to undergo a digital transformation of its subsidiaries in Romania, Bulgaria, Serbia and Ukraine with new 'Intelligent Infrastructure' platform provided by Accenture, under a ten-year services agreement.

As such, Eurobank Ergasias S.A. will streamline its technology operations and pursue a digital transformation using a new infrastructure-as-a-service (IaaS) technology platform provided by Accenture (NYSE: ACN) under a ten-year agreement that involves the bank's subsidiariesin Romania, Bulgaria, Serbia and Ukraine.

Accenture will provide technology transformation and delivery services for an "intelligent infrastructure" based on an advanced IaaS platform that will support the bank's core functions, including deposits and loans, online banking, transaction processing, and credit card and debit services.

The initiative is designed to support the group's digital transformation program and enable its growth in Southern and Eastern Europe by strengthening service levels and reducing the costs of its subsidiary infrastructure.The agreement deepens a longstanding relationship between Eurobank and Accenture in IT infrastructure services. Accenture has provided consulting and outsourcing services to Eurobank for over 15 years.

"This upgrade and transformation of Eurobank Group's IT infrastructure is part of our strategy to enhance our operational efficiencies and effectiveness by adapting our broader digital transformation program to support all the European markets we serve. In this innovative project we have joined forces with a world leader, Accenture," said Stavros Ioannou, deputy CEO, Group COO & International Activities, Eurobank Ergasias S.A.

"By undertaking this initiative, Eurobank shows strong foresight in the digital era," said Răzvan Pătrunoiu, country managing director al Accenture România.

"Infrastructure-as-a-Service can help banks reduce the costs of a physical technology footprint, increase automation and support new digital innovations now and well into the future."


---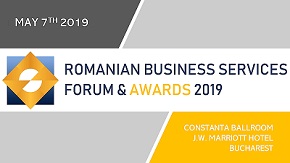 » Raiffeisen Bank Romania outsources onl...
» Horváth & Partners launches Steering ...
» JLL: Total office space in Bucharest t...
» Colliers International takes over the ...
» Oracle results pushed down by a strong...
» Survey: Romanians switch to a lower-pa...
» SSC in Romania. Who takes the lion's s...
» Genpact, Luxoft and Oracle, top lessee...
» Romanian employers report the stronges...
» Eucom: Nine out of ten corporate Roman...

My HR Lab: Research of suitable candidates and giving feedback to rejected ones, the biggest challenge in HR

During June 2019, My HR Lab company run an online (social media platforms) survey "Challenges of the recruitment process" which enrolled over 100 professionals working in HR and recruitment in Romania.
Read Full article »
The local market needs more added-value and complex projects to be developed by the companies

The statement has been uttered within this year's Romanian Outsourcing and Shared Services Summit by Catalina Dodu, Country Manager at Atos, pointing to the local enablers that could enhance the innovation and
Read Full article »
The office market at a glance: The round for tenants is on

Data provided by CBRE show that the office spaces segment will continue to grow rapidly in 2019, and 15 new projects covering 304.000 sqm will be delivered. According to the real estate consultancy agency, curr
Read Full article »
People Empowering Business Forum 2019 to take place on October, 30 at Bucharest

Latest trends like demographic upheaval, globalization, digital technology, and changing social values and worker expectations, are disrupting business models and radically changing the workplace. These are req
Read Full article »
Addressing the mantra of cyber-security: Confidentiality, integrity and availability

The fast advancement of technology in all the aspects of everyday life, either personal or professional, and the emerging of AI (Artificial Intelligence) and ML (Machine Learning), not to mention cloud technolo
Read Full article »