Telus expands to AFI Park 4&5, AFI Tech underway

AFI Europe Romania has leased an extra 3,000 sqm of space to Telus International in AFI Park 4&5 office buildings, thus reaching a 70% occupancy rate. Telus International already occupies 5 floors in AFI Park 3. AFI also announces the development of a new 50,000 sqm TECH Park.

"Having been positioned as a major hub for IT&C and BPO companies in Bucharest, AFI Park represents not only a starting point for many large international companies in Romania, but also a chance to expand their business due to the exceptional opportunities proposed by the office park.

"We believe in creating strong and long lasting partnerships with our tenants by answering their requirements, offering superior technical specifications and constantly investing in upgrades to their spaces. With this new addition to AFI Park 4&5, we are getting closer to leasing out the building and achieving a 100% occupancy rate in the entire AFI Park office project," says David Hay, CEO, AFI Europe Romania.

Telus International is a global provider of customer service, IT, and business process services with more than 22,000 team members around the world, including in the United States, Canada, Europe, Central America and Asia. With over 175 million customer interactions supported annually via voice, email, chat and social media, across the telecommunications, utilities, high tech, gaming, finance, retail, e-commerce, travel and logistics, and health care industries, Telus International enables customer experience innovation through spirited teamwork, agile thinking, and a caring culture that puts customers first.

Telus International will join important companies in the new buildings such as Cameron, SII Romania, Ortec Central & Eastern Europe, FotoNation a Tessera company and Veeam Software in the newest office building of the award winning project AFI Park.

AFI Park 4&5 (32,000 sqm) represents the 4th phase of AFI Park, the newest and most advanced office project in Bucharest that consists of 5 Class A office buildings totaling 70,000 sqm of GLA. The office development, linked to AFI Palace Cotroceni shopping mall (82,000 GLA), is spread over 12 floors of offices served by 2 underground parking levels and a ground floor that hosts retail spaces.

The two buildings are constructed according to specific tenant's space planning and electromechanical requirements, including all the excellent technical specifications appreciated by the IT&C and BPO companies, such as a floor plate of 3,000 sqm, significant natural light, electricity and HVAC design are developed according to tenant's work stations requirements, an option for LED lighting in the office space and increased fresh air to open space units.

Additionally, AFI Park incorporates a unique feature that allows tenants a 24/7/365 days continuous activity due to the advanced back-up solutions which include electricity high voltage supply from 2 different sources.

New projects underway

AFI Europe Romania is currently planning for a development in the City Centre of Brasov Romania of a 45,000 sqm GLA shopping mall and 20,000 sqm GLA office project.

In the office segment, AFI will develop AFI TECH PARK, a 50,000 sqm of GLA Class A Business Park located in close proximity to the J.W. Marriott hotel and the Romanian Parliament. The business park will comprise of 2 low rise office buildings and one office tower, with ample green areas, a high tech/campus style environment in an urban complex with a central plaza & gardens.

AFI TECH PARK manages to answer the expanding needs of IT&C companies in Romania by offering a suitable space in terms of technical specifications accompanied by required expansion options.

The fact that the Business Park is located in Downtown Bucharest and not in City Outskirts provides the Park the unique advantage sought after by multinational companies in Romania
In addition, AFI Europe Romania has two projects to be developed in the near future on the company's 80,000 sqm land plot in Arad where a Retail park is to be developed and the mix use project to be developed on the 148,000 sqm land plot in Bucurestii Noi district 1 of Bucharest.


---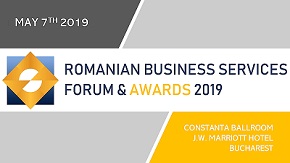 » Huawei opens a centre on cyber securit...
» Romania ranks above EU average in gend...
» ROMANIAN OUTSOURCING AWARDS FOR EXCELL...
» Bucharest, in the top of cities in Eur...
» Meet the experts who will decide the w...
» Bogdan Pelinescu, president of ABSL: A...
» Berg Software Romania: Reasons to outs...
» KPMG launches an application enabling ...
» ABSL GALA AWARDS celebrated its winner...
» George Rotariu, CEO Bitcoin Romania: B...

Meet the speakers at Romanian Business Services Forum 2019 CEO LEADERS DEBATE, on May 7th - Matthieu Pasquier

Matthieu Pasquier is CEO of Societe Generale European Business Services since August 2018 bringing more than 27 years experience in Societe Generale group. During 2014-2018, Matthieu was Head of SG GSC Chennai
Read Full article »
Sorin Mindrutescu among the speakers at Romanian Business Services Forum 2019 CEO LEADERS DEBATE, on May 7th

Sorin Mindrutescu is the Country Leader for Oracle Romania, as of February 2003. In this role, he is responsible for local sales and project delivery. In Romania, Oracle has two major business directions: the l
Read Full article »
Meet the speakers at Romanian Business Services Forum 2019 CEO LEADERS DEBATE, on May 7th - Vivek Bakshi

Vivek Bakshi is the General Manager of Wipro Technologies. He has spent 12 years heading the International Locations / Delivery Centers Europe from the Bucharest office.
Read Full article »
Meet the finalists of the fifth edition of Romanian Business Services Awards 2019

ROMANIAN BUSINESS SERVICES FORUM & AWARDS 2019, in its fifth year, brings on May 7, in Bucharest, a new concept event with engaging keynote sessions by industry leaders, interactive panel discussions, networkin
Read Full article »
Meet the experts who will decide the winners of 2019 at Romanian Business Services Forum & Awards

Each year, Outsourcing Today brings a landmark edition of the Romanian Outsourcing and Shared Services Summit and this year, we are hosting the Fifth of the annual Romanian Outsourcing and Shared Services Award
Read Full article »