Romanian hiring forecast for Q3 gets fifth worldwide position, after India, Japan and Taiwan

About three out of 10 Romanian employers forecast an increase in staffing levels in the July – September 2016 interval, with hiring intentions shifting up 8% over the previous year and enjoying a 3% quarterly rise, according to Manpower.

The overall net figure of new employment is of 16% for the third quarter (Q3/2016), being exceed just by India, with 35%, Japan (22%), Taiwan (17%) and Guatemala (with a similar 16%).

Romania has the strongest hiring plans out of the Emerging Europe, Middle East and Africa (EMEA) countries. And for the first time in eight years, not a single EMEA forecast is negative, with employers in 23 of 25 EMEA expecting varying degrees of payroll growth.

Hiring intentions for Q3 are the strongest they've been in the past eight years, according to the Romanian employers interviewed for most recent edition of the Manpower Employment Outlook Survey. Of the 625 employers interviewed, 29% indicated they planned to increase their payroll during the July – September 2016 timeframe, while only 7% anticipated a decrease and 64% foresaw no change, resulting in a seasonally adjusted Net Employment Outlook of +16%, the strongest in the EMEA region, and one of the 5 strongest across the 43 countries and territories included in the survey.

"The notable quarter-on-quarter and year-on-year shifts, of 3 and 8 percentage points, respectively, are a positive indicator for recent graduates preparing to enter the workforce this summer, and for the economy as a whole. Signs of a renewed appetite for hiring are observable both through our research, and in practice, and we hope they will be accompanied by increased interest and investment in developing the talents needed for what we trust will remain a dynamic labor market," says ManpowerGroup Romania's country manager, Valentin Petrof.

Payrolls are forecast to increase in eight of 10 industry sectors and all eight regions during the July-September period. The strongest forecast is reported by employers in the Manufacturing sector, where the +36% Outlook reflects robust hiring intentions and, for the first time, matches the strongest Outlook to date, reported in the sector when the survey began in Q2/2008. Hiring plans in the Manufacturing sector strengthen by 8 percentage points over Q2/2016, and by 16 percentage points over Q3/2015.

This is one of the three most notable year-on-year shifts, alongside those in the Construction and in the Public and Social sectors, where employers also report a 16 percentage point improvement over the July – September 2015 interval. The weakest hiring plans are once again forecast by employers in the Electricity, Gas & Water Supply sector, but the -2% Net Employment Outlook is nevertheless 3 percentage points stronger than in Q2/2016 and improves over Q3/2015 by 7 percentage points.


Employers in the North-West employers report the strongest of the eight regional Outlooks (+26%), improving by 9 percentage points quarter-over-quarter and by a steep margin of 21 percentage points when compared with Q3/2015. Employers in the Center and South regions are also more optimistic than last year at this time, with Q3/2016 Outlooks improving over Q3/2015 by 13, respectively 11 percentage points, to reach +25%, respectively +14%. Forecasts in the Center region are stronger than they have been since Q2/2008. The least optimistic Outlook, of +3%, is reported in the North-East region,


Hiring perspectives continue to be positive in organizations of all sizes, with employers in large organizations once again reporting the most favorable hiring climate, with an Outlook of +25%, the strongest in 8 years (Q3/2008) and employers in micro-organizations being the most cautious, with an Outlook of +7%.

"The fact that the Q3/2016 Outlooks of several geographical areas and industry sectors are matching or coming close to values reported in 2008 is a reason for job-seekers to be optimistic, but they should remain aware that the new opportunities created now can be fundamentally different from those lost in the recession, in terms of job profiles and skills requirements, and position themselves to take advantage of the new dynamics," adds Valentin Petrof.

---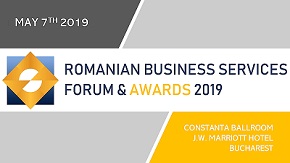 » Raiffeisen Bank Romania outsources onl...
» World-class HR organizations now spend...
» Oracle results pushed down by a strong...
» Apostoleanu, Oracle: Human talent, mos...
» Sergiu Negut, on the stage of People i...
» Microsoft and Oracle to interconnect M...
» The importance of training in developi...
» ANIS: Romanian IT market annual revenu...
» Healthcare IT outsourcing market is ex...
» Bosch Service Solutions to grow 20% Ti...

My HR Lab: Research of suitable candidates and giving feedback to rejected ones, the biggest challenge in HR

During June 2019, My HR Lab company run an online (social media platforms) survey "Challenges of the recruitment process" which enrolled over 100 professionals working in HR and recruitment in Romania.
Read Full article »
The local market needs more added-value and complex projects to be developed by the companies

The statement has been uttered within this year's Romanian Outsourcing and Shared Services Summit by Catalina Dodu, Country Manager at Atos, pointing to the local enablers that could enhance the innovation and
Read Full article »
The office market at a glance: The round for tenants is on

Data provided by CBRE show that the office spaces segment will continue to grow rapidly in 2019, and 15 new projects covering 304.000 sqm will be delivered. According to the real estate consultancy agency, curr
Read Full article »
People Empowering Business Forum 2019 to take place on October, 30 at Bucharest

Latest trends like demographic upheaval, globalization, digital technology, and changing social values and worker expectations, are disrupting business models and radically changing the workplace. These are req
Read Full article »
Addressing the mantra of cyber-security: Confidentiality, integrity and availability

The fast advancement of technology in all the aspects of everyday life, either personal or professional, and the emerging of AI (Artificial Intelligence) and ML (Machine Learning), not to mention cloud technolo
Read Full article »