Microsoft to control more than 1.8 million LinkedIn accounts in Romania

While the world's IT giant Microsoft plans the takeover of the biggest professionals' network for 26 billion USD, it will also get control to Romania's more than 1.8 million users database.

Microsoft has announced that it is acquiring LinkedIn, the social network for professionals with some 433 million users, for USD26 billion, or USD 196 per share, in cash. The transaction has already been approved by both boards, writes thecrunch.com.

According to social media specialist manafu.ro, LinkedIn had about 1.644 million users in Romania (according to the Zelist quota), as of May 2015, and other sources mentioned about 1.8 million users by 2015 year-end, showing a growth pace of around 150,000 users per semester.

LinkedIn is keeping its branding and product, and it will become a part of Microsoft's productivity and business processes segment. LinkedIn's CEO Jeff Weiner will report to Satya Nadella.

For Microsoft, it's bringing a key, missing piece into the company's strategy to build out more services for enterprises. Today, the company is focused squarely on software (and some hardware by way of its very downsized phones business). LinkedIn will give it a far bigger reach in terms of social networking services and professional content — developing further along the lines of the communications products that it spearheaded with its acquisition of Yammer. It will give it a potential sales channel to sell more of its products, and will serve as a complement to those that it already offers for collaboration and communication.


---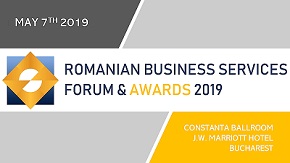 » Huawei opens a centre on cyber securit...
» ROMANIAN OUTSOURCING AWARDS FOR EXCELL...
» Romania ranks above EU average in gend...
» Bucharest, in the top of cities in Eur...
» Berg Software Romania: Reasons to outs...
» Meet the experts who will decide the w...
» Bogdan Pelinescu, president of ABSL: A...
» KPMG launches an application enabling ...
» ABSL GALA AWARDS celebrated its winner...
» Oracle reaches 4,200 employees and pla...

Colin C. Lovering: Meet the speakers at Romanian Business Services Forum & Awards 2019, on May 7

Colin C. Lovering has been living and working in Romania since 2009 when he arrived to offer consultancy and advice to organisations looking for growth and profitability and founded Achieve International.
Read Full article »
Antoniu Panait: Meet the speakers at Romanian Business Services Forum & Awards 2019, on May 7

Managing Director for VASTINT Romania since 2009, Antoniu Panait has an executive experience of more than 10 years, mainly in real estate.
Read Full article »
Andrei Voica: Meet the speakers at Romanian Business Services Forum & Awards 2019, on May 7

Andrei Voica, Director Project Management and Workplace Consultancy, Colliers International. Truly passionate about his work and always eager to add value to each project.
Read Full article »
Romulus Caralicea: Meet the speakers at Romanian Business Services Forum & Awards 2019, on May 7

Romulus is Wipro's Information Security, Risk & Compliance Lead for Europe. In his role he is managing internal audits and compliance activities for all clients and internal functions based on the corporate ISO
Read Full article »
George Didoiu: Meet the moderator of Romanian Business Services Forum 2019 CEO LEADERS DEBATE, on May 7

In his 15 years of real estate, George Didoiu advised on the relocation of top IT&C, finance-banking and consultancy companies, which total over 10,000 employees.
Read Full article »