Bombardier: from Bucharest subway to the service centre in Cluj- OT print issue

Bombardier will grow 20-30 per cent by the end of this year. The 500-employee Cluj-based company centre serves mainly European clients, adding more segments to its business since it started local operations, in 2009, says Andreea Van den Bosch, the HR business partner of the Shared Services Organization for Romania of Bombardier Transportation.


How much did you invest in Romania and what are the expansion and investment plans over the mid -term?

Bombardier has been fully committed to Romania since 2001 and treats its presence in the country as long term. Bombardier is also the leader in the supply of rail technology for Bucharest metro (264 MOVIA metro cars and Bombardier signalling technology for lines 1, 2 and 3).

Bombardier Transportation's Shared Services Organization (SSO), located in Cluj, started operations in 2009 with the Finance department, followed by Human Resources in 2011 and Non-Product Related Procurement in 2014. Currently, we have more than 500 employees in Romania, planning to continue growth up to 20-30 per cent by the end of 2016.

What geographies and regions are you serving? What language skills are predominant? How about other skills?

Bombardier being a global company, its SSO in Cluj supports activities worldwide, with a focus on European countries. English is the base language and second languages are French, German, Polish, Czech, Dutch, Spanish and Italian. Amongst the main skills are the languages and for certain roles, we look for expertise in relevant areas, such as Finance, HR or Procurement.

Should Romania follow the Polish example?

Each economy which is developing well, fast and steadily should be a model to follow. After socialism ended, Poland had dealt with economic changes quite well, and these changes led to quick and steady economic growth. There are, however, many factors, including e.g. geopolitical aspects. We are hoping that thanks to European Union funding, Romania will follow in the footsteps of countries like Poland.

The very fact that an SSO of one of the largest global companies like Bombardier has been located in Romania attests to the potential of our country and the confidence in our capabilities.

Is there a threat of labour saturation in the market, especially in larger cities in Romania, or it is still possible to expand?

There are some difficulties in sourcing candidates, mainly for the German markets due to other companies sourcing for similar profiles, nevertheless the market is ready to provide specific technical expertise in customer services areas due to the growth of the shared services and Business Process Outsourcing (BPO) industry in big cities, such as Bucharest, Cluj or Timisoara.

We see more and more companies targeting smaller cities as Oradea and Sibiu, mainly for production sites, not necessarily for services. Due to the universities presence in the bigger cities, they still remain the main attraction points for SSOs and BPOs.

How well are employers in Romania ready to cut the attrition rate, as competition for human resources and talent intensifies?

Our turnover rates are within the market range for the SSO and BPO environment. Nevertheless, employees are mainly looking for career progression opportunities in the same field or changing to another area of expertise for lateral development. Flexibility, job content and autonomy are the main criteria besides compensation that determine the retention of the employees.

What are the latest trends in employee motivation?

Main motivation drivers relate to organizational climate and self-development. Employees are looking for flexible employers who can provide development opportunities in an open and trust-building environment. Today's employees are very self-driven and demanding, they have transferable competencies suitable for various areas, employers need to be able to keep the pace in creating opportunities.

Why do outsourcing companies prefer young personnel, of not more than 25 year-old on average? How is that changing?

It is not a preference, it is more a matter of competencies that differentiate the candidates. Given that the primary competency is a foreign language, this creates a gap in the diversity of the workforce. For specialist roles, the average age goes up to 35-40 years old.

What are the main KPIs that you follow?

As a strategic partner within Bombardier, our operations Key Performance Indicators directly derive from Bombardier Transportation's overall business objectives for each of the functions that we support from Romania. The team in Cluj-Napoca is focusing on delivering on quality and timeliness on the overall employee lifecycle, accounting and procurement related activities.

What was the biggest problem encountered so far in leading Romanian operations?

We haven't encountered significant issues since the implementation of the SSO due to the strong commitment of our stakeholders in Bombardier as well as the engagement of our team on site. One of our missions is to continuously enhance Bombardier's global competitive advantage through competency development of our people and process standardization.

What are the latest trends regarding automation, big data and internet of things (IoT) and how will they affect your company and the industry as a whole?

Process automation is on our strategic agenda in order to enable our teams to focus on high-qualitative activities that will serve our business and create a better experience for our customers.


---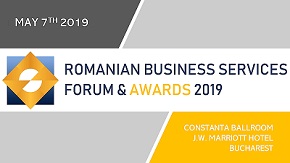 » Raiffeisen Bank Romania outsources onl...
» Horváth & Partners launches Steering ...
» JLL: Total office space in Bucharest t...
» Genpact, Luxoft and Oracle, top lessee...
» SSC in Romania. Who takes the lion's s...
» Oracle results pushed down by a strong...
» World-class HR organizations now spend...
» Romanian employers report the stronges...
» ROMANIAN OUTSOURCING AWARDS FOR EXCELL...
» Eucom: Nine out of ten corporate Roman...

My HR Lab: Research of suitable candidates and giving feedback to rejected ones, the biggest challenge in HR

During June 2019, My HR Lab company run an online (social media platforms) survey "Challenges of the recruitment process" which enrolled over 100 professionals working in HR and recruitment in Romania.
Read Full article »
The local market needs more added-value and complex projects to be developed by the companies

The statement has been uttered within this year's Romanian Outsourcing and Shared Services Summit by Catalina Dodu, Country Manager at Atos, pointing to the local enablers that could enhance the innovation and
Read Full article »
The office market at a glance: The round for tenants is on

Data provided by CBRE show that the office spaces segment will continue to grow rapidly in 2019, and 15 new projects covering 304.000 sqm will be delivered. According to the real estate consultancy agency, curr
Read Full article »
People Empowering Business Forum 2019 to take place on October, 30 at Bucharest

Latest trends like demographic upheaval, globalization, digital technology, and changing social values and worker expectations, are disrupting business models and radically changing the workplace. These are req
Read Full article »
Addressing the mantra of cyber-security: Confidentiality, integrity and availability

The fast advancement of technology in all the aspects of everyday life, either personal or professional, and the emerging of AI (Artificial Intelligence) and ML (Machine Learning), not to mention cloud technolo
Read Full article »