Digital Transformation is changing SAP's business, new investments to Romania

Romanian companies must understand that each euro invested into IT rolls into several euros of revenue, Rumyana Trencheva, managing director SAP for South Eastern Europe (including Bulgaria and Romania) tells Outsourcing Today.

How long it takes until such an investment is amortized?

"It could take just a couple of months, but it really depends from company to company," says Trencheva.

And while the digital transformation brings in a new business concept for SAP,
"About 30% of the global brands will disappear during the next five years," also explains Simon Kaluza, managing director SAP for CEE (his area includes Poland, The Czech Republic and Hungary).
"Companies must realize the change, digital transformation is here, now, and there are huge challenges ahead from competitors' side into the next period. Companies that will adapt will survive and eat up other rivals, there will be a lot of mergers and acquisitions, and this is how 30% of the global brands will disappear," says Kaluza.

And while marching on the "Uber"- isation of the industry, SAP prepares for a new wave of investments into the Romanian market.

"There are 400 employees in our Romanian nearshore center," says Trencheva. And 70-100 new employees will be added up this year.

"We had the surprise to see Romania among the most competitive and innovative, technologically-advanced country. We saw Romanians winning global technology competitions, and we decided to invest more here," says Kaluza.

More about this story in Outsourcing Today's July Print Issue.

---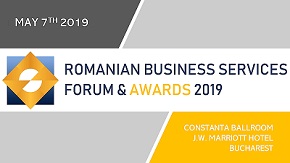 » Molson Coors started to grow its busin...
» TELUS International Europe: Three ways...
» Deloitte's Tech Trends 2019 report: B...
» Capgemini: Investing in people is the ...
» The Outsourcing industry announces its...
» KPMG study: Big data needs a big re-th...
» Romania ranks above EU average in gend...
» Committed to growth
» ROMANIAN OUTSOURCING AWARDS FOR EXCELL...
» Engagement and inclusion through direc...

The voting procedure for the BRAND OF THE YEAR 2019 IN ROMANIAN BUSINESS SERVICES is open!

This is the fifth edition of the event and the second year to select the public's favorite brand in the business services BPO, ITO and SSC in Romania.
Read Full article »
Romania ranks above EU average in gender employment gap

In Romania, the employment rate measures the number of people who have a job as a percentage of the working age population. This page provides - Romania Employment Rate- actual values, historical data, forecast
Read Full article »
Steven Hunt, SAP SuccessFactors: Tectonic movements in the world of work

The world of work will be shaped by five tectonic movements – or global megatrends – over the next few years. As you may guess from the geological analogy, the effects could be dramatic.
Read Full article »
EY: European companies are divesting to future-proof growth

According to the EY Global Corporate Divestment Study, 84 per cent of European companies surveyed intending to divest within the next two years (the majority planning to do so in the coming 12 months), executiv
Read Full article »
Knowledge-sharing presentation on latest trends the industry deals, in the program of Romanian Business Services Forum and Awards

Part of the upcoming joint half-day event, Romanian Business Services Forum and Awards to be held at JW Marriott Hotel on May 7th, the discussion agenda comprises a complex Knowledge-sharing presentation on lat
Read Full article »