TMF Group acquires UCMS Group for an undisclosed amount


TMF Group – a 17 year-old company in outsourcing services market in the country, announced the acquisition of UCMS Group, a supplier specialized in human resources outsourcing services for an undisclosed amount.

With the acquisition of the local branch of UCMS Group, Romanian TMF Group strengthens its market position in outsourcing services providers, increasing its portfolio and team, reveals a release.

UCMS Group is a multinational organization with direct operations in Hungary, Poland and Romania and has a network of partners throughout the region. Previously known in Romania as the Work Solutions, the company was founded in 1996 in Cluj-Napoca. Two years later, it opened an office in Bucharest, and in 2012 opened a BPO center in Craiova.

UCMS Group has focused on delivering HR services and payroll, supported by dedicated software technology - UCMS HR & PAY. The application, developed and improved continuously, is among top HR and payroll solutions in the market and supports more than 500 companies in the country.

"Since the entry into Romania, TMF Group has developed continuously, we innovated, we have created new services, we have launched studies to better understand our customers' needs and we have adapted to new economic realities. For us it is important to deliver services to our clients that take the pressure off the shoulders and allow them to better focus on their core business. We are sure that now, with a team of 200 professionals and enhanced expertise, we will be even stronger partner for existing and future customers," said Camelia Nita, TMF Group Romania's managing director.

With 300 employees across Central and Eastern Europe, 550 clients serviced in 26 countries, 1 million payslips per year, over 36,000 users of portals HR and 125,000 calculations monthly salary made by customers on a UCMS software, the group is well-known for its technological capability in providing effective payroll, human resources and accounting for legal entities.


---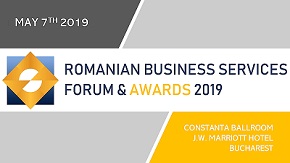 » Romania ranks above EU average in gend...
» The voting procedure for the BRAND OF ...
» Berg Software Romania: Reasons to outs...
» Deloitte's Tech Trends 2019 report: B...
» Steven Hunt, SAP SuccessFactors: Tecto...
» Molson Coors started to grow its busin...
» Societe Generale-European Business Ser...
» Capgemini: Investing in people is the ...
» Countries in CEE region, including Rom...
» Oracle reaches 4,200 employees and pla...

The voting procedure for the BRAND OF THE YEAR 2019 IN ROMANIAN BUSINESS SERVICES is open!

This is the fifth edition of the event and the second year to select the public's favorite brand in the business services BPO, ITO and SSC in Romania.
Read Full article »
Romania ranks above EU average in gender employment gap

In Romania, the employment rate measures the number of people who have a job as a percentage of the working age population. This page provides - Romania Employment Rate- actual values, historical data, forecast
Read Full article »
Steven Hunt, SAP SuccessFactors: Tectonic movements in the world of work

The world of work will be shaped by five tectonic movements – or global megatrends – over the next few years. As you may guess from the geological analogy, the effects could be dramatic.
Read Full article »
EY: European companies are divesting to future-proof growth

According to the EY Global Corporate Divestment Study, 84 per cent of European companies surveyed intending to divest within the next two years (the majority planning to do so in the coming 12 months), executiv
Read Full article »
Knowledge-sharing presentation on latest trends the industry deals, in the program of Romanian Business Services Forum and Awards

Part of the upcoming joint half-day event, Romanian Business Services Forum and Awards to be held at JW Marriott Hotel on May 7th, the discussion agenda comprises a complex Knowledge-sharing presentation on lat
Read Full article »