TMF Group acquires UCMS Group for an undisclosed amount


TMF Group – a 17 year-old company in outsourcing services market in the country, announced the acquisition of UCMS Group, a supplier specialized in human resources outsourcing services for an undisclosed amount.

With the acquisition of the local branch of UCMS Group, Romanian TMF Group strengthens its market position in outsourcing services providers, increasing its portfolio and team, reveals a release.

UCMS Group is a multinational organization with direct operations in Hungary, Poland and Romania and has a network of partners throughout the region. Previously known in Romania as the Work Solutions, the company was founded in 1996 in Cluj-Napoca. Two years later, it opened an office in Bucharest, and in 2012 opened a BPO center in Craiova.

UCMS Group has focused on delivering HR services and payroll, supported by dedicated software technology - UCMS HR & PAY. The application, developed and improved continuously, is among top HR and payroll solutions in the market and supports more than 500 companies in the country.

"Since the entry into Romania, TMF Group has developed continuously, we innovated, we have created new services, we have launched studies to better understand our customers' needs and we have adapted to new economic realities. For us it is important to deliver services to our clients that take the pressure off the shoulders and allow them to better focus on their core business. We are sure that now, with a team of 200 professionals and enhanced expertise, we will be even stronger partner for existing and future customers," said Camelia Nita, TMF Group Romania's managing director.

With 300 employees across Central and Eastern Europe, 550 clients serviced in 26 countries, 1 million payslips per year, over 36,000 users of portals HR and 125,000 calculations monthly salary made by customers on a UCMS software, the group is well-known for its technological capability in providing effective payroll, human resources and accounting for legal entities.


---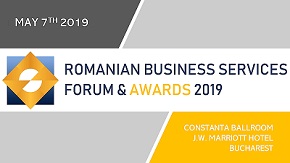 » Raiffeisen Bank Romania outsources onl...
» Oracle results pushed down by a strong...
» World-class HR organizations now spend...
» Apostoleanu, Oracle: Human talent, mos...
» Microsoft and Oracle to interconnect M...
» The importance of training in developi...
» ANIS: Romanian IT market annual revenu...
» Healthcare IT outsourcing market is ex...
» Bosch Service Solutions to grow 20% Ti...
» Omnichannel: 4 pillars of a purposeful...

My HR Lab: Research of suitable candidates and giving feedback to rejected ones, the biggest challenge in HR

During June 2019, My HR Lab company run an online (social media platforms) survey "Challenges of the recruitment process" which enrolled over 100 professionals working in HR and recruitment in Romania.
Read Full article »
The local market needs more added-value and complex projects to be developed by the companies

The statement has been uttered within this year's Romanian Outsourcing and Shared Services Summit by Catalina Dodu, Country Manager at Atos, pointing to the local enablers that could enhance the innovation and
Read Full article »
The office market at a glance: The round for tenants is on

Data provided by CBRE show that the office spaces segment will continue to grow rapidly in 2019, and 15 new projects covering 304.000 sqm will be delivered. According to the real estate consultancy agency, curr
Read Full article »
People Empowering Business Forum 2019 to take place on October, 30 at Bucharest

Latest trends like demographic upheaval, globalization, digital technology, and changing social values and worker expectations, are disrupting business models and radically changing the workplace. These are req
Read Full article »
Addressing the mantra of cyber-security: Confidentiality, integrity and availability

The fast advancement of technology in all the aspects of everyday life, either personal or professional, and the emerging of AI (Artificial Intelligence) and ML (Machine Learning), not to mention cloud technolo
Read Full article »