Rockwell Automation opens first office in Romania

Rockwell Automation, the world's largest company dedicated to industrial automation and information, expands its business in East and Central Europe and has opened two new offices in Bucharest, Romania and Budapest, Hungary. Both offices will have experienced industrial professionals who have worked extensively with manufacturers in the country.

"While we have been doing business in these countries for a few years, our local activities were coordinated from our office in Prague, supported by Vestra for Romania," says Peter Rozek, director for sales operations in Hungary and Romania.

"We will continue to work closely with local members of our PartnerNetwork and build upon the established relationship in both countries. These two markets are important to us and the new locations help us to best support their industries and serve our customers."

"This expansion enables really good service for manufacturers in the region," says Reto Berner, regional sales director EMEA at Rockwell Automation.

"As a company our goal is to support our customers to become and remain globally competitive. This is also by helping them move into smart manufacturing, which has become the number one driver of industries and countries across the globe."

Economic and political factors are putting more competitive pressure on global companies, and internationally, governments have realized that manufacturing is a major contributor to their GNP and is critical for their nations to be competitive.

Many have created national initiatives, such as Germany Industrie 4.0, or the United States its Advanced Manufacturing Partnership 2.0 (AMP 2.0). These visions and technology strategies are important for companies focused on evolving their strategies to stay globally competitive. The Connected Enterprise is the vision of Rockwell Automation to connect information from the plant floor to the rest of the organization. It is the enabler to achieve many business values already today.

Rockwell Automation employs approximately 22,000 people serving customers in more than 80 countries.


---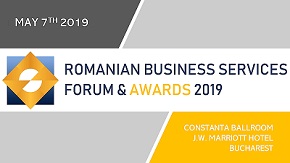 » Raiffeisen Bank Romania outsources onl...
» Horváth & Partners launches Steering ...
» JLL: Total office space in Bucharest t...
» Colliers International takes over the ...
» SSC in Romania. Who takes the lion's s...
» Oracle results pushed down by a strong...
» Survey: Romanians switch to a lower-pa...
» Genpact, Luxoft and Oracle, top lessee...
» Romanian employers report the stronges...
» Eucom: Nine out of ten corporate Roman...

My HR Lab: Research of suitable candidates and giving feedback to rejected ones, the biggest challenge in HR

During June 2019, My HR Lab company run an online (social media platforms) survey "Challenges of the recruitment process" which enrolled over 100 professionals working in HR and recruitment in Romania.
Read Full article »
The local market needs more added-value and complex projects to be developed by the companies

The statement has been uttered within this year's Romanian Outsourcing and Shared Services Summit by Catalina Dodu, Country Manager at Atos, pointing to the local enablers that could enhance the innovation and
Read Full article »
The office market at a glance: The round for tenants is on

Data provided by CBRE show that the office spaces segment will continue to grow rapidly in 2019, and 15 new projects covering 304.000 sqm will be delivered. According to the real estate consultancy agency, curr
Read Full article »
People Empowering Business Forum 2019 to take place on October, 30 at Bucharest

Latest trends like demographic upheaval, globalization, digital technology, and changing social values and worker expectations, are disrupting business models and radically changing the workplace. These are req
Read Full article »
Addressing the mantra of cyber-security: Confidentiality, integrity and availability

The fast advancement of technology in all the aspects of everyday life, either personal or professional, and the emerging of AI (Artificial Intelligence) and ML (Machine Learning), not to mention cloud technolo
Read Full article »