Rockwell Automation opens first office in Romania

Rockwell Automation, the world's largest company dedicated to industrial automation and information, expands its business in East and Central Europe and has opened two new offices in Bucharest, Romania and Budapest, Hungary. Both offices will have experienced industrial professionals who have worked extensively with manufacturers in the country.

"While we have been doing business in these countries for a few years, our local activities were coordinated from our office in Prague, supported by Vestra for Romania," says Peter Rozek, director for sales operations in Hungary and Romania.

"We will continue to work closely with local members of our PartnerNetwork and build upon the established relationship in both countries. These two markets are important to us and the new locations help us to best support their industries and serve our customers."

"This expansion enables really good service for manufacturers in the region," says Reto Berner, regional sales director EMEA at Rockwell Automation.

"As a company our goal is to support our customers to become and remain globally competitive. This is also by helping them move into smart manufacturing, which has become the number one driver of industries and countries across the globe."

Economic and political factors are putting more competitive pressure on global companies, and internationally, governments have realized that manufacturing is a major contributor to their GNP and is critical for their nations to be competitive.

Many have created national initiatives, such as Germany Industrie 4.0, or the United States its Advanced Manufacturing Partnership 2.0 (AMP 2.0). These visions and technology strategies are important for companies focused on evolving their strategies to stay globally competitive. The Connected Enterprise is the vision of Rockwell Automation to connect information from the plant floor to the rest of the organization. It is the enabler to achieve many business values already today.

Rockwell Automation employs approximately 22,000 people serving customers in more than 80 countries.


---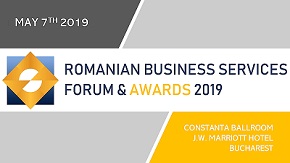 » Huawei opens a centre on cyber securit...
» ROMANIAN OUTSOURCING AWARDS FOR EXCELL...
» Romania ranks above EU average in gend...
» Bucharest, in the top of cities in Eur...
» Berg Software Romania: Reasons to outs...
» Meet the experts who will decide the w...
» Bogdan Pelinescu, president of ABSL: A...
» KPMG launches an application enabling ...
» ABSL GALA AWARDS celebrated its winner...
» Oracle reaches 4,200 employees and pla...

Colin C. Lovering: Meet the speakers at Romanian Business Services Forum & Awards 2019, on May 7

Colin C. Lovering has been living and working in Romania since 2009 when he arrived to offer consultancy and advice to organisations looking for growth and profitability and founded Achieve International.
Read Full article »
Antoniu Panait: Meet the speakers at Romanian Business Services Forum & Awards 2019, on May 7

Managing Director for VASTINT Romania since 2009, Antoniu Panait has an executive experience of more than 10 years, mainly in real estate.
Read Full article »
Andrei Voica: Meet the speakers at Romanian Business Services Forum & Awards 2019, on May 7

Andrei Voica, Director Project Management and Workplace Consultancy, Colliers International. Truly passionate about his work and always eager to add value to each project.
Read Full article »
Romulus Caralicea: Meet the speakers at Romanian Business Services Forum & Awards 2019, on May 7

Romulus is Wipro's Information Security, Risk & Compliance Lead for Europe. In his role he is managing internal audits and compliance activities for all clients and internal functions based on the corporate ISO
Read Full article »
George Didoiu: Meet the moderator of Romanian Business Services Forum 2019 CEO LEADERS DEBATE, on May 7

In his 15 years of real estate, George Didoiu advised on the relocation of top IT&C, finance-banking and consultancy companies, which total over 10,000 employees.
Read Full article »