Deutsche Bank: millions into investment, market fears - From OT print issue

While Deutsche Bank's tech division came to town, local companies fear it for its ability to drag in new employment, sources say. And its exponential growth will continue, confirms Marian V. Popa, head of DB Global Technology, Bucharest.

How much did DB invest locally so far and what are the future plans for Romania?

DB Global Technology for Romania was "born" in September 2013 and started operations shortly after, in January 2014. We are developing software solutions for Deutsche Bank's global operations and invested in accordance with the quality of the output we were expecting – in the area of several millions of euros. So far we reached our initial target of 500 employees, an exponential growth for a business established in such a short period of time, and we are also proud of the positive operational outcomes. We remain committed to being a reference point for talented people who want an exceptional IT&C career, both locally and internationally."

Our development will look at first class facilities for banking applications, where our aim is to become a benchmark. As expected, the IT market is a vibrant market with a lot of challenges, but in the way in which we manage to organize ourselves, we do master the challenges so far. And the market will continue to be like this. Future plans for Romania: to become one of the most professional technology centres Deutsche Bank has worldwide.

What geographies are you serving? What language skills are predominant? How about other skills?

Our deliveries are going straight into the worldwide platform of Deutsche Bank, therefore we can say that we are serving almost all territories in which the bank has operations. English is the main language of Information Technology, which is mastered by everybody very well, but also other European languages are in demand. Knowledge of banking is also a desired skill that increases the professionalism of our employees.

Is there a threat of labour saturation in the market, especially in larger cities in Romania? Or it is still possible to expand?

Where there is a will there is a way! Labour saturation of a certain specialty is a threat only if you are ignoring its regeneration. And we, at Deutsche Bank, have several plans to achieve this. Romania has a tremendous growth potential in the IT area and as the IT industry is being driven by young graduates, of course the university cities or the cities which find alternative training means will lead the way. I think that every city with over 100.000 inhabitants will have the chance in the future to join the ranks of being a Digital City. Provided it wants to.


How well are employers in Romania ready to cut the attrition rate, as competition for human resources and talent intensifies?

Attrition is dependent on scope of work, recognition of results, respect and trust and we are treating our colleagues with all of the above. Hence, our attrition is far below the market average. This is also due to the fact that we are trying to build up also a clear career path for our employees, so that they know what they are striving for.

What are the latest trends in employee motivation?

I would not say there are trends, but on the other hand you have to follow human behaviour and priorities, which are changing from generation to generation. The ones mentioned before I would say are the most important ones, to which employees are responding very well.

What are the main KPIs that you have to accomplish?

As we are an internal Deutsche Bank unit, we don't publish revenues. Anyhow, the KPI's, which are staying constant all the time, are: on time, on scope and on budget.

What would you change about Romania?

Nothing. But I would rather give an advice to my fellow countrymen: we should be more proud of what we are achieving and trusting more in ourselves.

How will automation affect us?

The latest trends are already history and the trends of tomorrow are invented today. Things are changing so fast that you cannot almost foresee any trends. And whatever we create, if we use it wisely it is never going to replace people. Because whatever science and technology will be able to achieve, it will never be able to do what people are doing: create!

---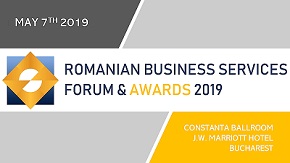 » Huawei opens a centre on cyber securit...
» ROMANIAN OUTSOURCING AWARDS FOR EXCELL...
» Romania ranks above EU average in gend...
» Bucharest, in the top of cities in Eur...
» Berg Software Romania: Reasons to outs...
» Meet the experts who will decide the w...
» KPMG launches an application enabling ...
» Bogdan Pelinescu, president of ABSL: A...
» ABSL GALA AWARDS celebrated its winner...
» George Rotariu, CEO Bitcoin Romania: B...

Catalina Dodu - Meet the speakers at Romanian Business Services Forum 2019 CEO LEADERS DEBATE, on May 7

Catalina Dodu runs the operations of Atos Romania since March 2014, with an experience of over 15 years in IT management. Previous to being appointed Country Manager, Catalina managed the System Integration div
Read Full article »
Philippe Beucher: Meet the speakers at Romanian Business Services Forum 2019 CEO LEADERS DEBATE, on May 7

Philippe Beucher is the Managing Director of Accenture Operations – Danubia Region, leading the Operations entity for Romania, Czech Republic, Slovakia and Hungary starting from February 2019. For the past 1
Read Full article »
Meet the speakers at Romanian Business Services Forum 2019 CEO LEADERS DEBATE, on May 7th - Matthieu Pasquier

Matthieu Pasquier is CEO of Societe Generale European Business Services since August 2018 bringing more than 27 years experience in Societe Generale group. During 2014-2018, Matthieu was Head of SG GSC Chennai
Read Full article »
Sorin Mindrutescu among the speakers at Romanian Business Services Forum 2019 CEO LEADERS DEBATE, on May 7th

Sorin Mindrutescu is the Country Leader for Oracle Romania, as of February 2003. In this role, he is responsible for local sales and project delivery. In Romania, Oracle has two major business directions: the l
Read Full article »
Meet the speakers at Romanian Business Services Forum 2019 CEO LEADERS DEBATE, on May 7th - Vivek Bakshi

Vivek Bakshi is the General Manager of Wipro Technologies. He has spent 12 years heading the International Locations / Delivery Centers Europe from the Bucharest office.
Read Full article »