Optima's turnover increased by 42% in 2015, 20% further planned

While Optima Group closed 2015 with a turnover of 4.8 million lei, an increase of over 40% compared to 2014, it also plans for this year a further growth of 20%

In 2015 it signed over 30 new customers in various fields, such as DIY, financial, FMCG, fashion or the public services.

Some of these customers include Brico Depot, Allianz Tiriac, Piraeus Bank, Marks & Spencer, Nissa, Marrionaud, Intersnack, Starbucks, Ministry of Environment, Water and Forests or Societe Generale European Business Services, reveals a release.

All in all, as a natural step to the development of the company, Optima Group has completed a process of change in its visual identity by adopting a new logo and change of the site.

"We want Optima become a brand that represents complete security solution services, which forces us to grow every year our quality standards. For over 14 years, we constantly invest in software solutions based on the latest technologies, in relationship with our customers and partners, expanding presence in both Romania and international markets, boosting the internal organization and the Optima team. For 2016, we want to continue these efforts and we propose an increase in turnover by 20% compared to 2015," said Gabriel Chiva, managing partner, Sales & Marketing - Optima Group.

Founded ȋn 2002, Optima Group is one of the companies specializing ȋn developing software solutions and providing mobile inventory, with offices ȋn Bucharest and Cluj Napoca.


---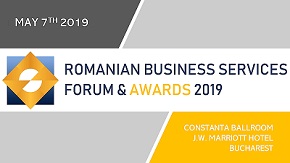 » Huawei opens a centre on cyber securit...
» Romania ranks above EU average in gend...
» ROMANIAN OUTSOURCING AWARDS FOR EXCELL...
» Bucharest, in the top of cities in Eur...
» Meet the experts who will decide the w...
» Bogdan Pelinescu, president of ABSL: A...
» Berg Software Romania: Reasons to outs...
» KPMG launches an application enabling ...
» ABSL GALA AWARDS celebrated its winner...
» George Rotariu, CEO Bitcoin Romania: B...

Meet the speakers at Romanian Business Services Forum 2019 CEO LEADERS DEBATE, on May 7th - Matthieu Pasquier

Matthieu Pasquier is CEO of Societe Generale European Business Services since August 2018 bringing more than 27 years experience in Societe Generale group. During 2014-2018, Matthieu was Head of SG GSC Chennai
Read Full article »
Sorin Mindrutescu among the speakers at Romanian Business Services Forum 2019 CEO LEADERS DEBATE, on May 7th

Sorin Mindrutescu is the Country Leader for Oracle Romania, as of February 2003. In this role, he is responsible for local sales and project delivery. In Romania, Oracle has two major business directions: the l
Read Full article »
Meet the speakers at Romanian Business Services Forum 2019 CEO LEADERS DEBATE, on May 7th - Vivek Bakshi

Vivek Bakshi is the General Manager of Wipro Technologies. He has spent 12 years heading the International Locations / Delivery Centers Europe from the Bucharest office.
Read Full article »
Meet the finalists of the fifth edition of Romanian Business Services Awards 2019

ROMANIAN BUSINESS SERVICES FORUM & AWARDS 2019, in its fifth year, brings on May 7, in Bucharest, a new concept event with engaging keynote sessions by industry leaders, interactive panel discussions, networkin
Read Full article »
Meet the experts who will decide the winners of 2019 at Romanian Business Services Forum & Awards

Each year, Outsourcing Today brings a landmark edition of the Romanian Outsourcing and Shared Services Summit and this year, we are hosting the Fifth of the annual Romanian Outsourcing and Shared Services Award
Read Full article »