CBRE and Skanska launch a new contest for Romanian offices


CBRE's office division launches the first contest held in Romania, says Razvan Iorgu, managing director of the company. The CBRE's initiative, implemented in partnership with Skanska, one of the leading builders and developers in the world, aims to discover, promote and reward the most beautiful office in Bucharest.

Competition will be called "The Most Office", will run for a period of several months and will include enrollment office applications participating in the competition, in the form of photo and video material that will be published online platform dedicated to the contest.

Entries will be judged and scored by a jury made both from professionals in fields related to the industry of real estate, and from students and young graduates participating in CBRE Junior Academy, the training program's organizer, in their capacity as future users and beneficiaries of spaces office.

"Through this project initiated in partnership with Skanska we aim to develop the real estate industry and to highlight the importance that the offices have for companies and for their employees. CBRE promotes globally the concept of new ways of working; after some measurements, evaluations and analyzes of the use of premises and occupancy offices, and taking into account the specific users activity space and profile employees who use it, identify how to redevelop the office, to value human potential, creativity, teamwork, brainstorming. They all translate into increased efficiency of employees in companies, better results, but also in a more relaxing and enjoyable work environment for employees," says Razvan Iorgu.

Aurelia Luca, country director, Skanska Romania, said that the initiative involvement in The Most Office with CBRE came as a natural result of the fact that Skanska projects are characterized by quality and innovation.

"As developers of office buildings, when starting a new project, we put the spotlight on people who will work in them, and we strive to offer a work environment that's more attractive through innovative design and technology, green solutions and other facilities," she says.

"We believe that the workspace is one of the tools of HR as a means of attracting and retention of employees. We are therefore interested to see the vision of the youngest, about how it should look like an office so as to be functional, to keep a healthy work environment, relaxing and yet versatile. In addition, being a competition for companies, we are interested in architecture and design depending on the business profile and personality of the employer, to take the pulse on new ways of working in different industries such as telecommunication, banking, pharma and many others," says Aurelia Luca.


---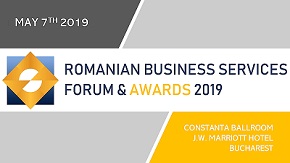 » Raiffeisen Bank Romania outsources onl...
» Oracle results pushed down by a strong...
» World-class HR organizations now spend...
» Microsoft and Oracle to interconnect M...
» Apostoleanu, Oracle: Human talent, mos...
» ANIS: Romanian IT market annual revenu...
» Healthcare IT outsourcing market is ex...
» Bosch Service Solutions to grow 20% Ti...
» Omnichannel: 4 pillars of a purposeful...
» The digitalization of the customer rel...

My HR Lab: Research of suitable candidates and giving feedback to rejected ones, the biggest challenge in HR

During June 2019, My HR Lab company run an online (social media platforms) survey "Challenges of the recruitment process" which enrolled over 100 professionals working in HR and recruitment in Romania.
Read Full article »
The local market needs more added-value and complex projects to be developed by the companies

The statement has been uttered within this year's Romanian Outsourcing and Shared Services Summit by Catalina Dodu, Country Manager at Atos, pointing to the local enablers that could enhance the innovation and
Read Full article »
The office market at a glance: The round for tenants is on

Data provided by CBRE show that the office spaces segment will continue to grow rapidly in 2019, and 15 new projects covering 304.000 sqm will be delivered. According to the real estate consultancy agency, curr
Read Full article »
People Empowering Business Forum 2019 to take place on October, 30 at Bucharest

Latest trends like demographic upheaval, globalization, digital technology, and changing social values and worker expectations, are disrupting business models and radically changing the workplace. These are req
Read Full article »
Addressing the mantra of cyber-security: Confidentiality, integrity and availability

The fast advancement of technology in all the aspects of everyday life, either personal or professional, and the emerging of AI (Artificial Intelligence) and ML (Machine Learning), not to mention cloud technolo
Read Full article »