Veeam opens Bucharest office at 120 employees, to grow 60% by year-end

When Ratmir Timashev graduated from the "Moscow MIT" at the beginning of the 1990s, he would have never imagined he will found and lead a half a billion USD-revenue company that will expand globally in under 10 years.

"I staretd my first company in the US, in the dorm of Ohio State, together with my colleague. You can only start an IT company in a college dorm, or in a garage," Timashev tells Outsourcing Today.
Veeam officially opened today the Bucharest office and hired since November 120 employees, that would offer not just customer call services, but also complex, highly sophisticated sales, marketing and financial jobs.

After graduating the Moscow Physics Institute of Technology, Timashev went to Ohio State for his master's degree, founded a first company - a hardware reseller to Russia. Later on he sold the 115 million USD company to Quest, which, in turn, was bought eight years later (in 2012) for 2.4 billion USD, by Dell, he explains.

Now the company's global productivity reaches about 230,000 USD in annual revenue per employee, and Romania will soon reach a similar level (of course, in general lines, as the competences differ from a country to another). It takes three to six months to trains a new employee, and six to 12 months to get the employee to a complete productivity level.

"We invested locally more than 1 million USD into the local office. We plan to reach about 250 employees inside a three-year period. WE are looking for talented, ambitious young personnel. We believe in limiting the brain drain and keeping Romanians here, and we had people giving up working abroad and decided to come back to Romania," says Andrei Romanescu, managing director of Bucharest Operations.

Veeam is a provider of solutions and delivers Availability for the Always-On Enterprise, a software that provides back-up and data restore services, now called data "availability" services in some corners of the industry. The company has registered over 500 million USD in revenues in 2015 and currently employs more than 2,200 people worldwide.


---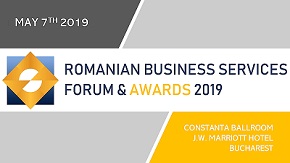 » Raiffeisen Bank Romania outsources onl...
» Horváth & Partners launches Steering ...
» JLL: Total office space in Bucharest t...
» Colliers International takes over the ...
» Oracle results pushed down by a strong...
» Survey: Romanians switch to a lower-pa...
» SSC in Romania. Who takes the lion's s...
» Genpact, Luxoft and Oracle, top lessee...
» Romanian employers report the stronges...
» Eucom: Nine out of ten corporate Roman...

My HR Lab: Research of suitable candidates and giving feedback to rejected ones, the biggest challenge in HR

During June 2019, My HR Lab company run an online (social media platforms) survey "Challenges of the recruitment process" which enrolled over 100 professionals working in HR and recruitment in Romania.
Read Full article »
The local market needs more added-value and complex projects to be developed by the companies

The statement has been uttered within this year's Romanian Outsourcing and Shared Services Summit by Catalina Dodu, Country Manager at Atos, pointing to the local enablers that could enhance the innovation and
Read Full article »
The office market at a glance: The round for tenants is on

Data provided by CBRE show that the office spaces segment will continue to grow rapidly in 2019, and 15 new projects covering 304.000 sqm will be delivered. According to the real estate consultancy agency, curr
Read Full article »
People Empowering Business Forum 2019 to take place on October, 30 at Bucharest

Latest trends like demographic upheaval, globalization, digital technology, and changing social values and worker expectations, are disrupting business models and radically changing the workplace. These are req
Read Full article »
Addressing the mantra of cyber-security: Confidentiality, integrity and availability

The fast advancement of technology in all the aspects of everyday life, either personal or professional, and the emerging of AI (Artificial Intelligence) and ML (Machine Learning), not to mention cloud technolo
Read Full article »