RE/MAX GdL: The real estate market in Cluj-Napoca exceeds 1 billion euros

RE/MAX Grup de Lux, one of the first franchises RE/ MAX in Romania in Cluj-Napoca, estimates that the housing market Cluj will reach this year a value of over 1 billion euros if taken into account all categories of transactions.

"In the 20 years of our office, we have seen major changes undergone by local real estate market and we can say that 2016 is a promising year. We estimate that all transactions, whether sales - purchases or rentals, of segments will reach a total value of over 1 billion euros,"saya Ramona Cuc, broker and owner of RE/MAX Grup de Lux.

According to her, this year, of the total market transactions of Cluj, about 75% involve residential properties, while the remaining 25% is divided among numerous office locations, commercial or industrial.

"The average price of residential segment is currently the largest in the country - about 1,200 euro per sqm, with peaks exceeding 1,500 euro per sqm easily," said she, explaining that this segment price rose by about 12% in the last year and at the same time, many new housing units were delivered in Cluj-Napoca, but also in Floreşti.

Business of over 1.25 million euro for RE / MAX Grup de Lux

The company reported in 2015 a turnover made of earned commissions of about 1.25 million lei, of which over 74% are derived from sale deals.
The residential segment totals 72% of the company's business, the remaining 28% belonging to the commercial transactions segments, office and industrial.

The largest transaction in the history of the RE / MAX Grup de Lux has been a historical building in Cluj-Napoca, contracted to 10 million euros and traded between the two companies.
Among the major transactions of office buildings include several historical reference Cluj - Hotel Continental, Student Clinic, Conservatory House or Villa Tatar.

"There have also been important buildings of offices we traded exclusively - Power Business Center or Maestro Business Center - and other large properties ranging from commercial and land important for real estate development, with values trading more than 1 million euros," adds Ramona Cuc.


---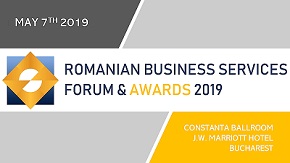 » Romania ranks above EU average in gend...
» The voting procedure for the BRAND OF ...
» Berg Software Romania: Reasons to outs...
» Deloitte's Tech Trends 2019 report: B...
» Steven Hunt, SAP SuccessFactors: Tecto...
» Molson Coors started to grow its busin...
» Societe Generale-European Business Ser...
» Capgemini: Investing in people is the ...
» Countries in CEE region, including Rom...
» Oracle reaches 4,200 employees and pla...

The voting procedure for the BRAND OF THE YEAR 2019 IN ROMANIAN BUSINESS SERVICES is open!

This is the fifth edition of the event and the second year to select the public's favorite brand in the business services BPO, ITO and SSC in Romania.
Read Full article »
Romania ranks above EU average in gender employment gap

In Romania, the employment rate measures the number of people who have a job as a percentage of the working age population. This page provides - Romania Employment Rate- actual values, historical data, forecast
Read Full article »
Steven Hunt, SAP SuccessFactors: Tectonic movements in the world of work

The world of work will be shaped by five tectonic movements – or global megatrends – over the next few years. As you may guess from the geological analogy, the effects could be dramatic.
Read Full article »
EY: European companies are divesting to future-proof growth

According to the EY Global Corporate Divestment Study, 84 per cent of European companies surveyed intending to divest within the next two years (the majority planning to do so in the coming 12 months), executiv
Read Full article »
Knowledge-sharing presentation on latest trends the industry deals, in the program of Romanian Business Services Forum and Awards

Part of the upcoming joint half-day event, Romanian Business Services Forum and Awards to be held at JW Marriott Hotel on May 7th, the discussion agenda comprises a complex Knowledge-sharing presentation on lat
Read Full article »