Deloitte: mobile users check their phones over 80 billion times a day

Intensity in usage and ownership rates of mobile phones are increasing, in some categories more than doubling, pointing to dramatically changing consumer behaviors, and a shift towards non-voice communications such as text and IM, according to Deloitte's Global first edition of the Global Mobile Consumer Trends report.

"There is no doubt that the reality of the connected consumer is here to stay and it will transform every industry and region of the world," said Craig Wigginton, vice chairman Deloitte LLP in the US, and Telecom sector leader for Deloitte Global, Americas Region, and Deloitte US. "The long-term growth prospects for many companies around the world rely on their ability to stay ahead of the connected consumer's rapidly changing and evolving habits."

Deloitte conducted a survey designed to gather information regarding consumer behaviors, trends and opinions for a broad range of wireless and mobility products and services across regions and specific countries. The results offer an extensive perspective of the mobile consumer climate, offering country and market level comparisons, covering 6 continents, 31 countries, and 49,500 respondents.
Key Highlights of the Global Mobile Consumer Trends report:

• Mobile Payments Continue to Pick Up Speed. While it is still a relatively new application, mPayment usage is gaining traction globally. According to the survey results, in developed markets, 20 percent of consumers reported using mobile payments. In emerging markets, nearly half of consumers (47 percent) reported phone usage to make in-store payments, and 65 percent indicated their interest to use the technology. Highlighting the rapid speed of pick-up, China, a predominantly cash market, over the past year has been one of the countries to adopt mobile payments for in-store purchases most quickly with a 66 percent increase in usage over last year. However, across the board, survey respondents listed the number one reason for not wanting to use mPayments – security, with 40 percent of consumers globally noting concern that mobile payments are not secure enough.

• Mobility comes in all shapes and sizes: Keeping with annual trends, the number of global consumers who own devices continues to increase with 78 percent having smartphones, nearly 10 percent owning wearables, and more than 50 percent having tablets. Diving deeper into wearable devices the survey results show that, one-fourth of consumers in emerging markets plan to buy a wearable device in the next 12 months. On a country basis, Singapore leads the world in connected consumers. Poland also ranks near the top in each category, with the US, Australia and Italy close behind.

• Consumers can't get enough mobile screen time: Almost all mobile consumers check their phones within three hours of waking up. In emerging markets, 93 percent of consumers look at their phone within an hour or less of waking up. Similarly, 14 percent of emerging market consumers check their phones at least 100 times a day.

• Text and instant message are consumer favorites: Globally, amongst available mobile device applications, consumers are checking text messages and instant messages (IM) first in the morning. Although voice service remains the most commonly used application across the developed markets with 76 percent indicating usage in the last week, closely followed by text messages (74 percent).

• Regional preferences for network vs. Wi-Fi: In developed markets, 4G speeds are consistently higher than Wi-Fi speeds. In the Americas region, Wi-Fi is the preferred method to connect to the internet, while Europe and Asia-Pac prefer mobile (e.g., 4G).


---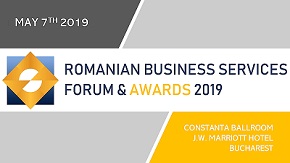 » Huawei opens a centre on cyber securit...
» Romania ranks above EU average in gend...
» ROMANIAN OUTSOURCING AWARDS FOR EXCELL...
» Bucharest, in the top of cities in Eur...
» Meet the experts who will decide the w...
» Bogdan Pelinescu, president of ABSL: A...
» Berg Software Romania: Reasons to outs...
» KPMG launches an application enabling ...
» ABSL GALA AWARDS celebrated its winner...
» George Rotariu, CEO Bitcoin Romania: B...

Meet the speakers at Romanian Business Services Forum 2019 CEO LEADERS DEBATE, on May 7th - Matthieu Pasquier

Matthieu Pasquier is CEO of Societe Generale European Business Services since August 2018 bringing more than 27 years experience in Societe Generale group. During 2014-2018, Matthieu was Head of SG GSC Chennai
Read Full article »
Sorin Mindrutescu among the speakers at Romanian Business Services Forum 2019 CEO LEADERS DEBATE, on May 7th

Sorin Mindrutescu is the Country Leader for Oracle Romania, as of February 2003. In this role, he is responsible for local sales and project delivery. In Romania, Oracle has two major business directions: the l
Read Full article »
Meet the speakers at Romanian Business Services Forum 2019 CEO LEADERS DEBATE, on May 7th - Vivek Bakshi

Vivek Bakshi is the General Manager of Wipro Technologies. He has spent 12 years heading the International Locations / Delivery Centers Europe from the Bucharest office.
Read Full article »
Meet the finalists of the fifth edition of Romanian Business Services Awards 2019

ROMANIAN BUSINESS SERVICES FORUM & AWARDS 2019, in its fifth year, brings on May 7, in Bucharest, a new concept event with engaging keynote sessions by industry leaders, interactive panel discussions, networkin
Read Full article »
Meet the experts who will decide the winners of 2019 at Romanian Business Services Forum & Awards

Each year, Outsourcing Today brings a landmark edition of the Romanian Outsourcing and Shared Services Summit and this year, we are hosting the Fifth of the annual Romanian Outsourcing and Shared Services Award
Read Full article »