Accenture, for the 11th time in Global Outsourcing 100

For the eleventh consecutive year, Accenture has been named to the 2016 Global Outsourcing 100 list by the International Association of Outsourcing Professionals (IAOP). The Global Outsourcing 100 is an annual listing of the world's best outsourcing service providers.

This year, Accenture received several special distinctions for "Sustained Excellence" for appearing on the Global Outsourcing 100 list for the past five consecutive years or more and for "All Star Company" for its overall high provider rating. Accenture was also recognized as a top company in the categories of size and growth, customer references, awards and certifications, programs for innovation, programs for corporate social responsibility, overall revenue, number of employees, and number of countries worldwide.

"Accenture's extensive industry knowledge and outsourcing capabilities uniquely positions the company to help organizations operate at a greater speed in an increasingly challenging landscape," said Bhaskar Ghosh, group chief executive, Accenture Technology Services. "Our presence on this list is a testament to Accenture's success in dramatically improving clients' productivity, decision-making, cost and operations through the use of intelligent tooling and automation."

"Being commended as one of the best outsourcing providers in the world for the eleventh year in a row demonstrates Accenture's commitment to applying technology and talent smartly to help our clients innovate faster, capitalize on new opportunities and create business outcomes," said Mike Salvino, group chief executive of Accenture Operations.

"This acknowledgement speaks to our ability to drive a new era of As-a-Service delivery, enabling more intelligent, agile and robust operations."
The Global Outsourcing 100 serves as a reference for companies seeking new and expanded relationships with the best companies in the industry. Judging is based on a rigorous scoring methodology that includes a review by an independent panel of IAOP customer members with extensive experience in selecting outsourcing service providers and advisors for their organizations.


---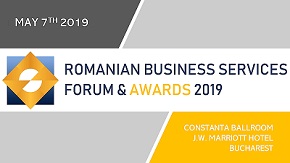 » Huawei opens a centre on cyber securit...
» Romania ranks above EU average in gend...
» ROMANIAN OUTSOURCING AWARDS FOR EXCELL...
» Bucharest, in the top of cities in Eur...
» Meet the experts who will decide the w...
» Bogdan Pelinescu, president of ABSL: A...
» Berg Software Romania: Reasons to outs...
» KPMG launches an application enabling ...
» ABSL GALA AWARDS celebrated its winner...
» George Rotariu, CEO Bitcoin Romania: B...

Meet the speakers at Romanian Business Services Forum 2019 CEO LEADERS DEBATE, on May 7th - Matthieu Pasquier

Matthieu Pasquier is CEO of Societe Generale European Business Services since August 2018 bringing more than 27 years experience in Societe Generale group. During 2014-2018, Matthieu was Head of SG GSC Chennai
Read Full article »
Sorin Mindrutescu among the speakers at Romanian Business Services Forum 2019 CEO LEADERS DEBATE, on May 7th

Sorin Mindrutescu is the Country Leader for Oracle Romania, as of February 2003. In this role, he is responsible for local sales and project delivery. In Romania, Oracle has two major business directions: the l
Read Full article »
Meet the speakers at Romanian Business Services Forum 2019 CEO LEADERS DEBATE, on May 7th - Vivek Bakshi

Vivek Bakshi is the General Manager of Wipro Technologies. He has spent 12 years heading the International Locations / Delivery Centers Europe from the Bucharest office.
Read Full article »
Meet the finalists of the fifth edition of Romanian Business Services Awards 2019

ROMANIAN BUSINESS SERVICES FORUM & AWARDS 2019, in its fifth year, brings on May 7, in Bucharest, a new concept event with engaging keynote sessions by industry leaders, interactive panel discussions, networkin
Read Full article »
Meet the experts who will decide the winners of 2019 at Romanian Business Services Forum & Awards

Each year, Outsourcing Today brings a landmark edition of the Romanian Outsourcing and Shared Services Summit and this year, we are hosting the Fifth of the annual Romanian Outsourcing and Shared Services Award
Read Full article »