Endava reaches 700 employees in Cluj center, plans 25% global growth

Endava, one of the IT services companies with rapid growth in the region, has expanded during the recent months its local team in the biggest center it has in Romania, located in Cluj-Napoca, reaching 700 full time employees.

The company has more than 1,500 local employees and about 2,750 at group level. By year-end, the group plans to grow personnel by about 25%.

The company has four centers opened in Cluj-Napoca, Bucharest, Iasi and Pitesti for clients operating in various fields, from the financial, insurance, retail and technology.
"More than reaching 700 people, this moment currently celebrates everyone's contributing to the success story of Endava during these years and the strengthening of the organizational culture," says John Cotterell, the global CEO of Endava.

"We enjoy positive results, the evolution of the company at group level creating a favorable context for the development of career opportunities for our employees," also says Isabela Buhai, Delivery Unit manager of the Cluj development center.

Among the main projects delivered so far by the company from Cluj-Napoca, there are works for Trinity Mirror, a publishing house with more than 260 titles in the UK, the R&A, an organization that manages the oldest golf tournament in the world and Worldpay, one leading payment processor of the global FinTech industry.

In Cluj there are and Managed Services department, whose team of Service Desk was named in 2014, winning the category Best Managed Service Desk, one of the most important awards in the field of IT support services in Europe.

"We want to continue creating an environment to attract as talented people with whom to contribute to the development of the entire IT community, both in Cluj and in other Endava locations," said Ovidiu Spinean, head of Service Desk Services.

During 2016, the company plans to recruit active representatives in all its centers, counting on an increase of at least 25% of the number of employees at group level.

Endava national event dedicated to Cluj-Napoca has offered employees the opportunity to engage in a series of activities to mark this anniversary special.


---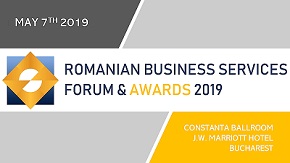 » Raiffeisen Bank Romania outsources onl...
» Horváth & Partners launches Steering ...
» JLL: Total office space in Bucharest t...
» Colliers International takes over the ...
» Survey: Romanians switch to a lower-pa...
» SSC in Romania. Who takes the lion's s...
» Oracle results pushed down by a strong...
» Genpact, Luxoft and Oracle, top lessee...
» Romanian employers report the stronges...
» Eucom: Nine out of ten corporate Roman...

My HR Lab: Research of suitable candidates and giving feedback to rejected ones, the biggest challenge in HR

During June 2019, My HR Lab company run an online (social media platforms) survey "Challenges of the recruitment process" which enrolled over 100 professionals working in HR and recruitment in Romania.
Read Full article »
The local market needs more added-value and complex projects to be developed by the companies

The statement has been uttered within this year's Romanian Outsourcing and Shared Services Summit by Catalina Dodu, Country Manager at Atos, pointing to the local enablers that could enhance the innovation and
Read Full article »
The office market at a glance: The round for tenants is on

Data provided by CBRE show that the office spaces segment will continue to grow rapidly in 2019, and 15 new projects covering 304.000 sqm will be delivered. According to the real estate consultancy agency, curr
Read Full article »
People Empowering Business Forum 2019 to take place on October, 30 at Bucharest

Latest trends like demographic upheaval, globalization, digital technology, and changing social values and worker expectations, are disrupting business models and radically changing the workplace. These are req
Read Full article »
Addressing the mantra of cyber-security: Confidentiality, integrity and availability

The fast advancement of technology in all the aspects of everyday life, either personal or professional, and the emerging of AI (Artificial Intelligence) and ML (Machine Learning), not to mention cloud technolo
Read Full article »