Cluj: International Cambridge High School scholarship within Transylvania College

The deadline for enrollment at Transylvania College scholarship program Scholarship Society, extended until May 26

Pupils with remarkable academic background, now in eighth grade, have the opportunity to get a scholarship of excellence to follow International Cambridge High School within Transylvania College, the only Cambridge accredited international school in Cluj-Napoca and the region, that teaches in English.

The opportunity is very important, given that most alumni of this school and continue their education at some of the most famous universities in the world, says a press release.

One of Transylvania College alumni who have received a scholarship of excellence, Bogdan Buduroiu, was noted as having great potential. He graduated from this school in 2015, now studying Computer Science at the University of Southampton, one of the top 10 universities in Britain, where he received a scholarship for the results well above those required by the university.

"When my Transylvania College Excellence scholarship gave me the opportunity to continue studying in high school after a British curriculum, this helped me later to study at one of the top 10 universities in England. In addition to opening a promising path, the scholarship gave me the opportunity to develop my social skills, that have been very helpful in the process of adapting to all new experiences after I left the country, through Leadership programs within the school," says Bogdan Buduroiu.

Transylvania College extended the registration period until May 26, so that more can apply to the program. With an annual value of 37,500 euro, the scholarships will be offered for the entire high school and include the full annual tuition fee, and if students are from other localities, accommodation in school's campus.


---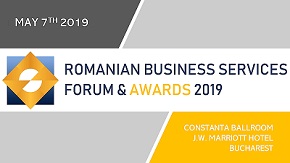 » Romania ranks above EU average in gend...
» The voting procedure for the BRAND OF ...
» Berg Software Romania: Reasons to outs...
» Deloitte's Tech Trends 2019 report: B...
» Steven Hunt, SAP SuccessFactors: Tecto...
» Molson Coors started to grow its busin...
» Societe Generale-European Business Ser...
» Capgemini: Investing in people is the ...
» Countries in CEE region, including Rom...
» Oracle reaches 4,200 employees and pla...

The voting procedure for the BRAND OF THE YEAR 2019 IN ROMANIAN BUSINESS SERVICES is open!

This is the fifth edition of the event and the second year to select the public's favorite brand in the business services BPO, ITO and SSC in Romania.
Read Full article »
Romania ranks above EU average in gender employment gap

In Romania, the employment rate measures the number of people who have a job as a percentage of the working age population. This page provides - Romania Employment Rate- actual values, historical data, forecast
Read Full article »
Steven Hunt, SAP SuccessFactors: Tectonic movements in the world of work

The world of work will be shaped by five tectonic movements – or global megatrends – over the next few years. As you may guess from the geological analogy, the effects could be dramatic.
Read Full article »
EY: European companies are divesting to future-proof growth

According to the EY Global Corporate Divestment Study, 84 per cent of European companies surveyed intending to divest within the next two years (the majority planning to do so in the coming 12 months), executiv
Read Full article »
Knowledge-sharing presentation on latest trends the industry deals, in the program of Romanian Business Services Forum and Awards

Part of the upcoming joint half-day event, Romanian Business Services Forum and Awards to be held at JW Marriott Hotel on May 7th, the discussion agenda comprises a complex Knowledge-sharing presentation on lat
Read Full article »