Cluj: International Cambridge High School scholarship within Transylvania College

The deadline for enrollment at Transylvania College scholarship program Scholarship Society, extended until May 26

Pupils with remarkable academic background, now in eighth grade, have the opportunity to get a scholarship of excellence to follow International Cambridge High School within Transylvania College, the only Cambridge accredited international school in Cluj-Napoca and the region, that teaches in English.

The opportunity is very important, given that most alumni of this school and continue their education at some of the most famous universities in the world, says a press release.

One of Transylvania College alumni who have received a scholarship of excellence, Bogdan Buduroiu, was noted as having great potential. He graduated from this school in 2015, now studying Computer Science at the University of Southampton, one of the top 10 universities in Britain, where he received a scholarship for the results well above those required by the university.

"When my Transylvania College Excellence scholarship gave me the opportunity to continue studying in high school after a British curriculum, this helped me later to study at one of the top 10 universities in England. In addition to opening a promising path, the scholarship gave me the opportunity to develop my social skills, that have been very helpful in the process of adapting to all new experiences after I left the country, through Leadership programs within the school," says Bogdan Buduroiu.

Transylvania College extended the registration period until May 26, so that more can apply to the program. With an annual value of 37,500 euro, the scholarships will be offered for the entire high school and include the full annual tuition fee, and if students are from other localities, accommodation in school's campus.


---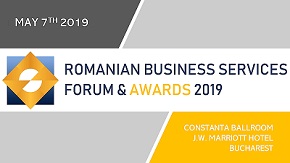 » Raiffeisen Bank Romania outsources onl...
» Oracle results pushed down by a strong...
» World-class HR organizations now spend...
» Microsoft and Oracle to interconnect M...
» Apostoleanu, Oracle: Human talent, mos...
» ANIS: Romanian IT market annual revenu...
» Healthcare IT outsourcing market is ex...
» Bosch Service Solutions to grow 20% Ti...
» Omnichannel: 4 pillars of a purposeful...
» The digitalization of the customer rel...

My HR Lab: Research of suitable candidates and giving feedback to rejected ones, the biggest challenge in HR

During June 2019, My HR Lab company run an online (social media platforms) survey "Challenges of the recruitment process" which enrolled over 100 professionals working in HR and recruitment in Romania.
Read Full article »
The local market needs more added-value and complex projects to be developed by the companies

The statement has been uttered within this year's Romanian Outsourcing and Shared Services Summit by Catalina Dodu, Country Manager at Atos, pointing to the local enablers that could enhance the innovation and
Read Full article »
The office market at a glance: The round for tenants is on

Data provided by CBRE show that the office spaces segment will continue to grow rapidly in 2019, and 15 new projects covering 304.000 sqm will be delivered. According to the real estate consultancy agency, curr
Read Full article »
People Empowering Business Forum 2019 to take place on October, 30 at Bucharest

Latest trends like demographic upheaval, globalization, digital technology, and changing social values and worker expectations, are disrupting business models and radically changing the workplace. These are req
Read Full article »
Addressing the mantra of cyber-security: Confidentiality, integrity and availability

The fast advancement of technology in all the aspects of everyday life, either personal or professional, and the emerging of AI (Artificial Intelligence) and ML (Machine Learning), not to mention cloud technolo
Read Full article »