Teamnet unmanned aircrafts enter Italian market


Teamnet Group will provide UAV technologies in the Italian market as a result of a strategic partnership with Geocart.

Teamnet Group, one of the systems integrators in the region and the first company in Romania that designs and integrates unmanned aircraft vehicles (UAVs), announces the entry in the Italian market as a result of a strategic partnership with Geocart Italy.

Teamnet advanced UAV technology will provide public and private organizations in Italy with integrated GIS solutions developed by Geocart Italy, specialized in the delivery of solutions, sensors and innovative services for fields such as infrastructure, energy, IT&C.

The solutions provided by the two companies will facilitate the conduct of complex actions of monitoring and collecting data in real time from the ground, with significant benefits both in enterprise and in areas such as emergency situations, agriculture, environmental protection, transport or energy.

The unmanned aircrafts will enable real-time data collection in emergencies such as fires, floods or landslides, and will facilitate surveillance and environmental monitoring, routes for road, rail or sea, and critical infrastructure. However, UAV technologies provided by Teamnet and Geocart Italy will allow companies to monitor interest objectives and collect high quality information in real time from the ground.

In the next 10 years European UAV market, which currently represents only 4% of the global market profile, will increase, reaching an estimated 38 billion dollars, of which at least 20 billion will be for investment in research.

"The UAV market in Italy is growing, according to studies in the past two years, and Italy is the third European country in terms of exports of UAVs after France and Austria and fifth worldwide, after Israel, USA, Canada and Russia.

"Moreover, Italy imports 9.8% of the total number of UAVs produced in the world, surpassed only by India (13.2%) and the UK (34%). There is demand for UAV systems and Teamnet expertise regarding technologies UAV is already proven, unmanned aircraft produced by the company are already used in several countries in the region with a real impact on society through the applicability of multiple industries most diverse," said Florin Hoinarescu, head of International Division, Teamnet.

The partnership between Teamnet and Geocart initiatives will include research and development for European Aerospace Agency and Horizon2020.


---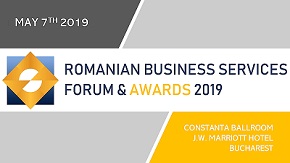 » Raiffeisen Bank Romania outsources onl...
» Horváth & Partners launches Steering ...
» JLL: Total office space in Bucharest t...
» Colliers International takes over the ...
» Oracle results pushed down by a strong...
» Survey: Romanians switch to a lower-pa...
» SSC in Romania. Who takes the lion's s...
» Genpact, Luxoft and Oracle, top lessee...
» Romanian employers report the stronges...
» Eucom: Nine out of ten corporate Roman...

My HR Lab: Research of suitable candidates and giving feedback to rejected ones, the biggest challenge in HR

During June 2019, My HR Lab company run an online (social media platforms) survey "Challenges of the recruitment process" which enrolled over 100 professionals working in HR and recruitment in Romania.
Read Full article »
The local market needs more added-value and complex projects to be developed by the companies

The statement has been uttered within this year's Romanian Outsourcing and Shared Services Summit by Catalina Dodu, Country Manager at Atos, pointing to the local enablers that could enhance the innovation and
Read Full article »
The office market at a glance: The round for tenants is on

Data provided by CBRE show that the office spaces segment will continue to grow rapidly in 2019, and 15 new projects covering 304.000 sqm will be delivered. According to the real estate consultancy agency, curr
Read Full article »
People Empowering Business Forum 2019 to take place on October, 30 at Bucharest

Latest trends like demographic upheaval, globalization, digital technology, and changing social values and worker expectations, are disrupting business models and radically changing the workplace. These are req
Read Full article »
Addressing the mantra of cyber-security: Confidentiality, integrity and availability

The fast advancement of technology in all the aspects of everyday life, either personal or professional, and the emerging of AI (Artificial Intelligence) and ML (Machine Learning), not to mention cloud technolo
Read Full article »