OT print issue-Outsourcing: Strongly outpacing the GDP growth


There are few worries for the Romanian economy if the global environment stays stable, despite the stock market glitch at the year's beginning.

The local outsourcing industry is marked by a salary war. While the Romanian economy climbed 3.7 per cent in 2015 and a similar growth is expected for this year, outsourcing companies say they will grow 20 to 30 per cent. Revenue and employment growth bring new jobs and taxes to the state budget, driving up consumption. But within outsourcing, which means 200,000 to 300,000 employees in Romania if we include the IT field, the growth in net value per employee exceeds that of any other industry in Romania, except perhaps for advisory and energy trading.

If Romania's base unemployment rate is still at 6.5 per cent, the outsourcing industry creates a negative rate, as there's a huge competition for talent. Companies in the BPO and ITO segments steal resources from smaller players and from one another, raising salaries and extra benefits to an all-time high.

However, the unemployment rate in the BPS-dominated areas, especially in the western part of the country, falls close to zero, driven down by foreign investors especially in the automotive industry.
The only contagion that could slow the foreign direct investment (FDI) new job creation trend is an external one. The economy slowed down for too long, and the external market is the only negative stimulus that could bring us down again.


Is 3.5-3.7 per cent growth rate sustainable?

According to the latest European Union Regular Economic Report (EU RER), the recovery in the European Union gained strength in 2015. Yet, growth - estimated at two per cent in 2015 - remains relatively weak in relation to the past and compared to countries in the Organization for Economic Cooperation and Development (OECD).

Central Europe is experiencing the highest growth, driven by the Czech Republic, Poland, and Romania, while Southern Europe's growth rates, at 1.4 per cent in 2015, are likely to be the slowest, although still a significant improvement from the less than 0.5 per cent growth seen there in 2014. This improvement in growth has been supported by a surprisingly rapid recovery in labour markets, says a World Bank study.

"The story in the region is positive," notes Doerte Doemeland, World Bank lead economist and co-author of the latest report, "particularly because of strong employment recovery. Unemployment rates are reaching pre-crisis levels in many EU countries and unemployment among the young – who suffered the largest increase in poverty during the crisis – is finally declining. Yet, unemployment remains high in some countries, particularly in Croatia, Slovenia and Southern Europe," she says.
Despite these positive signs, significant risks to the economic outlook in the region have emerged. Reduced external demand from a continued slowdown in emerging markets could slow EU export growth.

"Moreover, recent geopolitical challenges and the ongoing refugee crisis call for common solutions and the need for a strong European commitment to build confidence. A recovery of investment will be important to strengthen the EU's competitiveness and increase its growth potential," says the World Bank analyst.

"The challenge now is to bolster investment, which lingers at a historic low, and accelerate growth through continued structural reform, including the easing of conditions for doing business, further liberalization of services, and improvements in the efficiency of digital networks that can reduce transaction costs."

At the same time, Romanian CFOs are optimistic regarding the country's growth in 2016 and are increasingly looking to either enter new markets or expand in size, according to the Seventh edition of the Deloitte Central Europe CFO Survey which includes Romania.

The survey shows that nearly a quarter of the interviewed CFOs estimate a GDP growth of up to 3.5 per cent, which is in line with the World Bank's forecast of 3.9 per cent.

Meanwhile, over half of those interviewed (52 per cent) are starting to see new markets as a source of revenue, compared to 33 per cent last year. In addition, 57 per cent of the CFOs expect the number of employees to increase.

"If three or four years ago companies were faced with budget cuts following the economic slowdown, today they are looking again at expansion, as they are considering new markets more than before or are looking to expand their teams," says Ahmed Hassan, Partner Deloitte Romania and CFO program leader. "On the other hand, the survey reveals a talent shortage at middle, top and senior levels which will be an important issue for companies to consider over the next year."

Despite Romanian CFOs showing a high degree of optimism regarding the future of the CEE region, the majority is still cautious when taking risks: 78 per cent of CFOs believe it is not a good time to take larger risks and 76 per cent are looking at internal financing as a source of funding rather than bank borrowing.

"Recent changes such as the new Fiscal Code are also well regarded by CFOs as 69 per cent believe these will have a positive impact on their business. In the short term the level of optimism and business sentiment will be influenced by economic and political stability," Hassan also said.

Also according to Mircea Varga, CFO of Tiriac Holdings, Romania could become one of the most attractive economies in Europe depending on its ability to manage a favourable moment.

"Despite a discouraging beginning to the year marked by global turbulence with main indexes reaching historic lows for the last five years, dramatic de-capitalization of important European banks in the context of discrete adoption of the 'bail-in' measure for the European banking system, and serious questions concerning the US economy's entry into a new recession, I remain optimistic regarding Romania's economic growth in 2016. I believe a 3.5 per cent to 3.8 per cent increase of its GDP is still sustainable," Varga says.

In turn, Bogdan Popa, Vice President & CFO Raiffeisen Bank Romania said that 2016 will bring more competition among banks in their efforts to bring new investment opportunities, particularly for SMEs.

"In 2016 the economic growth will continue, at micro levels we will see bigger differences between the players, an accelerated adoption of new technologies and adaptation or renewal of the business models. The focus will stay on the conservation of resources; even though the decrease of costs is no longer a purpose in itself, the increase of productivity will remain a concern. Banks will search for lending opportunities especially at SME level, trying to bring to the market advantageous credit lines for investments in innovation, technological renewals and workforce development," Popa says.

Romania attracts investment, economic divide accentuates

Last year saw the FDI level rise to three billion Euro, up 20 per cent over 2014. However, we also had divestments worth 162 million Euro and debt repayments of about 110 million, which leaves us close to the overall 2014 levels of 2.7 billion.

In 2015 the state also enjoyed a fiscal stimulus effect, the overall tax collection into the budget growing by 11 per cent in spite of a significant cut in VAT last summer, which fell from 24 to 20 per cent. The state also spent 8 per cent more last year, while collection rose by 9 per cent, and while the budget revenues reached 33.1 per cent of the GDP, expenditure rose to 34.6 per cent of the GDP.
Meaning the state became bigger, as analysts underline.

But while the state still needs to lay off personnel from disadvantaged areas such as mining, companies such as Hella, Continental and Bosch hire people from Serbia and Hungary, due to the depletion of the western Romania personnel pool.
A simple trip to Timisoara reveals that companies are desperately looking for personnel, sometimes bringing in people from other countries and even from eastern Romania, housing them temporarily in five star hotels, as their own facilities are not ready yet, due to the rapid pace of expansion.
Iasi and Moldova- region based outsourcing are also growing, many companies stating that they plan to open a new centre in one of the smaller towns such as Bacau or Piatra Neamt.
It is just a question of infrastructure creation to bring those regions even closer.

Digital divide still large, though falling

Even if Romania still has a lot of work to close the broadband gap and reduce urban-rural disparities, it ranks among the top countries in the world in high-speed Internet access, better than the EU overall, according to World Bank.

Nine out of the world's top fifteen cities with the fastest broadband internet are in Romania. The IT sector could become one of the key growth drivers of the Romanian economy if the opportunities of high-speed Internet are fully utilized.

However, the gap between the number of internet access connections in rural areas compared to urban areas remains wide. The country ranks 23rd among EU member states on connectivity. About 11 per cent of Romanian households are still not covered by fixed broadband, and close to half of households do not subscribe to fixed broadband. The strategy of the Government is that broadband coverage should increase from 90 to 97 percent (the EU 28 value), and household penetration in rural areas should increase from 55 percent to 70 percent (also EU 28 value).

"Romania needs to close the broadband gap to fully reap all the digital and economic benefits. In the next five years more than 3.4 million households need to be connected to broadband to achieve universal coverage. Internet usage and content should be promoted hand in hand with these infrastructure advancements," says Elisabetta Capannelli, country manager for Romania and Hungary with The World Bank, Europe and Central Asia.

Next, Romania must focus on digital skills and narrow the digital gap.

"Romanian is the second most spoken language in Microsoft offices around the world and Romanian IT specialists are among the best in all major global IT companies. Some of the most popular apps on our cell phones are developed by Romanian engineers. The human capital potential in this country is extremely rich," she adds.

The paradox, however, is that Romania has the lowest percentage of regular Internet users in the EU (48 percent), and 39 percent of the Romanian population has never used the Internet (EU average is 18 percent). This means that more than one-third of the population cannot take advantage of the possibilities offered by the Internet and only 20 percent of Romanians possess basic levels of digital skills.

"Digital skills are needed for every type of workforce in Romania and their absence is an important barrier to economic development. Sustained efforts must address the reform of the education system to develop the digital skills of citizens and maximize the potential of available human talent. This is highly significant considering Romania's shrinking labour force and aging population," Capannelli says.

IT to grow from six to ten per cent of a larger GDP

Romania has been one of the best performing economies in the European Union in 2015, and some domains such as IT and agriculture will be main drivers for further growth, says Greg Konieczny, Executive Vice President, Templeton Emerging Markets Group and Fund Manager of Fondul Proprietatea (FP).

"Sectors where we see growth potential are energy, transport, IT, banking, construction, agriculture and healthcare. IT and agriculture, for example, have an increasing share in the GDP - the IT industry accounts for six per cent, but, in our view, it has the potential to reach at least ten per cent of GDP in the coming years due to the strong networking infrastructure, low costs and the labour skills base," says Konieczny.

"We also expect further acceleration for 2016, backed by the expansion of domestic consumption, investments supported by improved absorption of EU funds and low levels of interest rates," he says.

Domestic consumption has picked up significantly in 2015 (nearly five per cent growth) and it should further accelerate this year as a result of lower value-added tax (VAT) and of salary increases in the public sector. As a result, the growth rate might even exceed five per cent this year, the FP official says.

The macroeconomic fundamentals are also positive – the debt is less than 40 per cent of the GDP, the budget deficit has been under control for several years, the current account deficit for the first time in 25 years is less than one per cent of GDP and inflation as well is at record lows. Thus, Romania is in good shape after the program with the International Monetary Fund.

The high rate of economic growth, along with the strong fundamentals and the positive perspectives should result in an improvement in the flow of foreign direct investments, which should also be helped by the trend of relocating production capacities from Western Europe. Moreover, Romania's attractiveness for investors should also be boosted by fiscal improvements, such as the reduction of VAT from 24 per cent to 20 per cent, which entered into force at the beginning of this year, and the further cut to 19 per cent starting 2017, the reduction of dividend withholding tax from 16 per cent to 5 per cent and the elimination of the special constructions tax starting in 2017.

"This year will be marked by two electoral campaigns which usually generate volatility that may affect investors' decisions in the short term, but we hope they will not interfere with the reformist agenda undertaken by the new Government and which is crucial for continuing the strong FDI and portfolio investments flows in Romania," Konieczny concludes.


---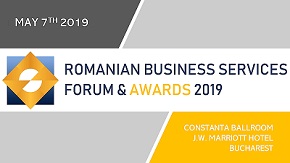 » A people-centred business
» Isarescu: Economy will grow above pote...
» CBRE: Bucharest will witness a fivefol...
» Delphi Technologies inaugurates global...
» Technology, Mobility and Wellness make...
» Meet the winners of ROMANIAN BUSINESS ...
» The Renaissance of Outsourcing
» UBB and IT Cluster Cluj brought 450 st...
» UK: Outsourcing is leaving public sect...
» EXCLUSIVE: ABSL Timisoara - BPO and SS...

Workplace of the Future conference to take place on November 20th at Bucharest

The Diplomat-Bucharest together with Outsourcing Today organize the 3rd Edition of WORKPLACE OF THE FUTURE, on 20th of November 2019, in Bucharest, at Capital Plaza Hotel.
Read Full article »
Strategic Talent Acquisition at People Empowering Business Forum on October 30 in Bucharest

Latest trends like demographic upheaval, globalization, digital technology, and changing social values and worker expectations, are disrupting business models and radically changing the workplace. These are req
Read Full article »
Informal IT School and UiPath launch an educational program for RPA development to start in October

Informal IT School announced a partnership with UiPath to launch an RPA development educational program of five months, 100 hours of courses, five days a week. The program will run in Cluj-Napoca.
Read Full article »
Impact Hub Bucharest joins 3house to manage three coworking spaces in the city

Impact Hub Bucharest, a coworking spaces manager and developer of accelerator programs and events merged with 3house, a new concept of workplace launched in 2018. By this, Impact Hub reaches 3 locations and 6.7
Read Full article »
JLL: Total office space in Bucharest to reach 3 million sqm

The second quarter of 2019 reconfirmed the increased interest for the office market in Romania. Over 115,000 square meters of office space were leased over this period at the national level, a value similar wit
Read Full article »