Oracle reaches 4,200 employees and plans further expansion


While Sorin Mindrutescu, Oracle's general manager for Romania, added up to its functions the leadership of the central and eastern Europe's Cloud division, the company grows solidly to about 4,200 employees, about a third more than last year's.

HR offices are burning hot in Oracle's Northern Bucharest offices, as the company has hundreds of positions opened at any given time. Soon the company will expand from Floreasca Park to Oregon Towers, new building under construction, whose design was initiated by Portland Trust.

The building has 3,400 square meters per story, and Oracle leased a total of 20,104 sqm – an entire building. (Oracle took building A, there are still available, of our knowledge, buildings B and C, for 24,600 sqm each).

"We're growing steadily, but we cannot reveal the rate…Most of our employees are involved in outsourcing processes for worldwide clients. We have several divisions, from software to cloud and hardware," Mindrutescu tells Outsourcing Today.

As the global environment is more and more Cloud, Internet of Things and Big Data- oriented, Oracle's latest moves have focused around this trend. And it grew locally to become the second largest center in the entire EMEA region (Europe, Middle East and Africa), after the one in the United Kingdom.

Besides Bucharest, the company also tackled Iasi for a second center, and there are 50 employees there just in the Product Development division. The Bucharest SSC has by itself close to 1,000 employees, more than 30 services lines and a 27 language-skillset.

Although Mindrutescu has not revealed the pace of the Romanian expansion, our estimates set it at around 35 per cent a year.

More on this story in the Outsourcing Today's June print issue.


---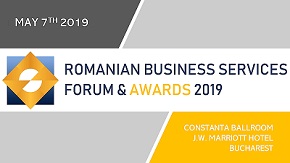 » The most appreciated companies from th...
» Webhelp Romania aiming for EUR 10 mill...
» Tremend joins Mellanox in powering the...
» Manpower: Romania's labor market, more...
» The Outsourcing industry announces its...
» Deloitte's Tech Trends 2019 report: B...
» Bucharest, in the top of cities in Eur...
» Oracle reaches 4,200 employees and pla...
» Genpact's COO: Staying ahead of the cu...
» Ascentis: The top ten HR trends for 20...

Nomination are now open for Romanian Business Services Forum and Awards

Nominations have opened for the prestigious Romanian Business Services Forum & Awards. The 2019 awards will continue to recognize and reinforce the important contribution made by business services professionals
Read Full article »
Study: 89 per cent of finance teams yet to embrace Artificial Intelligence

Report by Association of International Certified Professional Accountants and Oracle shows that almost 90 per cent of finance teams do not have the skills to support digital transformation.
Read Full article »
Bucharest, in the top of cities in Europe with the largest number of experts in high-tech industry

Bucharest is among the top cities boasting the most experts in the high-tech innovative industry, with over 70,000 current employees, next to London, Dublin, Madrid or Budapest, reads a study conducted by CBRE
Read Full article »
CBRE study: Post-millennials, the happiest about their offices
During 2018, real estate consultancy company CBRE conducted the first study dedicated to work environment in office buildings in Bucharest. The respondents have been structured in four age segments, such as Z g
Read Full article »
Deloitte's Tech Trends 2019 report: Beyond the digital frontier

The recently released Deloitte's Tech Trends 2019: Beyond the digital frontier, as each Tech Trends report in the series conducted by the consultancy company, lobbies for embracing the increasing, often mind-b
Read Full article »