Oracle reaches 4,200 employees and plans further expansion


While Sorin Mindrutescu, Oracle's general manager for Romania, added up to its functions the leadership of the central and eastern Europe's Cloud division, the company grows solidly to about 4,200 employees, about a third more than last year's.

HR offices are burning hot in Oracle's Northern Bucharest offices, as the company has hundreds of positions opened at any given time. Soon the company will expand from Floreasca Park to Oregon Towers, new building under construction, whose design was initiated by Portland Trust.

The building has 3,400 square meters per story, and Oracle leased a total of 20,104 sqm – an entire building. (Oracle took building A, there are still available, of our knowledge, buildings B and C, for 24,600 sqm each).

"We're growing steadily, but we cannot reveal the rate…Most of our employees are involved in outsourcing processes for worldwide clients. We have several divisions, from software to cloud and hardware," Mindrutescu tells Outsourcing Today.

As the global environment is more and more Cloud, Internet of Things and Big Data- oriented, Oracle's latest moves have focused around this trend. And it grew locally to become the second largest center in the entire EMEA region (Europe, Middle East and Africa), after the one in the United Kingdom.

Besides Bucharest, the company also tackled Iasi for a second center, and there are 50 employees there just in the Product Development division. The Bucharest SSC has by itself close to 1,000 employees, more than 30 services lines and a 27 language-skillset.

Although Mindrutescu has not revealed the pace of the Romanian expansion, our estimates set it at around 35 per cent a year.

More on this story in the Outsourcing Today's June print issue.


---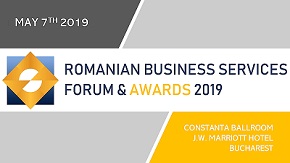 » Huawei opens a centre on cyber securit...
» Romania ranks above EU average in gend...
» ROMANIAN OUTSOURCING AWARDS FOR EXCELL...
» Bucharest, in the top of cities in Eur...
» Meet the experts who will decide the w...
» Bogdan Pelinescu, president of ABSL: A...
» Berg Software Romania: Reasons to outs...
» KPMG launches an application enabling ...
» ABSL GALA AWARDS celebrated its winner...
» George Rotariu, CEO Bitcoin Romania: B...

Meet the speakers at Romanian Business Services Forum 2019 CEO LEADERS DEBATE, on May 7th - Matthieu Pasquier

Matthieu Pasquier is CEO of Societe Generale European Business Services since August 2018 bringing more than 27 years experience in Societe Generale group. During 2014-2018, Matthieu was Head of SG GSC Chennai
Read Full article »
Sorin Mindrutescu among the speakers at Romanian Business Services Forum 2019 CEO LEADERS DEBATE, on May 7th

Sorin Mindrutescu is the Country Leader for Oracle Romania, as of February 2003. In this role, he is responsible for local sales and project delivery. In Romania, Oracle has two major business directions: the l
Read Full article »
Meet the speakers at Romanian Business Services Forum 2019 CEO LEADERS DEBATE, on May 7th - Vivek Bakshi

Vivek Bakshi is the General Manager of Wipro Technologies. He has spent 12 years heading the International Locations / Delivery Centers Europe from the Bucharest office.
Read Full article »
Meet the finalists of the fifth edition of Romanian Business Services Awards 2019

ROMANIAN BUSINESS SERVICES FORUM & AWARDS 2019, in its fifth year, brings on May 7, in Bucharest, a new concept event with engaging keynote sessions by industry leaders, interactive panel discussions, networkin
Read Full article »
Meet the experts who will decide the winners of 2019 at Romanian Business Services Forum & Awards

Each year, Outsourcing Today brings a landmark edition of the Romanian Outsourcing and Shared Services Summit and this year, we are hosting the Fifth of the annual Romanian Outsourcing and Shared Services Award
Read Full article »