Romanian Outsourcing Summit 2016: Walking the talk in public-private education


More than 150 industry leaders have witnessed an interesting and lively debate started by the Minister of Education, Adrian Curaj, about creating new privately-supported programs in the public schools for a more pragmatic approach to youth careers. "Let's walk the talk and have concrete examples in the public-private partnerships in this field," says Curaj.

The second edition of Romanian Outsourcing Summit was organized by Outsourcing Today and The Diplomat-Bucharest on March 30, 2016 at the Hilton Hotel in Bucharest. The event was held with the support of the Ministry of Education, having as Diamond Partner - Wipro, as Platinum Partners - Accenture and Societe Generale, as Gold Partners – CIMA and Genpact, and with the strategic partnership of ABSL and Outsourcing Advisors. Partners included Vastint, ACCA, CBRE, Endava, Noerr, Omifa, SCC, Skanska and Stefanini, with the support of ANIS, ClujIT, Extind and Biroul de Traduceri Champollion.

"I was definitely impressed by the dynamics of this business, and an up to 40 per cent increase is a strong and important one. Also, with such an increase, I am sure the support offered to graduates has an important focus from the industry side," says Adrian Curaj, Minister of Education, in the conference's opening.

"Why investing here? Of course, due to economic reasons, and the potential of the human resources and innovation. It is a potential that is a nice result deriving from of our education system. There are things that can be perfected, and please take into account into more detailed way the cooperation with the higher education institutions, for having more business and innovation in Romania. Please take into account expanding your operations here by focusing on taking advantage of the innovation ecosystem that we try to set up," Curaj says.
He admits that during the last 10 years, Romania faced a lack of predictability in the education field, and that there are some aspects that we should not be always proud of. However, the country has registered a strong commitment of investing more, which bring in signs of growing innovation and opportunities for the industry.

Talking about graduates, the minister stressed that he would like the industry to focus more on the university system.

"There are a lot of opportunities for you, to adopt a school. To use the companies' resources to invest into the formation of the next generation. My targets include increasing the chance for the younger generation to reach their potential, and you have a lot of experience that you can use, along with your CSR (corporate and social responsibility) activities as well, to develop programs for the younger generation. We would like to partner into this direction, and I would like to jointly invest into this domain," Curaj says.

While the country has "amazingly beautiful minds", the public system is not offering them the best possibility to step further in their careers. But there are already a mix of solutions from public and private organizations for professional education, in Transylvania but also in Southern Romania, into automotive, IT, mechanical engineering and other domains.

"Investing into schools around your operations is investing into your future businesses here. Be sure: Coming here, at this conference, I am bringing in a very strong sign of appreciation for your industry, and an invite for collaborating in the future….I would prefer to see a few initiatives and walk the talk, and see a few examples that show the effectiveness of public-private initiatives.

At the end there are results, and process benefits. So, let's walk the talk and have concrete examples in the public-private partnerships in this field," the minister says.

Vivek Bakshi, general manager of Wipro, and a leading ABSL member, admits there's more to be done, even if "we actually started walking the talk, as ABSL has partnered with The Academy of Economic Studies in Bucharest (ASE), and other high education institutions."

"We are the third largest system integrator and consulting company in India. I have been part of the East European and Romanian the industry for the past 10 years, and the amount of changes seen have brought some incredible dynamics, changing the industry and the country. And we all have been witnessing it. Today we have 80,000 people, and 2 per cent of the Romanian employment. It is a huge growth and it did not happen overnight," Bakshi says.

And it is not the end, as the industry is maturing.

"We have to see what comes next. Where do we go from here? What are the skills we need?" he asks.
While language skills are important, and what differentiates Romania is the ability to speak multiple languages, but these will phase out in time.

"Arbitrage is temporary and currently language is very important, but is temporary. With the technology that advantage will go away. Will the robots really come? What expects us tomorrow? Discussions like this are shaping Romania's future. And as the minister said, Romania has a huge potential," Bakshi adds.

As Romania ranks among the top 10 top destinations for outsourcing in the world, it needs to stay there, also says the moderator Andrei Romanescu.

While Romania ranks among first the top 10 top destinations for outsourcing in the world, in order to keep its top rankings would need an updated curriculum, not just in universities, but also in high schools, in order to satisfy the industry environment's huge labour demand, says Romanescu.
The industry has specific needs, and educating students to be ready for takeover by the labour pool is paramount. They need to learn a lot of new domains ranging from customer to financial skills.
"Also, we don't have enough foreign language speakers, we have challenges lately about that," says Romanescu.

The reason why most companies come to Romania is linked to the language skills, and explaining parents and kids the importance of foreign language learning is very important.

"It would be great if one of the four strategic objectives that you (the ministry) already have would include outsourcing. On how to increase the talent pool. The quality and quantity. Thinking on longer term, increasing the talent pool, the quality and quantity of skills such as foreign languages, our targets could be achieved."

Increasing employability and developing the teachers' careers can be helped by the companies, helping teachers develop in order to better suit industry needs.

On top of foreign languages, employability and services quality, there's a buzz word: processes efficiency. And the industry can help in that respect, Romanescu says.

While the minister promises Romanian elementary schools will introduce two compulsory foreign languages, the industry can also help, having a lot of power to drive up mechanisms, Curaj says.
"Cross links between the public and private partnerships are very important. Let's walk the talk," Curaj adds.

Evolving faster than the world

Wages grew up to 10 per cent a year in the entire industry, with even bigger increases in the ITO segment. During the past two years, salaries exceeded the dynamics in any other parts of the world, says Bakshi.

"As Romania integrated further into the EU, wages grew bigger than in other countries. So there is a little advantage, but the arbitrage is going away. Secondly, as the number of companies investing in the country increases, demand for talent increases. We are all fighting for the same talent," Bakshi adds. Unfortunately, most of the new investors conglomerate around the Capital city, due to the lack on infrastructure in the countryside. "Why aren't companies going to Brasov, which has enough talent? Due to the lack of infrastructure, but when the highway will be completed, things will be better," Bakshi adds.

The industry is fastest growing as compared to any other country, says Shibu Nambiar, COO for Europe, Latin America and Africa of Genpact.
"The evolution is probably fastest of what we all have seen in the past five to ten years and of what will actually will see happening in the next five to ten years. So this is a really rapid growing industry and we'll all witness that," says Nambiar.

Such a fast growing pace scares a bit the clients. "Today, when I talk to potential customers for Genpact, the first thing that they ask is `what is it that you are going to bring in that will actually future-proof what I need to do in this business?' And as we evolve, as business partners of the customers, what we bring to the table as the unique value proposition on how services can change, is what is going to be the trend."

Designing, transforming and running intelligent business operations for customers is the exciting part at Genpact, but an issue is how ready is the industry to translate the changes in practical terms, says Nambiar.

"As the clients go to all of this quantum changes, as services providers- are we ready to run with the same pace? There is a lot which we need to still do, as the minister says. How early should we start infusing the education curriculum? I think we should start from elementary and high school."
Also important is embracing the robots and automation. The way artificial intelligence is empowered. "We should not see these as a threat, but as opportunities and start working from there," Nambiar explains.
In its turn, Jakub Bejnarowicz, head of Central and Eastern Europe, CIMA, thinks we must use the solutions offered by the Polish example. "I think I have a déjà vu; in Poland we have had a few years ago similar discussions with the ministry of Education. You can use solutions we used in Poland already, but you must act together, not in competition, and form triangles with the universities," Bejnarowicz says.

Of course, Romania still has the language advantage, but industry is going to automate even that.
"Talking to a senior CFO at Deutsche Bank in Germany, he told me that financial accounting and forecasting- are going to be automated all that in two years' time. In Poland, we have tailored solutions for high schools and universities, and I will be happy to work with you to help you make a step forward much faster…I have seen the evolution in Romania, we also work with ASE Bucharest on the management accounting side, and I believe that you are in the right moment and place, we just need to work together and put something on paper today," Bejnarowicz adds.

Romania, not a market for software

Romania designed and built the first computer in 1957 and since then has seen the industry growing, says Varujan Pambuccian, member of the Commission for IT&C in the Chamber of Deputies. "The fact that Romania isn't a software market, as it is a small country, and that we don't have marketing skills, doesn't mean we like to transform software engineers into call centre personnel. We intend to recover an industry we once had," Pambuccian says.

Outsourcing is important as a step towards something bigger, he explains. "You have access to the markets we're targeting, and that's great."

What do Romanian investors need?
"Well prepared human resources, and we are creating it. Of course, we cannot have just software architects and programmers, and that's why there are two resources opening into the next future: one of them, already made, is changing the emigration legislation, by offering Romanian citizenship to specialists coming with some specific knowledge. We already did change the law."
As Romania cannot have more than 15,000 quality IT&C graduates a year, the law is important to bring in specialists from neighbouring geographies, he says.

A second issue is offering various specializations for IT specialists. "We need to change a little bit the curricula and create jobs for high schools graduates as well," says Pambuccian. Also, he thinks that firms should not just create software on demand.

"If you want to stay here for the long term you also have to give something back. We cannot forgo the issue of the teachers, we cannot await everything to come from the state. As teachers retire, there's no new replacements for them. If you won't find solutions…this story will not be of duration. Soon there will be no more teachers," he says. While new potential teachers graduate, they go for the higher paying industries. Also, in 15 years from now, doing software on demand will be all automated. "Don't forget that the professions are disappearing very quickly…Don't get stuck in the one thing that you're doing. Diversify."

Romania spends a lot of money from the budget to offer the industry graduates and incentives, also says Pambuccian.

"When Nokia came here, a journalist asked me how do I comment of the largest investment in IT in Romania. An I said this is not an investment in IT, but in packaging. And they will stay here as long as they have an incentive…Who was the winner of this game? Nobody. Romania spent some money for nothing," he adds.

ABSL joins universities for education programs

Romania's best incentive for the future is educating a new talent pool.

"We started being less competitive, as salaries grew, but this comes with economic growth. And salaries will continue to grow, as people grow. In the industry today there are 5,000 jobs open. We can grow. This is the reality, and the demand is really high- probably highest ever. From the limit that the Romanian population offers, of just 15,000 graduates a year, we need to plan and we are in talk with the ASE to increate he number of graduates," says Florin Grama, director, Microsoft Customer Service & Support Division and president of Managing Board, ABSL Romania.

"Cloud, mobile, social media and big data will change the face of the industry. They will influence all that we do. We all want easiness, simplicity, to access our services in any device, and this is what beneficiaries of services expect. But this comes with a lot of complexity and this is an opportunity, not a threat. It is all about preparing and understanding what we need to do," Grama says.

"Bringing value to our customers in where we should concentrate upon. We started being less competitive, as salaries grew, but this comes with economic growth and prosperity. And salaries will continue to grow, as people evolve and develop," he adds.

In the Romanian industry there are 5,000 jobs openings now. "We can grow. This is the reality, and the demand is really high - probably highest ever. Due to the limit that the Romanian population offers, of 15,000 graduates a year, we need to plan to grow this number, and we already started talks with universities such as the ASE to increase the number of graduates needed by the industry."
Teachers need the industry support.

"Coming back to my teaching background, it should be a common effort to have a good pool of teachers that the industry needs, and for us, to be sure that we give all the information and all the support to the teachers need," says Alexandra Olteanu, COO, Societe Generale European Business Services.

Also, I have to admit that in the last year at least, the industry started being recognized and to attract people from other industries. This is important, as hunting from the same talent pool will not be enough," Olteanu adds.

However, deputy Pambuccian is pessimistic about the private-public models proposed by the industry, and emphasises the poor salary retribution in education.

"These models will not function. When you collaborate institutionally with a school, almost nothing will get to the teacher. If we don't understand this, the system won't work. Teachers don't get too much money out of it, and universities will (get lion share). These type of partnerships won't work," Pambuccian says.

But in the purely private area, we can talk about the "cluster" areas. Cluster defines a series of companies and individuals for a joined purpose.

"Why not creating such a cluster as an R&D centre for many companies? Having teachers with a high innovation capacity, that -believe me- is not used in universities in Romania. Also, using students that also have a high innovation capacity needed to form start-ups. The model I am proposing would allow a different type of development: create a cluster free of all constraints." As teachers are poorly paid, research gats often bureaucratic, instead of innovative.

"Try such purely private initiatives. Romania doesn't have the US type of R&D, because we don't pay teacher anything for it. R&D is just part of the curricula. So the R&D is done in a 1970s style, with little results," he adds.

Romania needs to focus on joint projects

The raising concerns about the security of data within the EU and the world, have made east -European countries and Romania became a main destination for industries and companies, says Razvan Pirvu, head of Strategy & Sales Support, Ericsson Global Services Centre Romania.
"There's a new wave of operations that are coming to Romania. It's an influx and a reflux. Some previously outsourced operations into Asia will come back into European borders and this will put more pressure on us, and automation can offer support," he says.

The industry can use automation to operate more activities and accounts at the same time. It is also a way to increase efficiency, as automation doesn't allow for errors. It will increase the level of competence and make the specialists in the industry more valuable.

"We can also improve, as an industry, from what I have seen in the past 12 months especially- as we as an industry have lost the attractiveness of the authorities. Yes, we are doing nice things, and growing talents, but maybe let us focus on innovation, R&D, entrepreneurship, start-ups. This is in the digital agenda strategy and education strategy. But innovation and start-ups are not happening just in SMEs, education and universities: they will happen in joint projects," Pirvu says.
Innovation will cover processes and automation as well.

"We, the industry, will be seen as an engine for nurturing and supporting the innovation for tomorrow. The industry can also be a facilitator for the entrepreneurship of tomorrow…and create value for the Romanian economy," Pirvu adds.

"Working in the industry since 1990s, I remember the times when the first shared service was created in Romania, and we had very good people, skilled with no job opportunities. And at that time there was a perfect match between the skills and the availability of personnel and the investments to work for," says Bogdan Cojocaru, Service Delivery Operations lead, Accenture Romania. The industry provided people with project management skills. And it was a win-win situation for the Romanian workers in first shared services centres here, and for the employees as well.

"I know that outsourcing has limitations in terms of entrepreneurship, but looking at Ireland, where initially the creation of outsourcing industry in 1980s has as purpose to stimulate the entrepreneurship…. But nothing happened. And all the initiatives that we have should look at the specific of the industry…In order to create robots we need people…We need to invest into education and the resources," Cojocaru adds.


Looking through the positive glass

At the same time, Genpact's Nambiar agrees the industry needs more talent, but it should not be negative about the achievements attained so far.

"We started Genpact with 80 people, and today we have 3,500 employees. And many of us here are enjoying the idea of growth in Romania. It is a phenomenal achievement. I have lived in Romania for the last eight years. I have a Romanian family. And I understand the value this country is bringing not just for Genpact, but for me, personally, and for the 3,500 employees working in Genpact today. We expect them to grow into 5,000 plus, in the next couple of years. It is a great achievement," Nambiar says.

And coming from hundreds to 80,000 in just a few years means a lot.

"Do we have more to achieve? Absolutely. We'll have to reinvest ourselves each year to stay in the market. But we never forget the fact that we need to give back to the community. Yes, we're here for a reason- to access the talent pool. But talent pool, by the way, is often raw. We hire 800-1,000 people each year, as we grow more than 20 per cent annually. But we have our learning centre and we teach and prepare them for the industry and their employability significantly goes up," Nambiar adds.

"We play a role into their development, and I think that's important for their careers. That talent pool can access different jobs afterwards, in various domains."

Also, Nambiar offers the example of Genpact's corporate and social responsibility (CSR): About 50 per cent of company employees are doing some CSR with an impact on the community. "It is also important for us to recognize that while we focus on profitability of the business, we also continue to focus on what we bring back to the community," Nambiar says. Also, the employability went up a lot. If in the past just 20-30 per cent of the graduates were employed, now all of them get new jobs. "Our effort to train them is higher," says Nambiar.

During the past year, the positions opened by companies each year at least doubled, also says Ionut Anica-Popa, director Department of Relations with the Socio-Economic Environment, ASE. "The business services offer jobs and training for our students, and we have had three open doors sessions, including with Genpact and HP. Also, ABSL is a strategic partner and Genpact has been a strategic partner as well…One of the classrooms is now dubbed the 'Genpact classroom'," Anica-Popa says.

Expanding into secondary and tertiary tier cities

While the first session of the conference focused on education, the second brought in leaders' vision regarding expanding into Tier 2 and 3 towns and cities. A defining factor is talent pool, another is infrastructure, but main differentiating factor between the two tiers is their sheer size.
The important cities are divided by the number of universities, training centres, competition and languages spoken, says Catalina Dodu, country manager, Atos.

"Tier two towns differ from country to country. In Romania, tier two came in in 2006, and when prices went up, the offers battle begun and made us discover Cluj…AT that time nobody defined tier two, it was simply an opportunity to move there," says Amalia Sterescu, CEO, Outsourcing Advisors.
Tier two towns are cities of more than 120,000 inhabitants with a positive demographics, a reasonable graduates number, has the needed infrastructure, and airports, and what other industries are present locally, Sterescu explains. "It is important to know which is your competition, and other resources that may impact the business you need to transfer."

Why going into tier 2 cities?

Capgemini opened its centre in Iasi due to its talent pool potential, says Philippe Beucher, CEO, Capgemini Romania. The French group Capgemini, one of the largest players in the global outsourcing services (IT and BPO) and business consulting and technology, wants to reach in 3-5 years more than 2,000 employees in Romania, compared to the 600 it currently has in Bucharest and Iasi.
"As any multinational, when going to Iasi we made a study about population, real estate, education and growth potential. It was a choice linked to the renowned university, and the fact that not so many rival companies were there. In IT we have been pioneers in Iasi. The city hall helped us a lot, and this was motivating," says Beucher.

"Why Timisoara? Because it has accomplished all of our demands- it has a talent pool, and universities, offices and infrastructure…for Wipro, there was the advantage of the first come, though we are not alone now," says Ciprian Dan, Location head, Wipro Timisoara.

Cluj has a bigger advantage, as it is a larger city but not closer to the border.

"I think is very imp to make a comparison to other cities as well. Cluj evolved a bit differently as compared to Timisoara, which is closer to the border. Of course the recipe is the same from talent pool perspective. But in Cluj we have seen local-capital companies developing, and they developed more and consolidated after that. We have multinationals in outsourcing in Cluj today, but there's a balanced divide in between local capital and foreign capital firms," says Stelian Brad, president, Cluj IT Cluster.
A diversified dynamic finds today more and more Cluj companies opening subsidiaries into Iasi, Sibiu and Brasov and other cities, but also Bucharest companies migrating to Cluj.

"It is a city developing into the entrepreneurial area, and now it is no longer a centre of simple, traditional outsourcing. There is growing interest to externalize more complex activities. We talk more about knowledge process outsourcing, and at the same time some 25 per cent of the outsourcers are start-ups that have Romanian capital."

Of course, there is a level of market saturation, due to the lack of talent. "Cluj companies have found ways to exceed this barrier- they have opened subsidiaries in the Balkans and more Eastern front- in Ukraine, and prospect a lot these markets. They transfer, though, our Romanian model there."
Also, a strategic alliance was formed by Cluj IT companies around the outsourcing cluster. "Companies are doing resource sharing – a thing that is highly innovative for Romania," says Brad.
Brad also seeks to promote the cooperating competition, which, merged into single word, that's "coopetition".

"We try to promote the idea of 'coopetition'. There are opportunities to approach things in partnership. We cannot ignore the cost of labour force, and there is a challenge there. We anticipated this and this is why local entrepreneurs started building differently the business eco-system."
Capgemini's Beucher also says that there is a complementarity between various Romanian-capital and foreign-capital firms in the market.

"I would rather see a complementarity between the local firms that are more innovative than large outsourcing firms, and also local capital firms can be used by large companies in various developments. We have local firms developing programs for large companies, such as the robotics and process automation for Capgemini, which were made by a Romanian-capital firm," says Beucher.


Market is changing, complexity is the buzzword


As the market is evolving, the local subsidiaries of worldwide giants change their outsourcing model, too, by shifting to a higher complexity level.

"We have changed, but I see a change in the market as well…when the outsourcing started in Romania, we sold (billable) 'hours'. But after we grew and when we had the opportunity to ask for more, we did that internally. It is not an easy task to go the group and ask for supplementary responsibilities, when you're known as a simple delivery centre," says Catalina Dodu of Atos.
While it wasn't easy to raise complexity, Atos did that. "We wanted more not only at the management level, but also at people's level…and people played this game, entered projects and assumed responsibilities… so that now more than half of the Romanian business is based on services," she says.
While Atos grew, so did the complexity, now topping the market. "We talk about end to end services for the end- client, with responsibilities on delivery results and service level agreements (SLAs). This is important in our positioning as a country and in what we deliver," she says.
Gaining independence also comes with responsibilities, however, offers a better freedom of choice when it comes to organizing.

"Now we make our own calculations on what we need, we are no longer a number of people billing at the end of the month a number of hours. This is extremely important for us as an organization, as we can grow the coming generations and we can organize better. We can have a more important opinion about what we do deliver and we can solve the talent challenge," she adds.
As the human resources number is restrictive, the number of billable hours is also limited. "But the results that we have with our people are unlimited and depend on how innovative we are and what responsibilities we assume."

Atos has locally competence centres with experts that serve the clients worldwide, and a few local companies have reached such a complexity level. "Talking about talent, the number of people is constant. We took in all types of people. We have training and academies for nine years. We reconvert people from other technologies. We train people for three months to six months. There is a lot to be done, but we started adopting schools as well," says the Atos CEO, explaining that the company went into 20 gymnasium schools to teach programming.


Third tier cities lack corporate culture and …real estate


There is an unexpected element that many companies do not consider when expanding into smaller cities, says Amalia Sterescu.
"Most times, in cities like Targu Jiu or Miercurea Ciuc, the graduates don't have the habitual culture of working in multinationals, of working under deadlines, so companies' effort are larger to train them. Also, in the countryside the family tradition influences the careers of youth. And therefore is very hard to build such a mentality and build professionals. It is an aspect not many often considered," says she.
Also companies migrating to Tier 2 and 3 have the client-derived expectation to have a solid performance from the moment zero. "The client wants it, no matter the city, and here is where the HR unorthodox policies appear, and there are "quick fix" methods that appear," Sterescu adds.
Also, the demand for certain office standards appears.

"Unfortunately, besides Bucharest, Cluj, Timisoara and probably Brasov, the B plus and A class office infrastructure isn't there. Looking at the countryside potential, clients go more and more where there is talent availability and authorities support, and sometimes university availability, but the real estate component isn't there. It's a pity, as smaller cities could generate the much needed talent," also says Mihai Paduroiu, head of Office department, CBRE Romania.

If in Cluj the three axes: the academic environment, the public and private sector have cooperated in a way that exceeds Bucharest's, it cannot offer too many office buildings.

Iasi also suffers from lack of infrastructure, lack of capital and also a lack of trust due to the closeness to the eastern border, that is now so much politically-challenged "There is yet a huge potential in tier 3 towns, and I worked on projects with large clients, where we found HR, talent, universities and authorities' availability… but we didn't find the real estate infrastructure."
The public sector must be more involved into the infrastructure development. "When we build whole business cases for developers, these are essential elements. Probably the element needed will also be the academic environment, and once the number of jobs increases, the developers also come," Paduroiu says.

"Ikea's real estate arm, Vastint, wants to develop nationwide," says Paduroiu. "It is just a question of growing openness from authorities and academic environment, to open the doors for real estate developers," he adds.


Hoping for state aid


Authorities have also raised the bar for the BPO industry, by enlarging the state aid pool, says Valentina Craciun, financial advisor, auditor, Noerr Finance & Tax. Now companies benefit from state aid with just 10 employees, even if the subsidies apply the national average gross salary. And changing the system will see more developments into smaller towns, as previous subsidy schemes included just companies with 200 or more employees.

"The state aid scheme is not 'dedicated' to large companies. Indeed, the first program was barring the aid to 200 employees. But the Ministry of Finance team realized that the bar is too high and reduced it to 10 employees. Of course, it cannot satisfy everyone, but yet, we have it," says Craciun.
The state aid comes with EU grants, and if Romania doesn't use it, other countries will. Romania has now gross salary cost coverage of up to 50 per cent for tier 2 and 3 cities for two years, and not all countries benefit from that, she says. "The state aid is a decisive factor for investors." Also, the Ministry of Finance made the procedures less bureaucratic, however, applying still needs trained people to fill in the forms.

"Starting September 2014 and until the end of 2015, the new scheme saw 118 applicants, but just 19 were successful - 83 were rejected, seven withdrew and nine more were pending analysis at the year-end. Why was that? Because – we believe, many applicants do not offer full attention to these application forms."
"Such a state aid is important to investors," says Dodu.

While applying to the state aid scheme, Atos felt a stability point in Romania, and promised to keep positions locally and open jobs for a number of years to come.


The value of talent management for global business services


At the same time, Martijn Geerling, senior director, Global Business Services Advisory, Services EMEA and Asia, The Hackett Group closed the conference work with a special presentation on "The value of talent management for global business services (GBS) organizations," which can be found on our dedicated website.
"The bigger problem for companies is attract and retain people. There is war on talent. To a certain extent, that's true, and it's not true. If, as a company, you have the right approach in talent management, you should not be caught out by the availability or the lack in availability of people," Geerling says.

"Recruitment is just one element of the employee value proposition. So the biggest talent pool that you have is the one inside the company. That's the one needing development."
The key element is to develop talent management. That means strategic workforce planning, succession planning and employee engagement," adds he.

The Hackett Group is a global strategic business advisory and operations improvement consulting firm, a leader in best practice advisory, business benchmarking and transformation consulting services including: Global Business Services/Shared Services, enterprise performance management (EPM), Functional Transformation and Working Capital Management. The Hackett Group is a leader in fact-based consulting, leveraging IP from over 8,500 benchmarks and performance studies.



---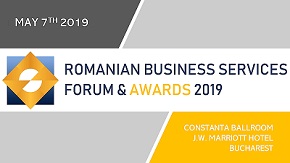 » A people-centred business
» Isarescu: Economy will grow above pote...
» CBRE: Bucharest will witness a fivefol...
» Delphi Technologies inaugurates global...
» Technology, Mobility and Wellness make...
» Meet the winners of ROMANIAN BUSINESS ...
» The Renaissance of Outsourcing
» UBB and IT Cluster Cluj brought 450 st...
» UK: Outsourcing is leaving public sect...
» EXCLUSIVE: ABSL Timisoara - BPO and SS...

Workplace of the Future conference to take place on November 20th at Bucharest

The Diplomat-Bucharest together with Outsourcing Today organize the 3rd Edition of WORKPLACE OF THE FUTURE, on 20th of November 2019, in Bucharest, at Capital Plaza Hotel.
Read Full article »
Strategic Talent Acquisition at People Empowering Business Forum on October 30 in Bucharest

Latest trends like demographic upheaval, globalization, digital technology, and changing social values and worker expectations, are disrupting business models and radically changing the workplace. These are req
Read Full article »
Informal IT School and UiPath launch an educational program for RPA development to start in October

Informal IT School announced a partnership with UiPath to launch an RPA development educational program of five months, 100 hours of courses, five days a week. The program will run in Cluj-Napoca.
Read Full article »
Impact Hub Bucharest joins 3house to manage three coworking spaces in the city

Impact Hub Bucharest, a coworking spaces manager and developer of accelerator programs and events merged with 3house, a new concept of workplace launched in 2018. By this, Impact Hub reaches 3 locations and 6.7
Read Full article »
JLL: Total office space in Bucharest to reach 3 million sqm

The second quarter of 2019 reconfirmed the increased interest for the office market in Romania. Over 115,000 square meters of office space were leased over this period at the national level, a value similar wit
Read Full article »