The Diplomat-Bucharest launched Outsourcing Today print issue

About 40 industry leaders were attending the launching ceremony of the Outsourcing Today print issue on Thursday, April 21.

The opening speeches were held by The Diplomat-Bucharest's publisher, Mirela Gavra and Roxana Tesiu, Europe HR Head, Wipro Technologies.

Outsourcing Today's print issue launch partners were: Diamond - Wipro Technologies; Platinum: Societe Generale European Business Services; Partners: Vastint, Aqua Carpatica and Samburesti.

As the business services industry developed exponentially in Romania in the past years, reaching 80,000 employees and producing up to 1.8% of the GDP, the need of a integrated communication platform that would help this fast developing industry appeared.

As such, The Diplomat – Bucharest, a long established English language business magazine and events organizer, active since 2004, decided to create Outsourcing Today, an industry and community networking and news integrated platform that would help promote Romanian business services industry locally and worldwide.

Outsourcing-today.ro is the place where organizations, service providers, advisors and other stakeholders get together, finding valuable information about their business lines and share thoughts on the latest trends within the outsourcing industry.

Our integarted platform includes a quarterly printed magazine and several annual events that ensure the best debates and networking through specialized conferences and business mixers.

That is why we believe that Outsourcing Today is a project of interest for you and your partners, and we're looking forward to future partnerships.

---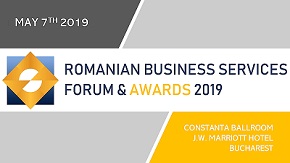 » Evolving from consumers of resources t...
» Preparing for the new future
» ROMANIAN OUTSOURCING AWARDS FOR EXCELL...
» Pepper Escu, the first humanoid robot ...
» Volvo Cars and Uber present production...
» Berg Software Romania: Reasons to outs...
» Marian V. Popa: Meet the speakers at R...
» Deloitte 2019 Global Human Capital Tre...
» Andrei Voica: Meet the speakers at Rom...
» How giving back pays dividends for com...

Digital Transformation Conference to take place on June 19 at Bucharest

The Diplomat – Bucharest organizes Digital Transformation Conference to be held on 14 of June in Bucharest, at Hilton Hotel - Regina Maria Hall, starting 8:30 AM.
Read Full article »
L&D Conference by The Diplomat Bucharest took place on June 4th at Bucharest

The Diplomat-Bucharest organizes the Third Edition of its Learning & Development CONFERENCE on 4 June, 2019 at InterContinental Hotel Bucharest starting 09:00 am.
Read Full article »
Meet the winners of ROMANIAN BUSINESS SERVICES AWARDS, 2019 edition

ROMANIAN BUSINESS SERVICES FORUM & AWARDS 2019, in its fifth year, brrought on May 7, in Bucharest, a new concept event with engaging keynote sessions by industry leaders, interactive panel discussions, network
Read Full article »
Few hours away from to the long awaited CEO Leaders Debate, a premiere of Romanian Business Services Forum and Awards
We are a few hours away to the long awaited CEO Leaders Debate, a premiere of Romanian Business Services Forum and Awards on May 7.
Read Full article »
Colin C. Lovering: Meet the speakers at Romanian Business Services Forum & Awards 2019, on May 7

Colin C. Lovering has been living and working in Romania since 2009 when he arrived to offer consultancy and advice to organisations looking for growth and profitability and founded Achieve International.
Read Full article »