Exclusive OT: Vastint invests big into Bucharest's real estate

Inter Ikea's real estate asset division invested since 2008 in the development of almost 200,000 sqm of offices, retail and residential spaces in Bucharest, now in various development stages. And this year it bought another 48 hectares of land in Bucharest's north-eastern area to add to its projects, says Antoniu Panait, managing director, Vastint Romania.

Vastint Holding B.V. is the holding company within the Inter IKEA Property Division. It has been part of the Inter IKEA Group of companies since 1989.

What are Vastint's local investments and future plans for Romania?

Vastint Romania is part of the Vastint Group, an international real estate organisation with over 25 years of experience. The company has been active in the Romanian market since 2008, with the aim to develop sustainable projects - class A office, residential and retail space - that are well integrated in the city.

Vastint already has two major developments in Bucharest: Timpuri Noi Square, located in Bucharest's third district, with up to 100,000 sqm of class A office and retail as well as 50,000 sqm residential space planned, and Business Garden Bucharest, located in the sixth district, that will bring up to 41,000 sqm of class A office and retail space to the market.

At the beginning of 2016, Vastint Romania has also acquired a 48 hectares site in the Sisesti area, in close proximity to the Straulesti terminal, with a subway station and park-and-ride facilities.


What are the trends on new deliveries in the office market?

As the work place transforms into a valuable benefit, as well as a negotiation tool in employee attraction and retention, companies' requirements in terms of office space are growing more sophisticated. Thus, we are responding by delivering almost exclusively modern, class A office developments.

The demand for new office is on a constantly increasing slope, with a significant share coming from the IT&C industry that is proving to be one of the most active when it comes to leasing activity.


How did the office itself evolve during the past years? What innovations did the managers brought in to the offices they lead?

In increasingly demanding working times, the role of the office environment in people's lives and the effect it plays on their well-being grew to a point where it became a main deciding factor. Clearly, managers learned to adapt quickly and are starting to consider the office component from all its aspects, including or even prioritizing office environments that offer more than office space. Subway accessibility used to be a key factor and while it continues to weigh in the decision process, it is no longer enough to tilt the scale, since certain areas are becoming saturated with office buildings and growing overcrowded.

At Vastint, we believe that a short subway ride or a relaxing bike ride to work, more natural indoor and outdoor settings, lunch options variety, coffee break temptations and small errands surrounding facilities as well as after work attractions, all these will outweigh anything else in terms of employee satisfaction, motivation and ultimately productivity.

How does the office of the future look like?

Environment is key, so in addition to efficient floor layouts and high standard finishes, Vastint work spaces will for instance have, among other, energy-saving electrical equipment with LED lighting and water use reduction technology. The employees will benefit from an improved indoor environment quality, starting with a healthy air conditioning and ventilation system bringing in 100% fresh air in generous, three-meter-high spaces. Increased visual comfort comes with openable windows, excellent natural light provision and views of the outdoor surroundings.

Both Timpuri Noi Square and Business Garden Bucharest are in central locations and allow easy access by subway and by car, as well as other means of public transport, while the internal garden, respective plaza, provide areas for socialising and recreation. The surrounding areas are also rich in educational centres, hospitals, shopping centres & market, major banks and further administrative hubs.

What are the latest trends in employee motivation and how do you anticipate demand in this area?

Companies are facing a challenge in recruiting and keeping their talent, confronted with an ever changing environment, driven by technology and media advancements that lead to real life disruption. As a result, businesses are starting to pay more attention to their employees' motivation, needs or problems and even anticipate them, working towards solving the latter while at the same time improving company retention levels and productivity. A solution that addresses more than one concern at a time is the work place with everything it entails – flexibility, location, facilities mix, indoor and outdoor environment, surroundings – so more and more companies understand that a workplace transformation is becoming crucial. The modern working environment needs to be flexible, providing tenants with the ability to align workplace and corporate strategy alike.

As a developer, we anticipate and understand these changes, always trying to think one step ahead, to best accommodate our future tenants by providing an employee friendly, energy efficient environment in all our office projects and buildings.

---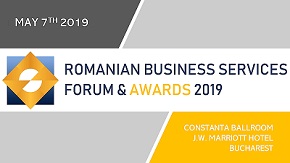 » Huawei opens a centre on cyber securit...
» ROMANIAN OUTSOURCING AWARDS FOR EXCELL...
» Romania ranks above EU average in gend...
» Bucharest, in the top of cities in Eur...
» Berg Software Romania: Reasons to outs...
» Meet the experts who will decide the w...
» Bogdan Pelinescu, president of ABSL: A...
» KPMG launches an application enabling ...
» ABSL GALA AWARDS celebrated its winner...
» Oracle reaches 4,200 employees and pla...

Colin C. Lovering: Meet the speakers at Romanian Business Services Forum & Awards 2019, on May 7

Colin C. Lovering has been living and working in Romania since 2009 when he arrived to offer consultancy and advice to organisations looking for growth and profitability and founded Achieve International.
Read Full article »
Antoniu Panait: Meet the speakers at Romanian Business Services Forum & Awards 2019, on May 7

Managing Director for VASTINT Romania since 2009, Antoniu Panait has an executive experience of more than 10 years, mainly in real estate.
Read Full article »
Andrei Voica: Meet the speakers at Romanian Business Services Forum & Awards 2019, on May 7

Andrei Voica, Director Project Management and Workplace Consultancy, Colliers International. Truly passionate about his work and always eager to add value to each project.
Read Full article »
Romulus Caralicea: Meet the speakers at Romanian Business Services Forum & Awards 2019, on May 7

Romulus is Wipro's Information Security, Risk & Compliance Lead for Europe. In his role he is managing internal audits and compliance activities for all clients and internal functions based on the corporate ISO
Read Full article »
George Didoiu: Meet the moderator of Romanian Business Services Forum 2019 CEO LEADERS DEBATE, on May 7

In his 15 years of real estate, George Didoiu advised on the relocation of top IT&C, finance-banking and consultancy companies, which total over 10,000 employees.
Read Full article »