Stefanini opens a new support center in Targu Mures


Stefanini Romania, local subsidiary of the Brazilian company Stefanini – one of the leading global players in the outsourcing of IT services, has opened a new support center in Targu Mures, which is the third in Romania, after those in Bucharest and Sibiu.

At the new Stefanini support center are currently working 20 employees specialised mainly in German and Hungarian, of which 80% have junior level positions and 20% are seniors. They provide services to international companies who need technical support in several foreign languages.

"We chose to open the third Stefanini center in Romania in Targu Mures to facilitate the future recruiting plans, given that people living here speak German and Hungarian, both languages being on increasing demand on the outsourcing market", said Andreea Stanescu, vice president, Stefanini EMEA Delivery (photo).

Stefanini's support center is located at the 1st floor of Multinvest Business Center I, the first green office building in Targu Mures, located in the historical downtown area. The office workspace has a surface of 300 m2 and spaces specifically dedicated to relaxation, all with a modern design that creates a pleasant work environment for the employees.

The company representatives want to triple the number of employees in Targu Mures in 2016 and reach a team of 60 specialists.

There are 10 positions currently opened at Stefanini Targu Mures for Service Desk Analysts, dedicated to German speakers, and for SQL Specialists, dedicated to candidates with experience working with this technology.

Stefanini employees have an attractive salary package, good career advancement opportunities thanks to the exposure to an international working environment and a number of fringe benefits.


---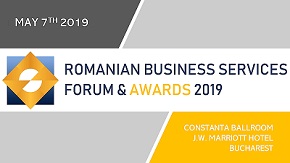 » Huawei opens a centre on cyber securit...
» Romania ranks above EU average in gend...
» ROMANIAN OUTSOURCING AWARDS FOR EXCELL...
» Bucharest, in the top of cities in Eur...
» Meet the experts who will decide the w...
» Bogdan Pelinescu, president of ABSL: A...
» Berg Software Romania: Reasons to outs...
» KPMG launches an application enabling ...
» ABSL GALA AWARDS celebrated its winner...
» George Rotariu, CEO Bitcoin Romania: B...

Meet the speakers at Romanian Business Services Forum 2019 CEO LEADERS DEBATE, on May 7th - Matthieu Pasquier

Matthieu Pasquier is CEO of Societe Generale European Business Services since August 2018 bringing more than 27 years experience in Societe Generale group. During 2014-2018, Matthieu was Head of SG GSC Chennai
Read Full article »
Sorin Mindrutescu among the speakers at Romanian Business Services Forum 2019 CEO LEADERS DEBATE, on May 7th

Sorin Mindrutescu is the Country Leader for Oracle Romania, as of February 2003. In this role, he is responsible for local sales and project delivery. In Romania, Oracle has two major business directions: the l
Read Full article »
Meet the speakers at Romanian Business Services Forum 2019 CEO LEADERS DEBATE, on May 7th - Vivek Bakshi

Vivek Bakshi is the General Manager of Wipro Technologies. He has spent 12 years heading the International Locations / Delivery Centers Europe from the Bucharest office.
Read Full article »
Meet the finalists of the fifth edition of Romanian Business Services Awards 2019

ROMANIAN BUSINESS SERVICES FORUM & AWARDS 2019, in its fifth year, brings on May 7, in Bucharest, a new concept event with engaging keynote sessions by industry leaders, interactive panel discussions, networkin
Read Full article »
Meet the experts who will decide the winners of 2019 at Romanian Business Services Forum & Awards

Each year, Outsourcing Today brings a landmark edition of the Romanian Outsourcing and Shared Services Summit and this year, we are hosting the Fifth of the annual Romanian Outsourcing and Shared Services Award
Read Full article »