Exclusive OT print issue: SCC to grow 20 per cent this year, expand to new location

SCC Services Romania started activity in 2006, with a team of just 24 people. Now it has about 1,000 and by 2018 about 30 per cent more will join its team.

"By the end of 2015 we've reached close to 1,000 employees and we plan to increase our headcount to over 1,200 by the end of 2016," Outsourcing Today is told by the company's general manager for Romania, Adina Tapalaga.

SCC intends to open a third service centre in Romania.

"For the moment we have two service centres, in Iasi and Bacau, which we will continue to expand further, but we are also considering opening an office in another city. We have multiple options to choose from, but we haven't yet decided upon a location yet," Tapalaga says.
Romania represents a key function in the group strategy, by providing IT support for nearly all of SCC's customers.

"We have started by delivering service desk and basic IT support, and over the years we have continued to add specialized functions such as server and network infrastructure support services, database and application support."

The plan for the following years is to move further into services with high added value, such as software development and cloud-delivered managed services.

"In Romania, the business has grown significantly in recent years and we'll continue to increase headcount to more than 1,200 in the coming fiscal year."
During the fiscal year 2015, the turnover output from Romania increased by 40 per cent to 11 million Euro. The net profit EBITDA (earnings before taxation) grew 90 per cent to 1.5 million Euro. "We plan to increase the headcount by 30 per cent year on year by the financial year 2018".
With approximately 200,000 active specialists, the IT&C sector has been dubbed "the sector with zero unemployment."

"While we have witnessed a rapid expansion in the larger cities - renowned as traditional IT&C hubs – and with it, an increased difficulty in finding top talent, the workforce in the smaller cities remains largely untapped. This is mainly due to poor infrastructure and high relocation costs. One solution available is to expand into these areas by creating new offices and facilitating knowledge transfer from the main centres."

In the North- East area alone, the number of IT specialists is projected to rise from approximately 10,000 in 2016 to close to 30,000 by 2030, she explains.

"Therefore, Romania represents a key function in the group strategy by providing IT support for nearly all of SCC's customers."

SCC is present in UK, France, Spain & Romania – serving European customers across the globe.
"We provide services for more than 2,500 customers in 75 countries, 24/7, in English, French and Spanish, and during business hours in six other languages: German, Italian, Portuguese, Dutch, Russian and Romanian. The predominant languages in use are English and French."

She also estimates that the main IT&C hubs such as Bucharest, Cluj and Timisoara will continue to be the premier destinations for new BPS services, by continuing to attract resources from smaller cities and even from abroad, because of their developed educational systems. "Other cities becoming attractive for foreign companies could be: Galati, Targu Mures, Brasov, Craiova and Pitesti."
While following the Polish growth example, Romania still lacks a critical element to attract a comparable flow of investors: infrastructure.

"Poland owes its success in becoming the premier European destination for the SSC/BPO market to three factors: the retention of highly skilled and multilingual workforce, low employment costs and investments in infrastructure."

Even if Romania can emulate the Polish success story, however, special attention must be given to the "low cost" factor, she explains.

"As the economy and standard of living evolves continuously, it will be increasingly hard to maintain this balance of skilled and inexpensive resources. Instead, we must focus on education and research, expanding the range of specializations available from the high-school and university levels, in order to obtain top IT specialists," Tapalaga adds.

Read more in the Outsourcing Today's first print issue, available starting April, 21

---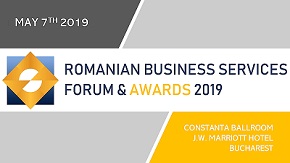 » Raiffeisen Bank Romania outsources onl...
» Horváth & Partners launches Steering ...
» JLL: Total office space in Bucharest t...
» Colliers International takes over the ...
» Oracle results pushed down by a strong...
» Survey: Romanians switch to a lower-pa...
» SSC in Romania. Who takes the lion's s...
» Genpact, Luxoft and Oracle, top lessee...
» Romanian employers report the stronges...
» Eucom: Nine out of ten corporate Roman...

My HR Lab: Research of suitable candidates and giving feedback to rejected ones, the biggest challenge in HR

During June 2019, My HR Lab company run an online (social media platforms) survey "Challenges of the recruitment process" which enrolled over 100 professionals working in HR and recruitment in Romania.
Read Full article »
The local market needs more added-value and complex projects to be developed by the companies

The statement has been uttered within this year's Romanian Outsourcing and Shared Services Summit by Catalina Dodu, Country Manager at Atos, pointing to the local enablers that could enhance the innovation and
Read Full article »
The office market at a glance: The round for tenants is on

Data provided by CBRE show that the office spaces segment will continue to grow rapidly in 2019, and 15 new projects covering 304.000 sqm will be delivered. According to the real estate consultancy agency, curr
Read Full article »
People Empowering Business Forum 2019 to take place on October, 30 at Bucharest

Latest trends like demographic upheaval, globalization, digital technology, and changing social values and worker expectations, are disrupting business models and radically changing the workplace. These are req
Read Full article »
Addressing the mantra of cyber-security: Confidentiality, integrity and availability

The fast advancement of technology in all the aspects of everyday life, either personal or professional, and the emerging of AI (Artificial Intelligence) and ML (Machine Learning), not to mention cloud technolo
Read Full article »