Federal-Mogul inaugurates new manufacturing plant in Romania

Federal-Mogul Motorparts, a division of Federal-Mogul Holdings Corporation, a global manufacturer of automotive technologies, announced the official opening of its new, world-class manufacturing facility in Romania.

Developed on 12,000 square meters, the new plant is adjacent to the company's successful braking plant at Ploiesti, near Bucharest. Federal-Mogul also has an 120-employee shared service center in Romania.

The new facility will supply European vehicle manufacturers with high-quality, state-of-the-art automotive wiper components and assemblies.

End consumers will also benefit as the same advanced processes will be used to manufacture replacement wiper assemblies for garages and parts distributors sold under the globally recognized Champion® brand. The new wipers facility supports highly precise and consistent production and packaging of front flat blades assembly, rear flat blades assembly, conventional blades assembly, and arms assembly. Standardized processes and a wide range of advanced surface treatments and finishes enable production to a consistently high quality of the different wipers models.

Speaking to attendees at a press conference held today in the company's central office in Bucharest, Daniel Ninivaggi, CEO, Federal-Mogul Motorparts and Co-CEO, Federal-Mogul Holdings Corporation, said, "We are thankful to the government of Romania for fostering an attractive, business-friendly environment that has enabled Federal-Mogul's continued expansion. Our presence here has grown significantly the inception of our braking business in 2014. We have established a modern corporate service center in Bucharest and are in the process of expanding capacity in our existing braking plant in Ploiesti.

"The opening of the Ploiesti wipers plant is an important next step in our strategy to optimize our company's operations in Europe, leading to increased competitiveness in the international automotive market," said Ninivaggi. "At the same time, we are pleased to support job growth in southeastern Romania. Our new wipers plant here has created more than 300 new jobs. We anticipate that the Romanian government's emphasis on strengthening apprenticeship schools and developing new university level business programs will provide a steady stream of skilled employees to support future growth in this region."

Federal-Mogul Motorparts has become one of the top employers in Prahova County in the past two years, attracting both high-skilled professionals in the area and recent graduates at the beginning of their careers. Federal-Mogul Motorparts' recently-established European Graduate Program provides professionals starting their careers a path towards growth into management positions.

"This two-year program was designed for university graduates and offers young professionals the opportunity to start and accelerate their careers within our company," explained Martin Hendricks, President, Global Braking and President EMEA, Federal-Mogul Motorparts. "The program provides new professionals the opportunity to work on and with international business teams, assume responsibility for projects, and develop expertise and leadership skills in preparation for future management roles."

Federal-Mogul Motorparts' success as a preferred employer is based on a comprehensive employee-oriented strategy, which is focused on professional development and employee satisfaction at work.

---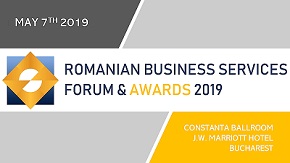 » Huawei opens a centre on cyber securit...
» ROMANIAN OUTSOURCING AWARDS FOR EXCELL...
» Romania ranks above EU average in gend...
» Bucharest, in the top of cities in Eur...
» Berg Software Romania: Reasons to outs...
» Meet the experts who will decide the w...
» Bogdan Pelinescu, president of ABSL: A...
» KPMG launches an application enabling ...
» ABSL GALA AWARDS celebrated its winner...
» Oracle reaches 4,200 employees and pla...

Colin C. Lovering: Meet the speakers at Romanian Business Services Forum & Awards 2019, on May 7

Colin C. Lovering has been living and working in Romania since 2009 when he arrived to offer consultancy and advice to organisations looking for growth and profitability and founded Achieve International.
Read Full article »
Antoniu Panait: Meet the speakers at Romanian Business Services Forum & Awards 2019, on May 7

Managing Director for VASTINT Romania since 2009, Antoniu Panait has an executive experience of more than 10 years, mainly in real estate.
Read Full article »
Andrei Voica: Meet the speakers at Romanian Business Services Forum & Awards 2019, on May 7

Andrei Voica, Director Project Management and Workplace Consultancy, Colliers International. Truly passionate about his work and always eager to add value to each project.
Read Full article »
Romulus Caralicea: Meet the speakers at Romanian Business Services Forum & Awards 2019, on May 7

Romulus is Wipro's Information Security, Risk & Compliance Lead for Europe. In his role he is managing internal audits and compliance activities for all clients and internal functions based on the corporate ISO
Read Full article »
George Didoiu: Meet the moderator of Romanian Business Services Forum 2019 CEO LEADERS DEBATE, on May 7

In his 15 years of real estate, George Didoiu advised on the relocation of top IT&C, finance-banking and consultancy companies, which total over 10,000 employees.
Read Full article »