Outsourcing Today's latest event: ROMANIAN OUTSOURCING SUMMIT 2016

Outsourcing Today, the integrated communication platform for the business services sector together with The Diplomat Bucharest organizes on March 30, at Hilton Hotel Bucharest, Le Diplomate Hall, the second edition of ROMANIAN OUTSOURCING SUMMIT 2016.
More on this here: http://outsourcing2016.thediplomat.ro/

The conference, dedicated to outsourcing services in Romania, is organized under the high patronage of Ministry of Education and Research with the support of the Diamond partner Wipro, the Strategic partners: Association of Business Service Leaders in Romania (ABSL) and Outsourcing Advisors;
the Platinum partners: Accenture and Societe Generale European Business Services, the Gold partners CIMA and Genpact and the partners: Vastint, Think Ahead-ACCA, CBRE, Endava, Noerr, Omifa, SCC, Stefanini, Skanska and with the support of ANIS- Employers' Association of the Software and Services Industry, ExTind, Cluj IT, Biroul de Traduceri Champollion.

Romanian business services industry counts almost 70,000 employees and made about 1.6% of the GDP in revenue. And the industry is set to grow.

The digital revolution is changing the world of business. Innovation is the key concept these days and the industry is continuously evolving with a stream of new technologies and innovative approaches from shared-services to cloud sourcing, insourcing to hybrid sourcing, automation to service integration.

Traditional outsourcing relationships have developed into strategic partnerships.
The summit will discuss the ways that this fast forward evolution in local business services sector challenges the very principles which organizations operate on as well as exploring present unparalleled growth opportunities.

Topics include:
• Romanian outsourcing overview, business process outsourcing, insourcing
• What are 2016 trends in outsourcing and shared services?
• Financial incentives: Involvement of government and public administration and its impact
• Outsourcing opportunities in Tier 2 and 3 Romanian cities
• What are the main aspects foreign investors seek in a country?
• What are the requirements the country meets and what should Romania emphasize on further?
• What are the main 2016 challenges of the local players have to face?
• Academic special programs. How important is the partnership between companies and educational system and how can it be enhanced?
• Newest trends: Big Data, Automation, Digital

Official opening will be held by Adrian Curaj, Minister, Ministry of Education and Scientific Research and the opening word will belong to Vivek Bakshi, General Manager, Wipro.

Summit's moderator Andrei Romanescu, a well-known outsourcing professional, will then introduce next speakers: Varujan Pambuccian, Member, Commission for Information Technology and Communications, Chamber of Deputies; Razvan Patrunoiu, Country Managing Director, Accenture Romania; Alexandra Olteanu, COO, Societe Generale European Business Services; Shibu Nambiar, Chief Operating Officer, Europe, Latin America & Africa, Genpact; Florin Grama, President, Association of Business Services Leader; Razvan Pirvu, Head of Strategy & Sales Support, Ericsson Global Services Center Romania; Jakub Bejnarowicz, Head of Central and Eastern Europe, CIMA
Ionut Anica-Popa, Director Department for the Relation with the Socio-Economic Environment, Bucharest University of Economic Studies ASE

The second session, focusing on outsourcing opportunities in tier 2 and 3 Romanian cities, includes the following speakers: Ciprian Dan, Location Head Wipro Timisoara, Wipro; Catalina Dodu, Country Manager, Atos IT Solutions and Services Romania; Amalia Sterescu, CEO Outsourcing Advisers; Valentina Craciun, Financial Advisor, Auditor, Noerr Finance & Tax; Stelian Brad, President, Cluj IT Cluster; Philippe Beucher, Executive Managing Director, Capgemini Romania; Mihai Paduroiu, Head of Office Agency, CBRE Romania and a special presentation will be held by Martijn Geerling, Senior Director, Global Business Services Advisory Services EMEA and Asia, The Hackett Group.


---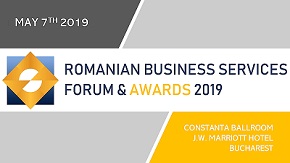 » Molson Coors started to grow its busin...
» TELUS International Europe: Three ways...
» Deloitte's Tech Trends 2019 report: B...
» Capgemini: Investing in people is the ...
» The Outsourcing industry announces its...
» Romania ranks above EU average in gend...
» Committed to growth
» ROMANIAN OUTSOURCING AWARDS FOR EXCELL...
» Engagement and inclusion through direc...
» KPMG study: Big data needs a big re-th...

The voting procedure for the BRAND OF THE YEAR 2019 IN ROMANIAN BUSINESS SERVICES is open!

This is the fifth edition of the event and the second year to select the public's favorite brand in the business services BPO, ITO and SSC in Romania.
Read Full article »
Romania ranks above EU average in gender employment gap

In Romania, the employment rate measures the number of people who have a job as a percentage of the working age population. This page provides - Romania Employment Rate- actual values, historical data, forecast
Read Full article »
Steven Hunt, SAP SuccessFactors: Tectonic movements in the world of work

The world of work will be shaped by five tectonic movements – or global megatrends – over the next few years. As you may guess from the geological analogy, the effects could be dramatic.
Read Full article »
EY: European companies are divesting to future-proof growth

According to the EY Global Corporate Divestment Study, 84 per cent of European companies surveyed intending to divest within the next two years (the majority planning to do so in the coming 12 months), executiv
Read Full article »
Knowledge-sharing presentation on latest trends the industry deals, in the program of Romanian Business Services Forum and Awards

Part of the upcoming joint half-day event, Romanian Business Services Forum and Awards to be held at JW Marriott Hotel on May 7th, the discussion agenda comprises a complex Knowledge-sharing presentation on lat
Read Full article »