ACCA is organizing the first 'Education to Employment' Conference on April 7th 2016

It is our great pleasure to invite you to the First Conference organized by ACCA in Bucharest in the field of Education. As the leading global accountancy body, ACCA aims to bring together the academic environment, high level representatives of professional associations and international employers in order to identify partnering pathways which will further the development of a robust profession

The future success of the accountancy and finance professions will depend on the next generation of finance professionals embracing core values such as adhering to rigorous professional and ethical standards, developing their technical competence, behavioral and personal skills. A robust professional also depends on an extensive network of forward-looking peers, educators, employers and professional bodies dedicated to excellence.

This event will address core topics on education, technology, curricula, exam training, and how to design an educational roadmap for making students work-ready:
§ ACCA offering: Building bridges - What is the value proposition for universities working with ACCA and what are the opportunities? - Magdalena Hernandez, ACCA Head of Emerging Europe
§ Successful projects between the Academic & Business sectors
§ Panel discussion - How should educators, professional bodies, and employers work together in curricula development and design to make students work-ready?
§ ACCA X: innovative tool for Y generation students, Elena Naumenko, ACCA Head of Education Emerging Europe
§ Future of Technology/Technology in education
§ Panel discussion: How is technology impacting the field and what skills will be needed in the next 3, 5, and 10 years? What are the challenges faced by universities in the region and how are they overcoming them?
§ Education for financial professionals – best education practices, new approaches
§ Panel discussion – How and when should career roadmaps be introduced and what is the role of educational institutions in expanding entrepreneurial excellence? Best education practices, new approaches - sharing experience.

The event will be moderated by Radu Soviani.ACCA will be represented by Magdalena Hernandez - ACCA Head of Emerging Europe, Elena Naumenko - ACCA Head of Education Emerging Europe and ACCA SEE team.

Date:April 7th, 2016
Time & agenda:Please find on site
Venue:Radisson Hotel Bucharest (Atlas Hall)

Fee: NO attending fee will be perceived for this event, as you will be ACCA's guests

Registration: Please fill in the following online form by the 4th of April 2016.
Also, please feel free to forward this invitation to your HR/L&D colleagues that might be interested by this event. Please keep in mind that the places are limited so you should register as soon as possible.

---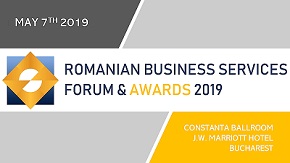 » The most appreciated companies from th...
» Webhelp Romania aiming for EUR 10 mill...
» Tremend joins Mellanox in powering the...
» The Outsourcing industry announces its...
» Manpower: Romania's labor market, more...
» Deloitte's Tech Trends 2019 report: B...
» Bucharest, in the top of cities in Eur...
» Oracle reaches 4,200 employees and pla...
» Genpact's COO: Staying ahead of the cu...
» Ascentis: The top ten HR trends for 20...

Nomination are now open for Romanian Business Services Forum and Awards

Nominations have opened for the prestigious Romanian Business Services Forum & Awards. The 2019 awards will continue to recognize and reinforce the important contribution made by business services professionals
Read Full article »
Study: 89 per cent of finance teams yet to embrace Artificial Intelligence

Report by Association of International Certified Professional Accountants and Oracle shows that almost 90 per cent of finance teams do not have the skills to support digital transformation.
Read Full article »
Bucharest, in the top of cities in Europe with the largest number of experts in high-tech industry

Bucharest is among the top cities boasting the most experts in the high-tech innovative industry, with over 70,000 current employees, next to London, Dublin, Madrid or Budapest, reads a study conducted by CBRE
Read Full article »
CBRE study: Post-millennials, the happiest about their offices
During 2018, real estate consultancy company CBRE conducted the first study dedicated to work environment in office buildings in Bucharest. The respondents have been structured in four age segments, such as Z g
Read Full article »
Deloitte's Tech Trends 2019 report: Beyond the digital frontier

The recently released Deloitte's Tech Trends 2019: Beyond the digital frontier, as each Tech Trends report in the series conducted by the consultancy company, lobbies for embracing the increasing, often mind-b
Read Full article »