ACCA is organizing the first 'Education to Employment' Conference on April 7th 2016

It is our great pleasure to invite you to the First Conference organized by ACCA in Bucharest in the field of Education. As the leading global accountancy body, ACCA aims to bring together the academic environment, high level representatives of professional associations and international employers in order to identify partnering pathways which will further the development of a robust profession

The future success of the accountancy and finance professions will depend on the next generation of finance professionals embracing core values such as adhering to rigorous professional and ethical standards, developing their technical competence, behavioral and personal skills. A robust professional also depends on an extensive network of forward-looking peers, educators, employers and professional bodies dedicated to excellence.

This event will address core topics on education, technology, curricula, exam training, and how to design an educational roadmap for making students work-ready:
§ ACCA offering: Building bridges - What is the value proposition for universities working with ACCA and what are the opportunities? - Magdalena Hernandez, ACCA Head of Emerging Europe
§ Successful projects between the Academic & Business sectors
§ Panel discussion - How should educators, professional bodies, and employers work together in curricula development and design to make students work-ready?
§ ACCA X: innovative tool for Y generation students, Elena Naumenko, ACCA Head of Education Emerging Europe
§ Future of Technology/Technology in education
§ Panel discussion: How is technology impacting the field and what skills will be needed in the next 3, 5, and 10 years? What are the challenges faced by universities in the region and how are they overcoming them?
§ Education for financial professionals – best education practices, new approaches
§ Panel discussion – How and when should career roadmaps be introduced and what is the role of educational institutions in expanding entrepreneurial excellence? Best education practices, new approaches - sharing experience.

The event will be moderated by Radu Soviani.ACCA will be represented by Magdalena Hernandez - ACCA Head of Emerging Europe, Elena Naumenko - ACCA Head of Education Emerging Europe and ACCA SEE team.

Date:April 7th, 2016
Time & agenda:Please find on site
Venue:Radisson Hotel Bucharest (Atlas Hall)

Fee: NO attending fee will be perceived for this event, as you will be ACCA's guests

Registration: Please fill in the following online form by the 4th of April 2016.
Also, please feel free to forward this invitation to your HR/L&D colleagues that might be interested by this event. Please keep in mind that the places are limited so you should register as soon as possible.

---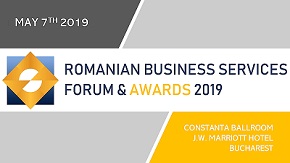 » Raiffeisen Bank Romania outsources onl...
» Horváth & Partners launches Steering ...
» JLL: Total office space in Bucharest t...
» Genpact, Luxoft and Oracle, top lessee...
» SSC in Romania. Who takes the lion's s...
» Oracle results pushed down by a strong...
» World-class HR organizations now spend...
» Romanian employers report the stronges...
» ROMANIAN OUTSOURCING AWARDS FOR EXCELL...
» Eucom: Nine out of ten corporate Roman...

My HR Lab: Research of suitable candidates and giving feedback to rejected ones, the biggest challenge in HR

During June 2019, My HR Lab company run an online (social media platforms) survey "Challenges of the recruitment process" which enrolled over 100 professionals working in HR and recruitment in Romania.
Read Full article »
The local market needs more added-value and complex projects to be developed by the companies

The statement has been uttered within this year's Romanian Outsourcing and Shared Services Summit by Catalina Dodu, Country Manager at Atos, pointing to the local enablers that could enhance the innovation and
Read Full article »
The office market at a glance: The round for tenants is on

Data provided by CBRE show that the office spaces segment will continue to grow rapidly in 2019, and 15 new projects covering 304.000 sqm will be delivered. According to the real estate consultancy agency, curr
Read Full article »
People Empowering Business Forum 2019 to take place on October, 30 at Bucharest

Latest trends like demographic upheaval, globalization, digital technology, and changing social values and worker expectations, are disrupting business models and radically changing the workplace. These are req
Read Full article »
Addressing the mantra of cyber-security: Confidentiality, integrity and availability

The fast advancement of technology in all the aspects of everyday life, either personal or professional, and the emerging of AI (Artificial Intelligence) and ML (Machine Learning), not to mention cloud technolo
Read Full article »