Exclusive OT: Romanian outsourcing FDI is on the right track, we need infrastructure

Nadia Crisan believes Romania is on the right track in luring in more foreign direct investments (FDI), in outsourcing, manufacturing, and services domains.


Nadia Crisan was recently promoted senior vice president, international government relations with McGuireWoods (MGW) Consulting. She is joining an international elite of Romanian professionals with diplomatic background that became expats, after being promoted into global managerial positions by large corporations. And she believes Romania is on the right track in luring in more foreign direct investments (FDI).

Romania serves as a huge resource for outsourcing, because of the young talent we have, says she. "Many of them are still students, and they're well-trained into IT and foreign languages. But honestly, for the US investors is very relevant how friendly the business environment is, and we have a saying in MGW, that 'Romania is more pro-American than America itself'," she explains.

After studying, working, and living in the US for 10 years and having served as the Managing Director of McGuireWoods Romania since the opening of the office in 2007, she is now back in Washington, to take over the new position. "My responsibilities are to cover global affairs. When I was based in Bucharest I was primarily working with our teams in Brussels and London on our projects, and now the work covers globally all clients, US or European, or non-American investors interested in coming to the US," she explains.

MGW is a fully-fledged law firm, even if in Romania it provides more public affairs and strategic communications services. "We have over 1,000 lawyers and we cover all areas of law ranging from energy, agribusiness, healthcare, outsourcing to financial services…I don't know of any projects that we could not do, as long as they have a reputable and strong business case." In the US the company has 22 legal and 10 consultancy offices. The team is working closely with clients as they make decisions on new investments locations.

Outsourcing: opportunities for youth

"I am glad that times have changed. When I was a student I couldn't have worked for an outsourcing company, because there weren't any opportunities. I'm from Cluj, and when I was a student, my only opportunity was to work as a journalist, because I was fascinating by the profession…Cluj was a closed city for 12 years under (former nationalist mayor Gheorghe) Funar".
And now Cluj is booming.

"When I go home, it is most fascinating to me to see American, Japanese, German, French or British companies opening new centers, investing, attracting students that only finished their very first year. They are making a very good income for their skills and for the current payment standards."
But even if many have blamed the authorities for the lack of strategic investments into the first 20 years after the Revolution, every stage of development has a time of its own, and now is Romania's.

"It has a lot to do with the Universities. It is a critical point in investors' decision. It's not by accident that Boston continues to be a financial services center. The fact that you have the Harvard Business School there, MIT, Tufts and five or six other major education institutions it's not an accident. They continue to have the best R&D centers, and even if the cost of living has grown on and on, as Boston is very expensive, it is a key place where the embryo is formed. And that's why investors are going to Cluj as well."

Cluj Napoca has not lost the quality of education.
"If you go to a restaurant in Cluj today, the discussions are not trivial ones, you may hear two PhD students talking about how they've learned and developed a new IT project in partnership with another student of Germany, or how did they invest 1,000 USD into some US piece of equipment to develop a scientific idea…"

That creates an intellectual environment for people that need to grow.

"Some of these outsourcing firms were initially small IT firms with 12-15 software developers. And now we see even a Romanian company that has today about 1,200 employees, and they've started with five, and they stayed with five for about several years…"

And Romanian outsourcing is booming. We have in excess of 70,000 business processes centers' employees, and about 200,000 IT specialists out of which a lot work for outsourced projects.
Also, the level of complexity is more advanced into the IT, while the BPO segment is still in its infancy.

But as more automotive and large industry players come to town, they also bring in their new shared services and R&D centers. And MGW helped large companies such as Ford coming in.
"It is crucial to attract more R&D centers, these offer more development opportunities and are harder to move. In my view, those are the ones needed to attract, and other less complex outsourcing segment are extremely helpful for starting and training students."

Companies such as Porsche Design announced new investments into Cluj, creating more high - complexity jobs.
"The question is how these investments are changing the dynamic of Romania's future growth. I know the Ford project by heart, and I'm glad things move to the right direction there. I'd like to see more investments coming to Craiova, but we need proper infrastructure".

If all the highway plans and other critical infrastructure promised by this government will be completed, many cities will boom. "Craiova- Pitesti road and Pitesti-Sibiu highway will be fundamental projects for investors."

The infrastructure need is still there, and what we need is a government mentality change that better serves the public projects.

"What we need, looking at the American model for example is to have continuity on proven needs. To have stronger public servants that better support projects." In the US, when a new administration comes in, the desk officers will not just listen and execute instructions. They debrief their new bosses and support the key projects that have proven critical to the national economic interest.

"There is a role for the individuals in the administration to highlight the importance of projects, particularly in infrastructure, for the development of their nation. They need to have this responsibility," she concludes.


---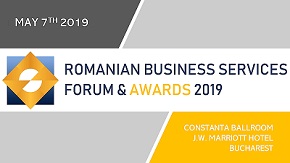 » Huawei opens a centre on cyber securit...
» ROMANIAN OUTSOURCING AWARDS FOR EXCELL...
» Romania ranks above EU average in gend...
» Bucharest, in the top of cities in Eur...
» Berg Software Romania: Reasons to outs...
» Meet the experts who will decide the w...
» Bogdan Pelinescu, president of ABSL: A...
» KPMG launches an application enabling ...
» ABSL GALA AWARDS celebrated its winner...
» Oracle reaches 4,200 employees and pla...

Colin C. Lovering: Meet the speakers at Romanian Business Services Forum & Awards 2019, on May 7

Colin C. Lovering has been living and working in Romania since 2009 when he arrived to offer consultancy and advice to organisations looking for growth and profitability and founded Achieve International.
Read Full article »
Antoniu Panait: Meet the speakers at Romanian Business Services Forum & Awards 2019, on May 7

Managing Director for VASTINT Romania since 2009, Antoniu Panait has an executive experience of more than 10 years, mainly in real estate.
Read Full article »
Andrei Voica: Meet the speakers at Romanian Business Services Forum & Awards 2019, on May 7

Andrei Voica, Director Project Management and Workplace Consultancy, Colliers International. Truly passionate about his work and always eager to add value to each project.
Read Full article »
Romulus Caralicea: Meet the speakers at Romanian Business Services Forum & Awards 2019, on May 7

Romulus is Wipro's Information Security, Risk & Compliance Lead for Europe. In his role he is managing internal audits and compliance activities for all clients and internal functions based on the corporate ISO
Read Full article »
George Didoiu: Meet the moderator of Romanian Business Services Forum 2019 CEO LEADERS DEBATE, on May 7

In his 15 years of real estate, George Didoiu advised on the relocation of top IT&C, finance-banking and consultancy companies, which total over 10,000 employees.
Read Full article »