Colliers reports first office sale this year: Phoenix Tower goes to Adamamerica

Aberdeen Asset Management Deutschaland and Commerzbank signed an agreement to sell Phoenix Tower building in Bucharest to Adamamerica, according to a Colliers release.

Phoenix Tower is an office building with total surface of 10,000 sqm, in the Central-Eastern part of Bucharest, in Vitan district, close to Bucharest Mall. The building has great visibility and accessibility, and has great technical features following the refurbishment process performed in 2011. Phoenix Tower has 80% occupancy rate, and the tenants are mostly IT companies: Zitec, Netop, EBS, but also Bancpost and Kwizda.

The transaction has been advised by Colliers International and Cameron McKenna Romania law firm, as seller's consultants. Adamamerica has been represented in this transaction by Biris Goran law firm, namely by Victor Constantinescu and Tudor Stanciu.

Simina Niculita, Associate Director within Colliers International believes that "The comeback on the Romanian market of Adama founders is an extra vote of confidence for the local real estate market. The sale of Phoenix Tower shows the interest for medium sized office buildings, supported especially by easier access to financing".

In Romania, investment fund Aberdeen Asset Management Deutschland AG was involved last year in the largest retail transaction on the local market, the sale of Auchan Titan Shopping Center. Colliers International was the advisor of Aberdeen in this transaction, worth Euro 86 million.

Adamamerica, managed by Isaac Cohen-Hoshen, former co-founder of Adama Holdings, is active in developing residential projects in New York, USA, having more than 1,000 units already delivered or still under construction. Having local experience, the owners have seized the opportunity to enter again on the Romanian market through the acquisition on a valuable asset, but also to develop new residential projects, such as Reveria projects in Eastern side of Bucharest.

---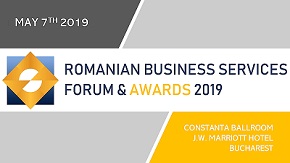 » Molson Coors started to grow its busin...
» TELUS International Europe: Three ways...
» Deloitte's Tech Trends 2019 report: B...
» Capgemini: Investing in people is the ...
» The Outsourcing industry announces its...
» KPMG study: Big data needs a big re-th...
» Romania ranks above EU average in gend...
» Committed to growth
» ROMANIAN OUTSOURCING AWARDS FOR EXCELL...
» Engagement and inclusion through direc...

The voting procedure for the BRAND OF THE YEAR 2019 IN ROMANIAN BUSINESS SERVICES is open!

This is the fifth edition of the event and the second year to select the public's favorite brand in the business services BPO, ITO and SSC in Romania.
Read Full article »
Romania ranks above EU average in gender employment gap

In Romania, the employment rate measures the number of people who have a job as a percentage of the working age population. This page provides - Romania Employment Rate- actual values, historical data, forecast
Read Full article »
Steven Hunt, SAP SuccessFactors: Tectonic movements in the world of work

The world of work will be shaped by five tectonic movements – or global megatrends – over the next few years. As you may guess from the geological analogy, the effects could be dramatic.
Read Full article »
EY: European companies are divesting to future-proof growth

According to the EY Global Corporate Divestment Study, 84 per cent of European companies surveyed intending to divest within the next two years (the majority planning to do so in the coming 12 months), executiv
Read Full article »
Knowledge-sharing presentation on latest trends the industry deals, in the program of Romanian Business Services Forum and Awards

Part of the upcoming joint half-day event, Romanian Business Services Forum and Awards to be held at JW Marriott Hotel on May 7th, the discussion agenda comprises a complex Knowledge-sharing presentation on lat
Read Full article »