Qualitance included on top 5,000 fastest-growing private companies in Europe

The Romanian software company Qualitance has been included on the 2016 Inc. 5,000 list of fastest growing private companies in Europe over the past three years, owing to the 283% growth rate of Qualitance from 2012 to 2014.

Inc. magazine ranked Qualitance NO. 1,000 on the 2016 Inc. 5,000 list of fastest growing private companies in Europe over the past three years. The Inc. 5,000 Europe represents the only comprehensive look at what may be the most dynamic segment of the world's economy: fast-growing private companies. Companies such as Microsoft, Zappos, Clif Bar, Intuit, Chobani, Zipcar, Oracle, and many other well-known names gained early exposure as members of the American version of the Inc. list.

"We are honored to be included among the first 20% companies on the 2016 Inc. 5,000 Europe, as this is our company's debut in the annual list. The development of Qualitance so far has a spectacular element to it, but also a sustainable one, just as clean-cut, but perhaps less visible. The naming to this list and the prestige it entails are even more rewarding, as both these elements have been taken into account", says Radu Constantinescu, managing Partner Qualitance (photo- right).

"In Europe as in the U.S., entrepreneurs are the wellspring of innovation, daring and growth. We are proud to recognize the Inc. 5000 Europe for their ingenuity, creativity, and tenacity—qualities that have always united entrepreneurs around the world", says Inc. President and Editor-In-Chief Eric Schurenberg.

132 software companies were included on the 2016 Inc. of fastest growing private European companies, out of which 12 were Romanian. Among the latter, Qualitance is the fourth ranked company.

The 2016 Inc. 5000 Europe is ranked according to percentage revenue growth when comparing 2011 to 2014. To qualify, companies must have been founded and generating revenue by March 31, 2011. They had to be European-based, privately held, for profit, and independent—not subsidiaries or divisions of other companies—as of December 31, 2014. The minimum revenue required for 2011 is euro 200,000; the minimum for 2014 is euro 2 million.

The aggregate revenue among the companies on the 2016 list increased to euro 110 billion, up from euro 40 billion in 2011, with an average three-year growth rate of 226%.

The full Inc. 5000 Europe list can be found at http://www.inc.com/inc5000eu.

Founded in 1979, Inc. is the only major brand dedicated exclusively to owners and managers of growing private companies, with the aim to deliver real solutions for today's innovative company builders. Total monthly audience reach for the brand has grown significantly from 2,000,000 in 2010 to over 11,000,000 today.


---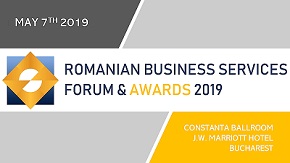 » Raiffeisen Bank Romania outsources onl...
» Oracle results pushed down by a strong...
» World-class HR organizations now spend...
» Microsoft and Oracle to interconnect M...
» Apostoleanu, Oracle: Human talent, mos...
» ANIS: Romanian IT market annual revenu...
» Healthcare IT outsourcing market is ex...
» Bosch Service Solutions to grow 20% Ti...
» Omnichannel: 4 pillars of a purposeful...
» The digitalization of the customer rel...

My HR Lab: Research of suitable candidates and giving feedback to rejected ones, the biggest challenge in HR

During June 2019, My HR Lab company run an online (social media platforms) survey "Challenges of the recruitment process" which enrolled over 100 professionals working in HR and recruitment in Romania.
Read Full article »
The local market needs more added-value and complex projects to be developed by the companies

The statement has been uttered within this year's Romanian Outsourcing and Shared Services Summit by Catalina Dodu, Country Manager at Atos, pointing to the local enablers that could enhance the innovation and
Read Full article »
The office market at a glance: The round for tenants is on

Data provided by CBRE show that the office spaces segment will continue to grow rapidly in 2019, and 15 new projects covering 304.000 sqm will be delivered. According to the real estate consultancy agency, curr
Read Full article »
People Empowering Business Forum 2019 to take place on October, 30 at Bucharest

Latest trends like demographic upheaval, globalization, digital technology, and changing social values and worker expectations, are disrupting business models and radically changing the workplace. These are req
Read Full article »
Addressing the mantra of cyber-security: Confidentiality, integrity and availability

The fast advancement of technology in all the aspects of everyday life, either personal or professional, and the emerging of AI (Artificial Intelligence) and ML (Machine Learning), not to mention cloud technolo
Read Full article »