Poll reveals customer loyalty is still SF for more than half of companies

Less than half of the Romanian companies currently use a customer loyalty scheme, according to a poll amongst more than 100 local major companies.

The survey was conducted by CloudBiz, a regional marketing technology agency that delivers successful end-to-end customer loyalty management in SE and central Europe and Predicta, a leading provider of predictive analytic solutions in Greece and the Balkans.

The customer retention programs have become a strategic priority for the companies seeking to exploit the economic recovery and recent boom, on a very competitive and crowded market, though.
More precisely, 48% of the companies questioned indicated they have such a loyalty scheme, and 57% of them said this has been in place for more than 4 years. However, 28% of the companies confirming a loyalty scheme said the performance was poor, 28% said excellent and for the rest is was rated as "good".

As of the 52% respondents which said they don't have a loyalty scheme in place, the main reasons were scarcity of the marketing budget (33%) and the belief that there's no need for such incentive in their business vertical (22%). That said, more than two thirds of them said they are looking to invest in a customer relationship management system, for various reasons: increase customer retention (72% of the respondents not using a CRM system), increase sales (72%), increase brand awareness (50%) and several others.

"As the market is becoming ever more crowded and the demand more hectic and abrupt in changing, it is obvious that any business is becoming increasingly aware that customer retention is a must. But how would you know to whom you should address the next marketing campaign, and what you should propose so your offer looks attractive from the beginning? Would you rely on the hazard of the human memory or would you put your stake on a long-tested software?", said Vagelis Karalis, Cloudbiz CEO.
Cloudbiz is acting in 8 countries, delivering successful end-to-end customer loyalty management. Through its expertise in customer engagement strategy and tailor made technology solutions CLOUDBIZ helps global brands build unique long-term relationships with their customers. Romania is also on the list, with already a major customer here, Marks & Spencer.

Philippos Paschentis, CEO of Predicta commented "Big Data & Analytics are the heaviest buzzwords in today's wider business area, which more than ever depends on relevant advanced IT technologies. Customer centricity is every marketer's ambition. Organizations across all industries have been investing for the last couple of decades in all sorts of operational systems, through which large volumes of data – relevant to different aspects of day-to-day business activity – are gathered. Customer Analytics unlocks the valuable insights hidden in the masses of information available to every organization nowadays, completing this initiative's investment cycle, and therefore facilitating and maximizing ROI".

Predicta, leading provider of Predictive Analytics Solutions in Greece and the Balkans, offers internationally recognized analytical solutions in Business Analytics that combine the expertise of highly experienced consultants and analysts with the effective methodology and technology that is integrated in their software.

Another finding of the poll is that 34% of the questioned companies said they are not using any type of CRM system at all, while 33% said they have a custom, internally developed solution. Only a third of the respondents said they have a branded CRM solution.

When it comes to how customers are being approached, all respondents indicated the e-mail as primary channel, followed by social media and call centres.

The poll was conducted during January – February 2016 on a representative sample of business leaders, of which 56% hold a Bachelor of Science, 39% have a Master/MBA and 5% are PhDs. 65% of the respondents have a professional experience exceeding 10 years.


---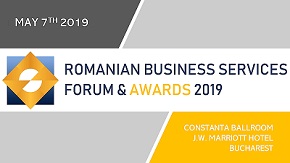 » Raiffeisen Bank Romania outsources onl...
» Oracle results pushed down by a strong...
» World-class HR organizations now spend...
» Microsoft and Oracle to interconnect M...
» Apostoleanu, Oracle: Human talent, mos...
» The importance of training in developi...
» ANIS: Romanian IT market annual revenu...
» Healthcare IT outsourcing market is ex...
» Bosch Service Solutions to grow 20% Ti...
» Omnichannel: 4 pillars of a purposeful...

My HR Lab: Research of suitable candidates and giving feedback to rejected ones, the biggest challenge in HR

During June 2019, My HR Lab company run an online (social media platforms) survey "Challenges of the recruitment process" which enrolled over 100 professionals working in HR and recruitment in Romania.
Read Full article »
The local market needs more added-value and complex projects to be developed by the companies

The statement has been uttered within this year's Romanian Outsourcing and Shared Services Summit by Catalina Dodu, Country Manager at Atos, pointing to the local enablers that could enhance the innovation and
Read Full article »
The office market at a glance: The round for tenants is on

Data provided by CBRE show that the office spaces segment will continue to grow rapidly in 2019, and 15 new projects covering 304.000 sqm will be delivered. According to the real estate consultancy agency, curr
Read Full article »
People Empowering Business Forum 2019 to take place on October, 30 at Bucharest

Latest trends like demographic upheaval, globalization, digital technology, and changing social values and worker expectations, are disrupting business models and radically changing the workplace. These are req
Read Full article »
Addressing the mantra of cyber-security: Confidentiality, integrity and availability

The fast advancement of technology in all the aspects of everyday life, either personal or professional, and the emerging of AI (Artificial Intelligence) and ML (Machine Learning), not to mention cloud technolo
Read Full article »