Exclusive OT: Federal-Mogul to expand team, new investors come to Ploiesti

While Federal-Mogul is set to expand its team, new investors are coming into Ploiesti to add more than 500 jobs to the city this year, Simona Scutaru, Service Center Site leader & HR Country Manager Federal-Mogul Motorparts tells Outsourcing Today.

"Although the unemployment rate is low, we still find good expertise in the market, doubled by the fact that there are new generations graduating and willing to learn and develop their career. If we refer to Ploiesti, we have here one of the lowest unemployment rates in Romania (bellow 4%), while 20+ multinationals are present on the local market (US, Japanese, Italian, German)," she says.

"At least two more multinationals will open manufacturing facilities in Ploiesti by the end of 2016 – beginning of 2017, creating an additional of 500 plus jobs. We believe that although the competition is high, we attract and keep in the company the right capabilities to develop our local business."

Federal-Mogul opened a first facility in Romania in 2014. It has a 120-employee shared service center in Bucharest. Last year it perfected an investment of about 67 million USD into a Ploiesti factory, according to local press.

And the company expands.

"As we are developing our businesses in Romania, we are more in the moment to expand our team and less in replacing people-on-the-move. Generally, employers fight to cut turnover mainly for white collars and management through additional benefits and flexible work time. Building a positive and feed-forward based culture is one of the main pillars is building employees` trust and loyalty to our company," says Scutaru.

---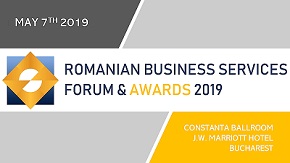 » Raiffeisen Bank Romania outsources onl...
» World-class HR organizations now spend...
» Oracle results pushed down by a strong...
» Sergiu Negut, on the stage of People i...
» Apostoleanu, Oracle: Human talent, mos...
» DTZ: Office demand outside Bucharest t...
» TELUS International: Chatbots - The pr...
» Microsoft and Oracle to interconnect M...
» The importance of training in developi...
» ANIS: Romanian IT market annual revenu...

My HR Lab: Research of suitable candidates and giving feedback to rejected ones, the biggest challenge in HR

During June 2019, My HR Lab company run an online (social media platforms) survey "Challenges of the recruitment process" which enrolled over 100 professionals working in HR and recruitment in Romania.
Read Full article »
The local market needs more added-value and complex projects to be developed by the companies

The statement has been uttered within this year's Romanian Outsourcing and Shared Services Summit by Catalina Dodu, Country Manager at Atos, pointing to the local enablers that could enhance the innovation and
Read Full article »
The office market at a glance: The round for tenants is on

Data provided by CBRE show that the office spaces segment will continue to grow rapidly in 2019, and 15 new projects covering 304.000 sqm will be delivered. According to the real estate consultancy agency, curr
Read Full article »
People Empowering Business Forum 2019 to take place on October, 30 at Bucharest

Latest trends like demographic upheaval, globalization, digital technology, and changing social values and worker expectations, are disrupting business models and radically changing the workplace. These are req
Read Full article »
Addressing the mantra of cyber-security: Confidentiality, integrity and availability

The fast advancement of technology in all the aspects of everyday life, either personal or professional, and the emerging of AI (Artificial Intelligence) and ML (Machine Learning), not to mention cloud technolo
Read Full article »