Dell brings automated support services to Romania

Dell's newest ProSupport Plus service is now available for Romanian clients through an automated service, according to a company release.

Dell announced its flagship ProSupport Plus for PCs and tablets support service is now available in 33 additional countries across Europe, the Middle East, Africa and Asia, including an "proactive and predictive automated support."

"This is the only complete support service combining priority access to expert support, accidental damage repair, and proactive/predictive monitoring for automatic issue prevention and resolution."

Although mostly automated, the service has a dedicated technical account manager who serves as a single point of accountability and provides monthly reporting for customers with 1,000 or more ProSupport Plus systems.

According to the company, customers now "spend up to 84 percent less time on technical support calls and take up to 58 percent fewer steps to resolve a hard drive issue than with key competitors."

ProSupport Plus for PCs and tablets is now available to customers and channel partners in an additional 37 countries and five languages, bringing the total global coverage to 101 countries and 21 languages.


---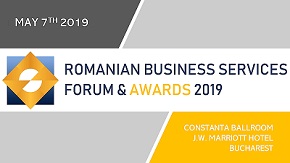 » The most appreciated companies from th...
» Webhelp Romania aiming for EUR 10 mill...
» Tremend joins Mellanox in powering the...
» The Outsourcing industry announces its...
» Manpower: Romania's labor market, more...
» Deloitte's Tech Trends 2019 report: B...
» Bucharest, in the top of cities in Eur...
» Oracle reaches 4,200 employees and pla...
» Genpact's COO: Staying ahead of the cu...
» Ascentis: The top ten HR trends for 20...

Nomination are now open for Romanian Business Services Forum and Awards

Nominations have opened for the prestigious Romanian Business Services Forum & Awards. The 2019 awards will continue to recognize and reinforce the important contribution made by business services professionals
Read Full article »
Study: 89 per cent of finance teams yet to embrace Artificial Intelligence

Report by Association of International Certified Professional Accountants and Oracle shows that almost 90 per cent of finance teams do not have the skills to support digital transformation.
Read Full article »
Bucharest, in the top of cities in Europe with the largest number of experts in high-tech industry

Bucharest is among the top cities boasting the most experts in the high-tech innovative industry, with over 70,000 current employees, next to London, Dublin, Madrid or Budapest, reads a study conducted by CBRE
Read Full article »
CBRE study: Post-millennials, the happiest about their offices
During 2018, real estate consultancy company CBRE conducted the first study dedicated to work environment in office buildings in Bucharest. The respondents have been structured in four age segments, such as Z g
Read Full article »
Deloitte's Tech Trends 2019 report: Beyond the digital frontier

The recently released Deloitte's Tech Trends 2019: Beyond the digital frontier, as each Tech Trends report in the series conducted by the consultancy company, lobbies for embracing the increasing, often mind-b
Read Full article »