Exclusive OT: Laser printing market up 18% in units in 2015, -Pantelimon, Xerox

Xerox sees document services and outsourced management market growing in 2016, keeping up with the upswing trend of the economy, says Gabriel Pantelimon, general manager of Xerox Romania.

As major players vie for the better market share, a price war takes down margins and raises customers' expectations. Last year the laser printing market was up 18% in number of professional units and 2% in value, while Xerox' market share grew by about 15% in value.

The laser equipment market reached an overall revenue of 80 million USD (according to IDC market data 2015), and major players strive for the large customers' chunk. But Xerox does not neglect the mid and small cap segment.

"We are very present in the retail, but our main business is B2B. Our main KPI is customers' satisfaction, measured in local surveys. We see Romania among first countries in net promoters score inside the DMO countries (Developing Markets Operations), meaning clients recommend us," Pantelimon says.

While economy is moving up, so is the document management business. As Xerox Romania offers services to the local customers, optimizing costs became paramount during crisis, when the market became very much price-sensitive.

"We don't want to put an emphasis and differentiate just on price. We have our R&D and new technologies, and that adds value to services."

---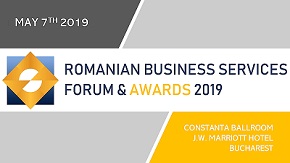 » Huawei opens a centre on cyber securit...
» ROMANIAN OUTSOURCING AWARDS FOR EXCELL...
» Romania ranks above EU average in gend...
» Bucharest, in the top of cities in Eur...
» Berg Software Romania: Reasons to outs...
» Meet the experts who will decide the w...
» Bogdan Pelinescu, president of ABSL: A...
» KPMG launches an application enabling ...
» ABSL GALA AWARDS celebrated its winner...
» Oracle reaches 4,200 employees and pla...

Colin C. Lovering: Meet the speakers at Romanian Business Services Forum & Awards 2019, on May 7

Colin C. Lovering has been living and working in Romania since 2009 when he arrived to offer consultancy and advice to organisations looking for growth and profitability and founded Achieve International.
Read Full article »
Antoniu Panait: Meet the speakers at Romanian Business Services Forum & Awards 2019, on May 7

Managing Director for VASTINT Romania since 2009, Antoniu Panait has an executive experience of more than 10 years, mainly in real estate.
Read Full article »
Andrei Voica: Meet the speakers at Romanian Business Services Forum & Awards 2019, on May 7

Andrei Voica, Director Project Management and Workplace Consultancy, Colliers International. Truly passionate about his work and always eager to add value to each project.
Read Full article »
Romulus Caralicea: Meet the speakers at Romanian Business Services Forum & Awards 2019, on May 7

Romulus is Wipro's Information Security, Risk & Compliance Lead for Europe. In his role he is managing internal audits and compliance activities for all clients and internal functions based on the corporate ISO
Read Full article »
George Didoiu: Meet the moderator of Romanian Business Services Forum 2019 CEO LEADERS DEBATE, on May 7

In his 15 years of real estate, George Didoiu advised on the relocation of top IT&C, finance-banking and consultancy companies, which total over 10,000 employees.
Read Full article »