Exclusive OT: Even if local financing gets easier, market still lacks liquidity- Furdui, Portland

During the past years, local financing for real estate large projects became easier, but the market still lack a benchmark yield and is marked by lack of liquidity, Florin Furdui, country manager, Portland Trust tells Outsourcing Today.

As the central bank of Romania dropped the key interest rate to as low as 1.75%, and the inter-banking rates fell to as low as a half of per cent, realtors also found better financing terms in Romania.

While during crisis rates have gone up while the debt to equity ratio fell, now the market sees a recoil, and some investors with proven track record receive a debt to equity financing of 65% and even better than that.

Oregon, a Portland Trust project, was financed together with BCR, and the market moved towards local interest rates of less than 4.5%, while for larger project banks preferred syndication, especially the syndicated loans from mother-companies in EU countries benefitting from interests of close to 2%.

But as crisis saw foreign banks deleveraging from emerging markets, Romanian investors were also hit by higher risk conditions and local bankers were preferred.

"We chose to work with a local banker in 2011, so we chose to work with BCR. It is better and simpler to have a local partner that understands the local market, context and has local personnel, and we have developed a great partnership with BCR during these years," he says.

Meanwhile, the market remains highly illiquid, and the lack of a benchmark yield is still deeply felt.
"This is my biggest concern, the market lack of a benchmark and liquidity. A large flow of foreign investments was predicted at the beginning of the last year, however, Romania is yet probably a too small of a market for large investors, that, unfortunately, stop at our border."

Large investors look for more liquid markets.

"The market sees yields slightly compressing, but the market is still not yet very liquid. There are only a few large investors present in the market and we hope they'll continue investing, but we cannot say we have a generally agreed benchmark."

And as the outsourcing industry boom sees enough space delivered to cover demand, however, that's not of the best quality.

"I think that we will have a new record of office spaces delivered this year. The issue is how good and well-located these spaces are. Some are located in less preferred areas, while others are technically obsolete."

Yet, the outsourcing industry's demands are seeing a very price sensitive market.
"Romania has a typically aggressive price demand; people are looking, unfortunately, too much at the price. It is an overall Romanian expectation in all services segments to have the best quality and at the same time, the smallest price, a choice that in the long run is unsustainable. It simply does not generate enough investment to sustain the quality," says Furdui.


---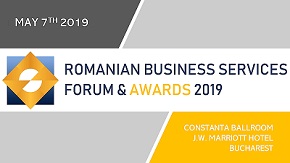 » Huawei opens a centre on cyber securit...
» ROMANIAN OUTSOURCING AWARDS FOR EXCELL...
» Romania ranks above EU average in gend...
» Bucharest, in the top of cities in Eur...
» Berg Software Romania: Reasons to outs...
» Meet the experts who will decide the w...
» Bogdan Pelinescu, president of ABSL: A...
» KPMG launches an application enabling ...
» ABSL GALA AWARDS celebrated its winner...
» Oracle reaches 4,200 employees and pla...

Colin C. Lovering: Meet the speakers at Romanian Business Services Forum & Awards 2019, on May 7

Colin C. Lovering has been living and working in Romania since 2009 when he arrived to offer consultancy and advice to organisations looking for growth and profitability and founded Achieve International.
Read Full article »
Antoniu Panait: Meet the speakers at Romanian Business Services Forum & Awards 2019, on May 7

Managing Director for VASTINT Romania since 2009, Antoniu Panait has an executive experience of more than 10 years, mainly in real estate.
Read Full article »
Andrei Voica: Meet the speakers at Romanian Business Services Forum & Awards 2019, on May 7

Andrei Voica, Director Project Management and Workplace Consultancy, Colliers International. Truly passionate about his work and always eager to add value to each project.
Read Full article »
Romulus Caralicea: Meet the speakers at Romanian Business Services Forum & Awards 2019, on May 7

Romulus is Wipro's Information Security, Risk & Compliance Lead for Europe. In his role he is managing internal audits and compliance activities for all clients and internal functions based on the corporate ISO
Read Full article »
George Didoiu: Meet the moderator of Romanian Business Services Forum 2019 CEO LEADERS DEBATE, on May 7

In his 15 years of real estate, George Didoiu advised on the relocation of top IT&C, finance-banking and consultancy companies, which total over 10,000 employees.
Read Full article »