Exclusive OT: British company Xoomworks to grow 30-40% Cluj operations

After entering the Romanian market in 2007, British company Xoomworks Outsourcing grew its operations to 100 staff, tells Outsourcing Today company's managing director, Christophe Bajc.

"We have invested about half a million Euros – we've built two operations so far – both approaching 100 staff. We are planning to hire 25 to 30 in 2016," says Bajc.

"We have been growing by 40% year by year, and we are comfortable with sustaining this growth rate for the coming years. But we do not see volume as our key performance indicator," he adds.

"We rather focus on building long term (10 years plus for some) relationships with our clients, as well as working with technology driven clients who share our values and passion. Our ability to deliver more value to our clients, and great projects to our employees, is also a critical success factor for us. From that point-of-view, Cluj, is without any doubt a "place to be" for us as it offers a rare blend of skills and potential."

Xoomworks also started a technical academy in Cluj, and plans to strengthen the new divisions of security, salesforce and business intelligence.

"We plan to setup a second session of our Xoomworks Academy, a six months' program for young graduates aiming at bridging the gap between theoretical knowledge gained during their studies and market needs," he says.

"The company is mainly active in the travel, gaming and fintech sectors, with a clear focus on flexibility, ability and time to market, as well as new relevant technologies."


---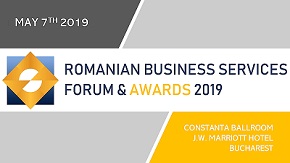 » Huawei opens a centre on cyber securit...
» Romania ranks above EU average in gend...
» ROMANIAN OUTSOURCING AWARDS FOR EXCELL...
» Bucharest, in the top of cities in Eur...
» Meet the experts who will decide the w...
» Bogdan Pelinescu, president of ABSL: A...
» Berg Software Romania: Reasons to outs...
» KPMG launches an application enabling ...
» ABSL GALA AWARDS celebrated its winner...
» George Rotariu, CEO Bitcoin Romania: B...

Meet the speakers at Romanian Business Services Forum 2019 CEO LEADERS DEBATE, on May 7th - Matthieu Pasquier

Matthieu Pasquier is CEO of Societe Generale European Business Services since August 2018 bringing more than 27 years experience in Societe Generale group. During 2014-2018, Matthieu was Head of SG GSC Chennai
Read Full article »
Sorin Mindrutescu among the speakers at Romanian Business Services Forum 2019 CEO LEADERS DEBATE, on May 7th

Sorin Mindrutescu is the Country Leader for Oracle Romania, as of February 2003. In this role, he is responsible for local sales and project delivery. In Romania, Oracle has two major business directions: the l
Read Full article »
Meet the speakers at Romanian Business Services Forum 2019 CEO LEADERS DEBATE, on May 7th - Vivek Bakshi

Vivek Bakshi is the General Manager of Wipro Technologies. He has spent 12 years heading the International Locations / Delivery Centers Europe from the Bucharest office.
Read Full article »
Meet the finalists of the fifth edition of Romanian Business Services Awards 2019

ROMANIAN BUSINESS SERVICES FORUM & AWARDS 2019, in its fifth year, brings on May 7, in Bucharest, a new concept event with engaging keynote sessions by industry leaders, interactive panel discussions, networkin
Read Full article »
Meet the experts who will decide the winners of 2019 at Romanian Business Services Forum & Awards

Each year, Outsourcing Today brings a landmark edition of the Romanian Outsourcing and Shared Services Summit and this year, we are hosting the Fifth of the annual Romanian Outsourcing and Shared Services Award
Read Full article »