Exclusive OT: British company Xoomworks to grow 30-40% Cluj operations

After entering the Romanian market in 2007, British company Xoomworks Outsourcing grew its operations to 100 staff, tells Outsourcing Today company's managing director, Christophe Bajc.

"We have invested about half a million Euros – we've built two operations so far – both approaching 100 staff. We are planning to hire 25 to 30 in 2016," says Bajc.

"We have been growing by 40% year by year, and we are comfortable with sustaining this growth rate for the coming years. But we do not see volume as our key performance indicator," he adds.

"We rather focus on building long term (10 years plus for some) relationships with our clients, as well as working with technology driven clients who share our values and passion. Our ability to deliver more value to our clients, and great projects to our employees, is also a critical success factor for us. From that point-of-view, Cluj, is without any doubt a "place to be" for us as it offers a rare blend of skills and potential."

Xoomworks also started a technical academy in Cluj, and plans to strengthen the new divisions of security, salesforce and business intelligence.

"We plan to setup a second session of our Xoomworks Academy, a six months' program for young graduates aiming at bridging the gap between theoretical knowledge gained during their studies and market needs," he says.

"The company is mainly active in the travel, gaming and fintech sectors, with a clear focus on flexibility, ability and time to market, as well as new relevant technologies."


---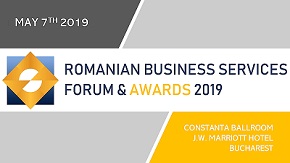 » The most appreciated companies from th...
» Webhelp Romania aiming for EUR 10 mill...
» Tremend joins Mellanox in powering the...
» Manpower: Romania's labor market, more...
» The Outsourcing industry announces its...
» Deloitte's Tech Trends 2019 report: B...
» Bucharest, in the top of cities in Eur...
» Oracle reaches 4,200 employees and pla...
» Genpact's COO: Staying ahead of the cu...
» Ascentis: The top ten HR trends for 20...

Nomination are now open for Romanian Business Services Forum and Awards

Nominations have opened for the prestigious Romanian Business Services Forum & Awards. The 2019 awards will continue to recognize and reinforce the important contribution made by business services professionals
Read Full article »
Study: 89 per cent of finance teams yet to embrace Artificial Intelligence

Report by Association of International Certified Professional Accountants and Oracle shows that almost 90 per cent of finance teams do not have the skills to support digital transformation.
Read Full article »
Bucharest, in the top of cities in Europe with the largest number of experts in high-tech industry

Bucharest is among the top cities boasting the most experts in the high-tech innovative industry, with over 70,000 current employees, next to London, Dublin, Madrid or Budapest, reads a study conducted by CBRE
Read Full article »
CBRE study: Post-millennials, the happiest about their offices
During 2018, real estate consultancy company CBRE conducted the first study dedicated to work environment in office buildings in Bucharest. The respondents have been structured in four age segments, such as Z g
Read Full article »
Deloitte's Tech Trends 2019 report: Beyond the digital frontier

The recently released Deloitte's Tech Trends 2019: Beyond the digital frontier, as each Tech Trends report in the series conducted by the consultancy company, lobbies for embracing the increasing, often mind-b
Read Full article »