FotoNation leases 1,800 sqm in AFI Park 4&5, occupancy up to 60%

AFI Europe Romania has signed a new lease agreement in the office building AFI Park 4&5 with FotoNation, a TESSERA company, reaching a 60% occupancy rate.

With the new agreement, AFI Park consolidates its place as the main business hob in the Central West of Bucharest, targeted mostly by multinational IT&C companies, who find in the business park the superior technical requirements they require. In the following months, the new office building will reach a 100% occupancy rate.

AFI Park 4&5 (32,000 sqm) represents the last phase of AFI Park, an award winning office project that consists of 5 Class A office buildings totaling 70,000 sqm of GLA, adjacent to AFI Palace Cotroceni shopping mall of 82,000 GLA. Among the new tenants in AFI Park 4&5 are companies such as Cameron, SII Romania and ORTEC Central & Eastern Europe.

The tenants in AFI Park 4&5 benefit of an estimated 40% reduction of energy consumption and water use compared to a regular office and include abilities as electricity and HVAC design developed according to a floor layout of one work station to 7 sqm and an option for LED lighting in the office space. The office spaces are planned and constructed according to specific tenant's requirements.

Additionally, AFI Park 4&5 offers unique elements on the office market with several advanced back-up solutions including electricity high voltage supply from 2 different sources that assure AFI Park 4&5 tenants a 24/7/365 days continuous activity.

In total, AFI Park hosts multinational companies such as: Electronic Arts, Conglomerate TELUS International, UK-held Endava Romania, Microchip Technology, Sparkware Technologies and Cameron Romania, part of US Cameron Group.


---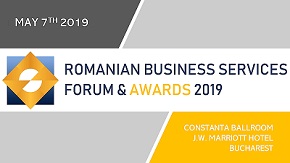 » Raiffeisen Bank Romania outsources onl...
» World-class HR organizations now spend...
» Oracle results pushed down by a strong...
» Apostoleanu, Oracle: Human talent, mos...
» Sergiu Negut, on the stage of People i...
» Microsoft and Oracle to interconnect M...
» Having a say in the world of the busin...
» JLL: Total office space in Bucharest t...
» The importance of training in developi...
» ANIS: Romanian IT market annual revenu...

My HR Lab: Research of suitable candidates and giving feedback to rejected ones, the biggest challenge in HR

During June 2019, My HR Lab company run an online (social media platforms) survey "Challenges of the recruitment process" which enrolled over 100 professionals working in HR and recruitment in Romania.
Read Full article »
The local market needs more added-value and complex projects to be developed by the companies

The statement has been uttered within this year's Romanian Outsourcing and Shared Services Summit by Catalina Dodu, Country Manager at Atos, pointing to the local enablers that could enhance the innovation and
Read Full article »
The office market at a glance: The round for tenants is on

Data provided by CBRE show that the office spaces segment will continue to grow rapidly in 2019, and 15 new projects covering 304.000 sqm will be delivered. According to the real estate consultancy agency, curr
Read Full article »
People Empowering Business Forum 2019 to take place on October, 30 at Bucharest

Latest trends like demographic upheaval, globalization, digital technology, and changing social values and worker expectations, are disrupting business models and radically changing the workplace. These are req
Read Full article »
Addressing the mantra of cyber-security: Confidentiality, integrity and availability

The fast advancement of technology in all the aspects of everyday life, either personal or professional, and the emerging of AI (Artificial Intelligence) and ML (Machine Learning), not to mention cloud technolo
Read Full article »