FotoNation leases 1,800 sqm in AFI Park 4&5, occupancy up to 60%

AFI Europe Romania has signed a new lease agreement in the office building AFI Park 4&5 with FotoNation, a TESSERA company, reaching a 60% occupancy rate.

With the new agreement, AFI Park consolidates its place as the main business hob in the Central West of Bucharest, targeted mostly by multinational IT&C companies, who find in the business park the superior technical requirements they require. In the following months, the new office building will reach a 100% occupancy rate.

AFI Park 4&5 (32,000 sqm) represents the last phase of AFI Park, an award winning office project that consists of 5 Class A office buildings totaling 70,000 sqm of GLA, adjacent to AFI Palace Cotroceni shopping mall of 82,000 GLA. Among the new tenants in AFI Park 4&5 are companies such as Cameron, SII Romania and ORTEC Central & Eastern Europe.

The tenants in AFI Park 4&5 benefit of an estimated 40% reduction of energy consumption and water use compared to a regular office and include abilities as electricity and HVAC design developed according to a floor layout of one work station to 7 sqm and an option for LED lighting in the office space. The office spaces are planned and constructed according to specific tenant's requirements.

Additionally, AFI Park 4&5 offers unique elements on the office market with several advanced back-up solutions including electricity high voltage supply from 2 different sources that assure AFI Park 4&5 tenants a 24/7/365 days continuous activity.

In total, AFI Park hosts multinational companies such as: Electronic Arts, Conglomerate TELUS International, UK-held Endava Romania, Microchip Technology, Sparkware Technologies and Cameron Romania, part of US Cameron Group.


---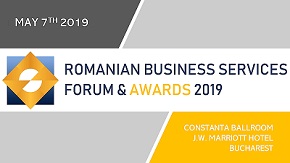 » Romania ranks above EU average in gend...
» The voting procedure for the BRAND OF ...
» Berg Software Romania: Reasons to outs...
» Deloitte's Tech Trends 2019 report: B...
» Steven Hunt, SAP SuccessFactors: Tecto...
» Molson Coors started to grow its busin...
» Societe Generale-European Business Ser...
» Capgemini: Investing in people is the ...
» Countries in CEE region, including Rom...
» Oracle reaches 4,200 employees and pla...

The voting procedure for the BRAND OF THE YEAR 2019 IN ROMANIAN BUSINESS SERVICES is open!

This is the fifth edition of the event and the second year to select the public's favorite brand in the business services BPO, ITO and SSC in Romania.
Read Full article »
Romania ranks above EU average in gender employment gap

In Romania, the employment rate measures the number of people who have a job as a percentage of the working age population. This page provides - Romania Employment Rate- actual values, historical data, forecast
Read Full article »
Steven Hunt, SAP SuccessFactors: Tectonic movements in the world of work

The world of work will be shaped by five tectonic movements – or global megatrends – over the next few years. As you may guess from the geological analogy, the effects could be dramatic.
Read Full article »
EY: European companies are divesting to future-proof growth

According to the EY Global Corporate Divestment Study, 84 per cent of European companies surveyed intending to divest within the next two years (the majority planning to do so in the coming 12 months), executiv
Read Full article »
Knowledge-sharing presentation on latest trends the industry deals, in the program of Romanian Business Services Forum and Awards

Part of the upcoming joint half-day event, Romanian Business Services Forum and Awards to be held at JW Marriott Hotel on May 7th, the discussion agenda comprises a complex Knowledge-sharing presentation on lat
Read Full article »