Wizrom is looking for 40 consultants with "soft skills"

Wizrom Software looks for 40 consultants that not only have technical, but also soft skills, says a company release.

"Wizrom innovates the traditional recruiting in the IT domain by changing the mainstream principle based on the pool of technical knowledge, with a new approach, to provide customers the best experience not only in technology, but also in understanding their business specifics," says the release.

"Wizrom is pushing hard on the capacity of communicating with the clients and therefore we are looking for candidates with certain soft skills and communication abilities. We seek people with imagination, spirit of initiative and the will of becoming professionals in this area," also says Adrian Bodomoiu, managing director of Wizrom Software.

The company is looking for 40 business consultants, programmers and support consultants for the departments of implementation and support for its solutions (ERP, BI, TMS, WMS, HR), and the edge element is represented by the "soft skills".

"Clients appreciate more and more the business expertise in their field of activity, so for us, the priority in recruiting has become not essentially the pool of IT knowledge, but the experience accumulated by the candidates in these fields, namely production, distribution, logistics and services," also says Bodomoiu.

The consultants represent two thirds of the 160 employees of the company with the largest number of ERP clients in Romania.
Wizrom offers a motivating package to its employees, inclusively on aspirational level. The business consultants are involved in implemented projects directly with the client and have the possibility to develop a career, which on medium term can offer professional gratification and winnings according to the results.

In addition, the company invests tens of thousands of Euros annually in preparing the employees on the current technologies and business concepts.
"We offer talented people the possibility of learning and developing in an entrepreneurial company, inclusively of burning some steps, if they are truly performant. In addition, Wizrom is a company strongly connected to the private business environment, offering long term stability and perspectives for its employees, Bodomoiu adds.

The company has created last year a special business unit which is involved in 7 major projects of design and implementation of complex solutions for customers in US, Western Europe and Romania.
Wizrom Software provides ERP systems (the provider with the largest number of ERP clients), WMS, TMS, SFA, CRM, BI and others, having 4,100 active clients and over 40,000 licenses deployed.

---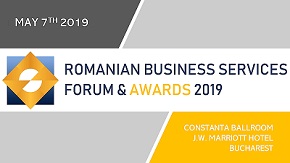 » Huawei opens a centre on cyber securit...
» Romania ranks above EU average in gend...
» ROMANIAN OUTSOURCING AWARDS FOR EXCELL...
» Bucharest, in the top of cities in Eur...
» Meet the experts who will decide the w...
» Bogdan Pelinescu, president of ABSL: A...
» Berg Software Romania: Reasons to outs...
» KPMG launches an application enabling ...
» ABSL GALA AWARDS celebrated its winner...
» George Rotariu, CEO Bitcoin Romania: B...

Meet the speakers at Romanian Business Services Forum 2019 CEO LEADERS DEBATE, on May 7th - Matthieu Pasquier

Matthieu Pasquier is CEO of Societe Generale European Business Services since August 2018 bringing more than 27 years experience in Societe Generale group. During 2014-2018, Matthieu was Head of SG GSC Chennai
Read Full article »
Sorin Mindrutescu among the speakers at Romanian Business Services Forum 2019 CEO LEADERS DEBATE, on May 7th

Sorin Mindrutescu is the Country Leader for Oracle Romania, as of February 2003. In this role, he is responsible for local sales and project delivery. In Romania, Oracle has two major business directions: the l
Read Full article »
Meet the speakers at Romanian Business Services Forum 2019 CEO LEADERS DEBATE, on May 7th - Vivek Bakshi

Vivek Bakshi is the General Manager of Wipro Technologies. He has spent 12 years heading the International Locations / Delivery Centers Europe from the Bucharest office.
Read Full article »
Meet the finalists of the fifth edition of Romanian Business Services Awards 2019

ROMANIAN BUSINESS SERVICES FORUM & AWARDS 2019, in its fifth year, brings on May 7, in Bucharest, a new concept event with engaging keynote sessions by industry leaders, interactive panel discussions, networkin
Read Full article »
Meet the experts who will decide the winners of 2019 at Romanian Business Services Forum & Awards

Each year, Outsourcing Today brings a landmark edition of the Romanian Outsourcing and Shared Services Summit and this year, we are hosting the Fifth of the annual Romanian Outsourcing and Shared Services Award
Read Full article »